Tuesday's P.M. Hot Clicks
Good afternoon. Brett Smiley of Weekend Hot Clicks with you today. Follow me on Twitter and send tips to basmiley@gmail.com.
Media Mayday
Tuesday's P.M. Hot Clicks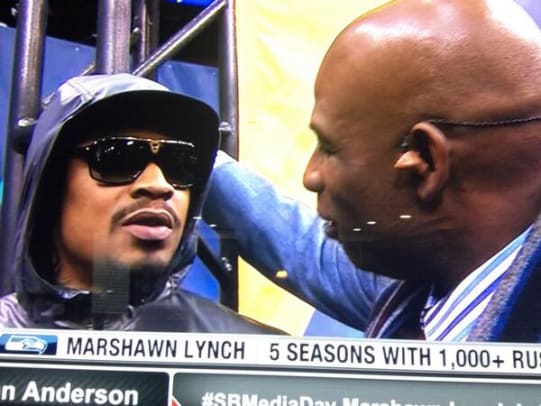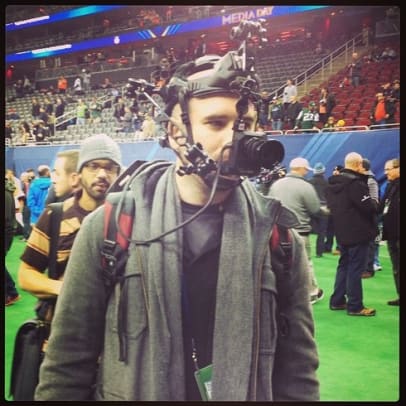 Today's Super Bowl XLVIII Media Day at the Prudential Center consisted of a mammoth crowd of 6,329 credentialed media members; as usual, it included a cast of ridiculous characters. Reporters descended from all sides upon players and coaches, who fielded questions both earnest and flat-out absurd. One "reporter" asked Peyton Manning if he had a favorite character on Real Housewives of New Jersey. (He doesn't watch.) Richard Sherman drew a humongous crowd (gallery above) and gave a rich response to someone's bizarre comment/question about athletes influencing strippers' careers.
The highlight of the afternoon was Deion Sanders' one-on-one with a humble but quietly excited Marshawn Lynch, who lurked in sunglasses near the backdrop after a brief session at a podium. Deion told Lynch that he and Marshall Faulk love Beast Mode, to which Lynch replied, "That's big time. Beast Mode love and appreciates that." If you want to know what it's like to be a reporter amidst the scrum, go read some accounts here, and here's SI's full Media Day coverage.
Vin Diesel Wins Internet Video of the Year And It's Only January
This seven-minute video Diesel posted on Facebook consists mainly of him dancing to music by Katy Perry and Beyoncé. It may or may not be an elaborate promotional video for his movie Riddick. Either way, it's outstanding. There are lots of close-ups, general confusion, and tongue sticking-out, plus he's wearing a wife beater and camouflage shorts. Four stars.
Animals Predict the Super Bowl Winner
Hard to argue with Buffett the Manatee's record of six straight correct predictions.
Lovely Lady Round-up
Raphael Mazzucco/SI
COED has a nice collection of the 25 loveliest women to appear in Super Bowl commercials, a group that of course includes Bar Refaeli ... Guyism offers reasons why Super Bowl media day is good television ... Get to know Swedish model Sandrah Hellberg.
LeBron and Beasley's Epic Handshake
At the very end of LeBron and Michael Beasley's rendition of "Back that Ass Up" at Battioke, they revealed an elaborate handshake that's great to watch but totally unacceptable for you to adopt.
Canadian Skier Travis Gerrits Devours a Fellow Skier
Pot versus Alcohol Billboards
Pro-marijuana activists bought five billboards near Metlife Stadium to make the case that marijuana is safer than alcohol. Put that in your pipe and smoke it.
Odds & Ends
When life gives you a ton of snow, make a Super Bowl-themed snow sculpture ... Northwestern football players seeking labor union representation ... How about some hot Skittles sausage? ... Seattle parents gave their newborn the middle name "12th Man" ... Incredible lacrosse save ... Caltech's Andrew Hoguesinks a basket from his back ... White House petition urging Justin Bieber deportation gains more than 77,000 signatures ... Snackadiums, because 10 pizzas and Tostitos won't cut it anymore.
Pujols Joins Athlete Grover on Sesame Street
He'll appear on Thursday's episode. Fantasy baseball dads, consider this an early scouting opportunity.. [Outside Corner]
The Final Pitch of The Past 25 World Series
Fantastic compilation with a couple of omissions that Eye on Baseball fixes.
The Richard Sherman Rant Remix
By none other than DJ Steve Porter. [Funny or Die]