Hey, it's Brett Smiley. Like Joaquin Phoenix, I'm still here. Check Andy's Twitter feed for photos from Swimsuit events, and send me tips or comments to basmiley@gmail.com or via Twitter.
Playing For Keep Out
Twitter/CommandSign
As if the men's U.S. hockey team didn't have incentive enough to avenge the women's heartbreaking loss to Canada yesterday, now possession of Justin Bieber is on the line.
The digital billboard (above) is on the exterior of Command Transportation's building in Skokie, Illinois. "We just have fun," an executive for the company said about the billboard. "We don't use the sign other than to have fun." And to generate lots and lots of free publicity, which has generally been the result of the company's consistently humorous signs.
Today's semifinal game between the U.S. and Canada (12 p.m. ET) has plenty more riding on it—namely, the dignity of Extra Mustard editors Sam Pageof the U.S. and Dan Treadwayof Canada, who have talked some trash about their respective teams/nations. And as always, there's the looming risk of another Rob Ford celebration GIF.
But fear not, America: The U.S. men are playing not only for national pride, but also 10 years of free HD porn from Brazzers.
Look Familiar?
Yesterday the Tampa Bay Buccaneers revealed its new "enhanced" logo. To my eye, the main changes are a much bigger flag and a Hannibal Lecter-looking grill. That, and now it looks almost exactly like Skeletor (H/T @commishonline).
McCarron Finally Breaks Through
A.J. McCarron will be throwing at the NFL combine, but the big news out of the former Alabama QB's camp is that after four consecutive days of failure, he prevailed in an epic game of UFC Undisputed 3. Wrote girlfriend Katherine Webb on Instagram, "He FINALLY won and this was his reaction. Literally played 4 nights in a row. I died."
Lovely Lady Of The Day
Friday's A.M. Hot Clicks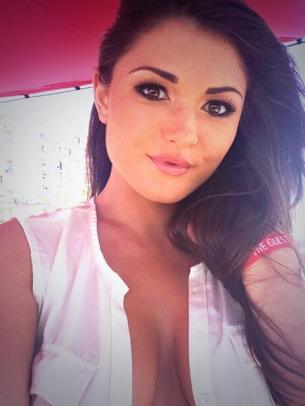 Today's Lovely Lady is British glamour model India Reynolds. Heavy has 20 of her best photos, and Roosevelts has a nice gallery here. You can follow India on Instagram and Twitter.
Skier Crashes, But Still Gets a Good Laugh at His "4.20" Score
19-year-old Lyman Currierwiped out on his first qualifying run in the ski halfpipe, but his weed-tastic score made up for it.
The Time O.J. Mayo Took Off a Defensive Possession to Tie His Shoe
And no J.R. Smith to blame it on. This is just shameful.
Jimmy Kimmel Reveals He Was Behind Kate Hansen's Sochi Wolf Sighting
When in doubt, we're probably getting trolled by Jimmy Kimmel. Meet the Sochi Wolf, actually an American wolf named Rugby.
Odds & Ends
The college hoops posterization that really should be a poster ... Bob Costas eye update: dark sunglasses ... Rockets Twitter jabs Warriors' Jermaine O'Neal, who got revenge with a huge block on Chandler Parsons (and that revenge tasted good) ... Clippers plane delayed because it had to let off guys who got traded ... Riddick Bowe takes jab at Lennox Lewis on Twitter ... All the weirdest statistical anomalies/happenings from the 2013 MLB season ... Chris Kaman trolls Lakers fans ... Gallery of Sochi's stray dogs (many of which are getting rescued!) ... This new meme is absolutely hysterical.
This Should Help Explain Why Derek Jeter Is Reconciling With Hannah Davis
Lots more videos of the SI Swimsuit ladies here.
Michael Phelps* at the Winter Olympics
Slow transition after the dive but it's cold out there.
*Not actually Michael Phelps, you guys.
Bubba Watson Shot Gets Away, Lands at Wife's Feet
At least he didn't knock her into a jumping cactus like Rory McIlroy did to a fan. [Holdout Sports]
[youtube http://www.youtube.com/watch?v=smU9Cm6Z1CQ]
"Fade to Black"
Comedy troupe PistolShrimps have seen enough fading in action movie trailers. [VVV]