Happy St. Patrick's Day. Weekend Hot Clicks writer Brett Smiley with you today. Hit me up with tips or tourney picks at basmiley@gmail.com or via Twitter @brettsmiley -- and follow me, too.
A Lovely Cheerleader from Every March Madness School
Monday's A.M. Hot Clicks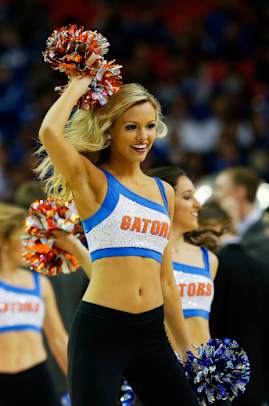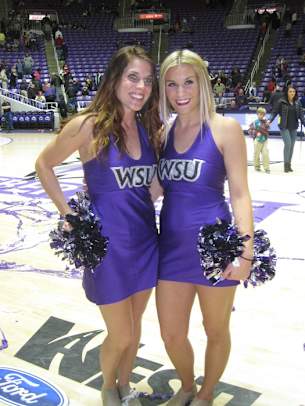 They're organized by seed, beginning with No. 1 seeds Florida, Arizona, Wichita State, and Virginia. Start your March Madness analysis there.
Bubble teams had to wait on edge last night to find out if their number would get called for an at-large bid. My favorite "WE'RE GOING DANCING!!!" reaction comes from 11-seed Nebraska, where the entire gym erupted when the Huskers got word. Runner-up for best reaction belongs to 12-seed NC State. The best non-reaction moment from Selection Sunday was Dick Vitale's story about Toni Bennett; that's spelled correctly -- Vitale's talking about a stripper, not the coach or singer.
Get your printable bracket here then hide from your boss on the porcelain throne. Snubs, yeah, we've got a few, namely NIT-bound SMU. Pete Thamel and Brian Hamilton unpack the bracket for you here. And be sure to check out Richard Deitsch's viewing guide with information on TV pairings, the March Madness Live app, and more.
So You're Telling Me There's a Chance
For a shot at $1 million, get your prognostication on at Sports Illustrated's Bracket Challenge.
For absolutely no chanceat $1 billion, put together a perfect bracket in the Billion Dollar Bracket contest backed by Warren Buffett. You have a better shot of winning the Kentucky Derby on a coin-operated horse (if the rules permitted). Aside: Fox Sports Live is broadcasting from inside the LVH SuperBook all week; here's a sample. I haven't been a fan of Live's roundtable segments but this is a home run.
Phil Martelli's Grandson Imitates Coach's Every Move From the Stands
That dapper youngster in the long blue tie was the St. Joseph's coach's own blood. That boy's parents have to be real proud of the professional troll job on Grandpa.
Lovely Lady Of The Day
Monday's A.M. Hot Clicks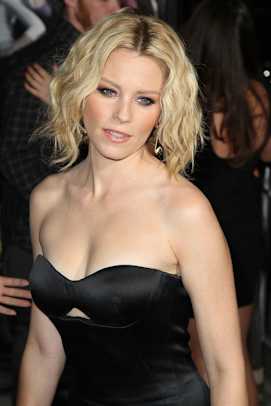 It's a collegiate-themed day, so I decided to crown Elizabeth Banks, the loveliest lady from my alma mater (University of Pennsylvania). Get more of her at Complex and Mandatory.
Now Here's an Authentic Fan
According to his sign. Is there a story behind that? Or is this just the sorriest (and in Golden State, unnecessary) excuse for stadium marketing since the Heat published those "Fan Up" instructions?
Update: Reader Conor R. in San Francisco told me that Comcast SportsNet Bay Area has been running the "Authentic Fan" promo for about a couple years, passing out signs at various area games. Conor added: "It is horrible, but hopefully if you grill them enough they will stop." So, here we are.
Speaking of Excuses...
Diego Sanchez blamed his UFC 171 loss to Myles Jury on -- wait for it -- raw quail egg.
Jaromir Jagr and Cory Schneider's Selfie Photobomb
Two different but effective approaches to creeping on a photo.
Odds & Ends
The complete one-word transcript to Kevin McHale's pregame interview ... Some people who really enjoy St. Patrick's Day ... Jim Irsayarrested on DUI, possession charges ... "We're Indiana. We don't play in the CBI," said IU athletic director Fred Glass about why Indiana (not even in the NIT) is taking its balling and going home ... Guess which National League outfielder said it after a day at the zoo: "Giraffes are so legit!" ... Top 15 dunks on Kris Humphries... But it's not all bad for Humphries ... Olli Jokinen dekes Tim Thomas out of the game.
College Hoops Dunks of the Year
Real solid compilation by ESPN, but make sure to catch this omission. [CollegeBasketballTalk]
[youtube https://www.youtube.com/watch?v=mYmLQK4LErs]
This Ought to Get You in the Mood
The mood for buzzer beaters. Not trying to talk dirty. [TBL]
[youtube https://www.youtube.com/watch?v=jbAHRCIa1Uw]
For Anyone Pursuing a Perfect Bracket
[youtube https://www.youtube.com/watch?v=KX5jNnDMfxA]