Thursday's A.M. Hot Clicks
The Dez Bryant Rules
Dez Bryant :: Greg Nelson/SI
ESPN's Calvin Watkins revealed that before the start of the 2012 season, Cowboys receiver Dez Bryant was given a strict set of conduct rules he must follow that are still in place two years later. Among the highlights are a strict midnight curfew, no alcohol, no strip clubs and only team-approved night clubs. Bryant took exception to the story and blasted the reporter on Twitter. This is not the first conflict Watkins has had with a member of the team. Defensive tackle Jay Ratliff nearly attacked him during a contentious 2011 interview.
Speaking of Rules
The policy on relationships and girlfriends for the Georgia men's basketball team has been made public and it's a doozy. Players must have "one, not two or three girlfriends" and "hickys/passion marks should not be ever noticed by coaches." It also states that "appearance is very important in life" and players should wear pants that fit them ("I don't want sagging, never want to see the crack of your ass."). The full report can be found here.
Today's Ridiculous Ballpark Food Item
For the low price of $17, The White Sox will sell a 12-scoop, banana split with caramel, strawberry sauce, chocolate syrup, whipped cream and cherries in a full-size batting helmet. Sports Kings has listed the top five culinary delights at ballparks this season including bacon on a stick (Globe Life Park in Arlington), nachos in a batting helmet (Angel Stadium) and more.
Lovely Lady Of The Day
Thursday's A.M. Hot Clicks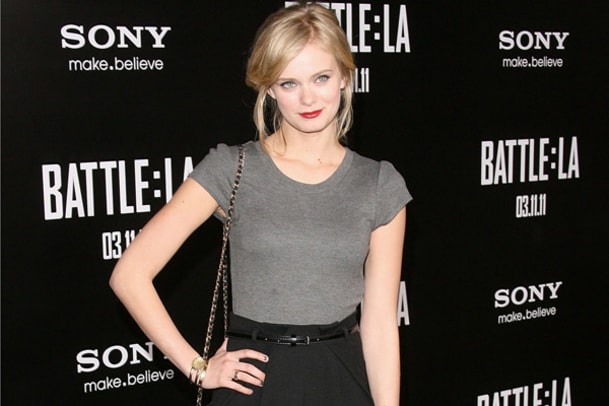 Todd from Chicago wrote in requesting I make Sara Paxton today's LLOD. I wasn't familiar with Paxton but she's a great choice.
Good Guy Alert, Part 1
Whether saving a former teammate stranded in an Atlanta snowstorm, spouting off on Twitter about immigration or appearing in a music video about the Braves, Chipper Jones has been busy in retirement. Yesterday the former third baseman was in Tampa to raise funds for the Pediatric Cancer Foundation and got his head shaved to raise money (and awareness) for the cause.
Good Guy Alert, Part 1
Larry Fitzgerald returned from a 9,000-mile trip to Rwanda where he handed out more than 2,000 hearing aids to people in need. Fitzgerald teamed up with The Starkey Hearing Foundation, which is a charity dedicated to helping the hearing impaired all over the world
From the SI Vault
Gary Carter, Andre Dawson, Steve Rogers, Tim Raines and Al Oliver :: AP
Baseball will return to Montreal this weekend for the first time since 2004 when the Blue Jays and Mets face off Friday and Saturday at Olympic Stadium. More than 75,000 tickets have been sold to the exhibition games, proving that nostalgia for baseball remains high in the area. In this photo, Gary Carter, Andre Dawson, Steve Rogers, Tim Raines and Al Oliver pose for a photo before the 1982 All-Star game. I've got a soft spot for Montreal baseball and hope a franchise (cough, Miami Marlins) gets relocated there soon. For more classic sports photos, visit the SI Vault on Twitter. While you're there, follow me on Twitter.
Odds and Ends
Forbes has the value of every MLB team. The Yankees ($2.5 billion) are first while the Rays ($485 million) are last ... Lance Stephenson gave Dwyane Wade the look of death during last night's Heat-Pacers game. He was given a technical foul (his second of the game) for the staredown ... The White Sox have new racing mascots ... The Spurs mascot suffered an eye injury against the Nuggets ... Not sure what to say about this kid who got a McDonald's receipt tattooed on his arm ... Sweet 16 tickets at Madison Square Garden are getting expensive ... Bryce Harper was ejected from an exhibition game yesterday for arguing a call with the first base umpire ... John Riggins likes to drink in the snow.
Katherine Webb Tests New Yorkers Sweet 16 Knowledge
We sent Katherine Webb to test fans on their tournament IQ. Stay tuned until the end.
[si_cvp_video id="video_1A6C244A-E760-7439-BE40-007C94909C84"]
No Fun League gets Taiwanese Animation Treatment
The NFL banned the celebratory goal post dunk, which led to the inevitable Taiwanese animation.
Mike Francesa Rant of the Day
New York's favorite radio host went off on the Knicks after their embarrassing loss to the Lakers on Tuesday. (HT Awful Announcing)