Tuesday's P.M. Hot Clicks
Selfies in Sports
Tuesday's P.M. Hot Clicks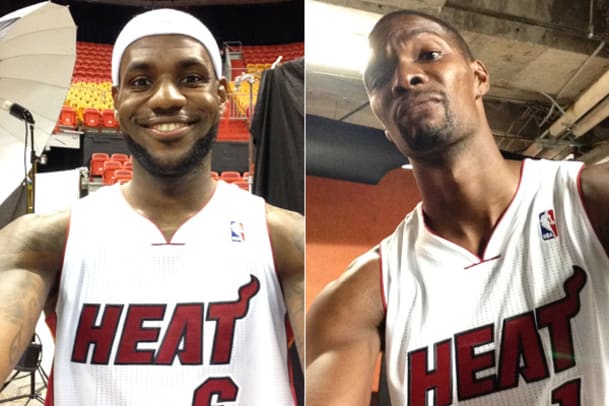 Selfies have been around for decades but have become a social media fixture over the past couple of years. Red Sox slugger David Ortiz became the latest athlete to embrace the craze when he posed with Barack Obama during the Red Sox's memorable visit to The White House today. In honor of Big Papi, I put together this gallery of athletes and selfies.
Like Uncle, Like Nephew
Joe Dunand, the nephew of Alex Rodriguez,hit eight home runs, on eight straight swings, in a high school baseball tournament last week.
A Group of Female Lacrosse Players Walk Into a Bar...
The University of Pennsylvania women's lacrosse team had quite a night on Saturday. According to the manager of Fado Irish Pub in Center City, a group of 50 people under the lacrosse team's reservation became disruptive and broke a light fixture, stole a bottle from behind the bar, smoked pot in the bathroom, exposed their genitals and then tipped a measly four percent at the end of the night. The team is currently 5-2 and No. 12 in the nation.
Lovely Lady Round-Up
Tuesday's P.M. Hot Clicks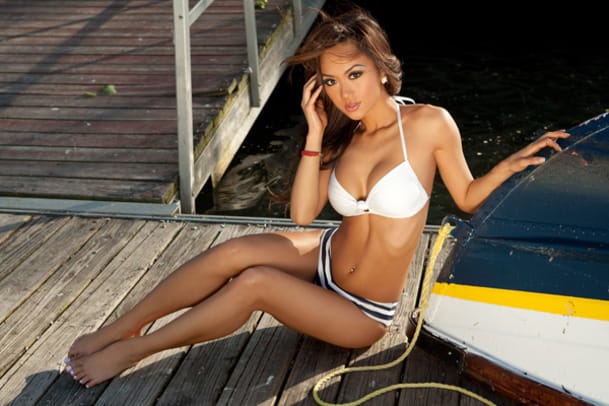 I am quickly becoming a fan of Jile Cai, and you should too. Follow her on Instagram,Twitter and Facebook ... Anastasia Ashley appears in this month's issue of Stab ... The hottest girls Ted Mosby dated on How I Met Your Mother ... The Broncos held their annual cheerleading tryouts over the weekend ... The Other Woman made a very smart casting choice in Kate Upton.
Would You Pay $25,000 For This?
New Jets receiver Eric Decker paid tight end Jeff Cumberland $25,000 (and a steak dinner) in exchange for his number 87 jersey.
Would You Pay $30 Million For This?
Christie's is auctioning off the famous Norman Rockwell painting of Red Sox players in May. It is expected to fetch $30 million.
View From the Blimp
Petco Park :: Donald Miralle/SI
SI teamed with photographer Donald Miralle to shoot Sunday's Padres-Dodgers game from the Goodyear blimp. Here are the images.
Odds and Ends
Jonny Gomes wore a patriotic blazer to the Red Sox's trip to The White House today ... This is what a collaboration between Nike and some of world's airlines would look like ... Looks like the old "Calipari in a casket" trick helped turn Kentucky's season around ... Allen Iverson and his ex-wife went on a vacation together ... Ten classic Bill Murray song covers ... Michael Stipe will induct Nirvana into the Rock and Roll Hall of Fame next week ... Really enjoyed this collection of bad Netflix reviews for really good movies ... This is a quality Kevin Garnett story by The Onion ... There is a Civil War brewing between Lakers fans.
Joakim Noah + Bruce Springsteen = Awesome
SI's Rob Mahoney put together a great compilation of Joakim Noah highlights set to Bruce Springsteen's Born to Run.
DeMarcus Cousins' April Fool's Day Joke
Remember that R&B album that DeMarcus Cousins was going to release under the pseudonym 'Boogie Smooth'? It was all a big April Fool's Day Joke.
Price is Right Video of the Day
This contestant is really excited to be on The Price is Right.
The Doggie Highchair
What will Ikea think of next?