Cats & Dogs Finale
Weekend Hot Clicks
Thanks to a smothering defense and more Aaron Harrison late game heroics, the No. 7 seed Connecticut Huskies and No. 8 seed Kentucky Wildcats march on to Monday's National Championship game. The last two teams standing -- neither of which even made the tournament last year -- combine for the highest seed total in a championship (15) by a wide margin. I've already set my folder of brackets on fire in a fit of self-loathing and shame, so it's pure basketball theater now. Let's get to the fun stuff.
Down two to Wisconsin with under eight ticks remaining, before a crowd of 78,444, Aaron Harrison proved he has alligator blood with this game-winning trey on his only three-point attempt of the night. Wisconsin got a decent look at the other end as time expired but Kentucky held on 74-73.
[youtube https://www.youtube.com/watch?v=btdR0ZF3qUU]
Harrison's winner does look familiar because it's nearly identical to the shot that sent Michigan packing in the final seconds of Kentucky's Elite Eight game. Now enjoy the monster slam that Alex Poythress threw down over Sam Dekkerin the final minutes. Poythress landed unscathed there but got his knee a bit twisted in the post-game celebration pile.
Watch Kentucky fans going berserk at the arena. But their celebration could compare to the party in Lexington, as you can see here (and here and here). One woman was so excited she dropped her pants in a bar. Raptors ambassador Drake, who told a reporter he's been a Kentucky fan since "forever," celebrated with the Cats in their locker room.
Looking to the other side of the bracket, I hope you didn't take a nap after the Gators rallied ahead 16-4 against UConn. The Huskies D went on lockdown and DeAndre Daniels into beast mode (20 points), with some jams like this one. Daniels said later that when former Huskies coach Jim Calhoun asked before the game why no one was talking about him, he told him "Everybody's going to be talking about me after Saturday." Here's Shabazz Napier to Niels Giffey for a breakaway dunk that put UConn up 12 with 1:49 -- the nail in Florida's already sealed coffin. And here was the scene at UConn's Gampel Pavilion viewing party.
Don't Worry Kids, That's Not the Real Cubs Mascot
It's just a loathsome unofficial mascot who, when some dude at a Wrigleyville approached him from behind and removed his fuzzy bear head, punched the guy in the face. The lesson, of course: Don't be that guy -- either guy -- but especially the guy who was previously booted from Wrigley and just can't quit being Billy the Cub.
It Pays to Be a Reckless Homer and/or Wizard
A few weeks ago before the tournament started, Tyler aka @TizzBlack revealed his rather shoddy looking 2014 Kentucky National Champions tattoo. Now he's got two free tickets to the championship courtesy a local television station.
Cheerleader of the Week
Weekend Hot Clicks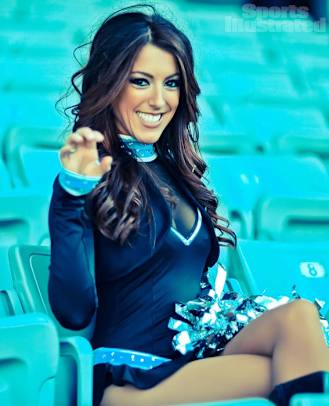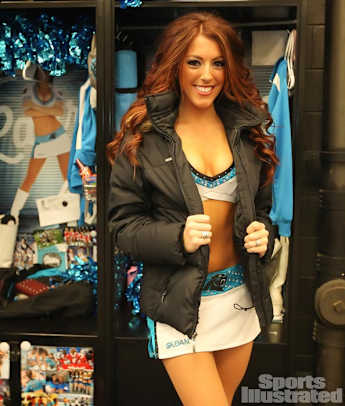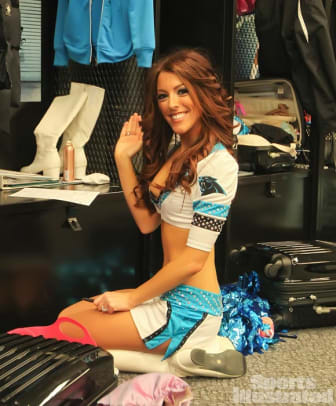 Get to know Carolina Panthers Topcats cheerleader Katie:
Favorite website: "Every day I go on The Daily Puppy and see what puppy is featured. I want a puppy so bad! There are tons of tips on finding the right dog for you and how to train them!"
My celebrity crush is: "Taylor Kinney from Chicago Fire. I may be biased since I'm from Chicago and my fiancé is a firefighter. But I definitely love to watch that show."
The most embarrassing thing that's ever happened to me during a game: "Having fans figure out my name from the roster and screaming "marry me Katie!" while we are cheering on the sidelines!"
My worst habit: "Screaming at the top of my lungs when I see a bug. I am terrified of any type of bug. Just thinking about them makes me cringe!"
Click here for Katie's full gallery.
Roughing?!!? He's Been Decapitated!!!!
OH, THE HUMANITY!!!!
Big thank you to DieHard Sport for spotting this phenomenal moment from the Blues -Avalanche game.
It's a Popcorn Explosion
Losing a delicious buttery snack is a small price, or, about $8, for a souvenir ball and a miraculous catch.
Benny the Bull, Most Agile Mascot in the game
Benny got Bucks sideline reporter Sophia Minnaert with a videobomb and he got her good. I didn't think he could outdo this off-the-court-and-camera barrel roll from January.
NCAA Tournament: Best of the White Guys
It would have worked better if Frank Kaminsky didn't have such a dominant tourney performance but I'm just picking nits with this outstanding SNL spoof.
Odds & Ends
The Native American mascot debate in one photo ... Josh Reddick makes his WrestleMania 30 pick; go here for Andy's full roundtable ... Intentional walk turned walkoff homer ... Worst seats in the house at the Final Four ... Jerry Jones got booed in Jerry World ... An update on Aaron Harrison's "big nuts" ... Bo Schembechler statue unveiled at U of M ... Kyrie Irvingdropped a career high 44 against the Bobcats ... LBJ Happy after loss to Timberwolves on Friday ... Also NBA Friday -- Gerald Greene's off-the-backboard alley-oop to himself ... When a hockey puck is put under 80,000 pounds of pressure... For an OK time, follow me on Twitter @brettsmiley ...
Jason Bateman, Dodgers PA Announcer
It happened and it was glorious.
[mlbvideo id="31851495" width="600" height="363" /]
Charles Barkley, Not Mincing Words
He never does. He never does.
[youtube https://www.youtube.com/watch?feature=player_embedded&v=tZJU7FDYvmE]
Rex Kwon Do Rocks Out, Smashes Wood Blocks
Thank you for this, SportsGrid.
[youtube https://www.youtube.com/watch?v=jzxgTLRaZKQ]