Home Cooking
Getty Images
Home teams ruled the first three of five NBA Game 7s on Saturday, as the No. 1 seed Pacers rolled the Hawks 92-80, the Thunder disposed of the half-strength Grizzlies 120-109, and the Clippers staved off the sweet shooting Warriors, 126-121. The Pacers game was a bit light on drama but not entertainment, thanks to this dude in a fedora standing behind Larry Bird (he works out). Also, the Hawks official Twitter account offered a heartbreaking response to Atlanta's defeat.
Russell Westbrook (an absurd 27 points, 10 rebounds, 16 assists) led the Thunder along with Kevin "Mr. Unreliable" Durant (33 points, 8 rebounds), who's expected to receive the MVP award this week. The Warriors proved a terrifying and tough out thanks to its 56 percent three-point shooting (25 attempts), but plays like DeAndre Jordan's block-turned-Blake Griffin oop proved the difference. Speaking of Griffin, he's apparently also a gymnast. Nobody was more jacked up about the Clippers win than head coach Doc Rivers, who exchanged some high fives with fans sitting courtside.
In case you missed Blazer Damian Lillard's insane series-ending buzzer beater Friday night, you can relive that here. The performance earned Lillard temporary ownership of the Rockets, according to Wikipedia.
Chrome Spoiler
Kentucky Derby winner California Chrome was the favorite yesterday but the colt spoiled my ticket (and probably thousands of others). Fortunately, the Derby produced some good theater on Twitter, where users offered their best Seinfeld Derby Names. (And by a length, these pretzels are making me thirsty!!!) If you happened to miss the always fashionable announcer Johnny Weir, you're going to want to check out his Derby hat.
Call it a Comeback
The Bruins-Canadians series is off to an incredible start. Down 1-0 in the series and by a 3-1 margin midway through the third period of Game 2, the Bruins came roaring back with four unanswered goals for a 5-3 win. Check out this fantastic photo by the Boston Globe after Reilly Smith scored the go-ahead goal and then had a moment with a fan whose head might have exploded. Meanwhile, in the Rangers-Penguins series, the Blueshirts managed to score twicein overtime.
Cheerleader of the Week
Weekend Hot Clicks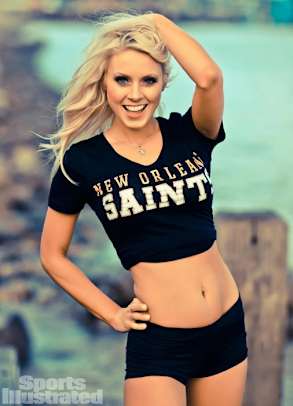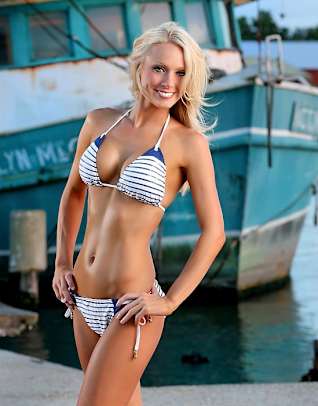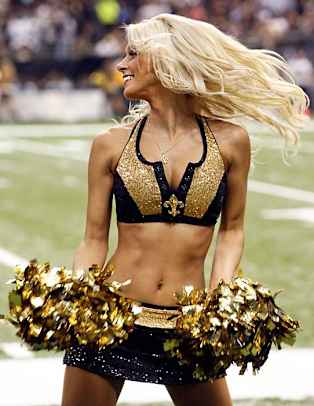 Get to know Christine, a Scranton, PA native who's a cheerleader for the New Orleans Saints (the Saintsations).
My celebrity crush: "Dwayne 'The Rock' Johnson, because he's the People's Champ!"
My friends would be surprised to know that: "I just learned how to crochet this year and I've made everything from dishtowels, to scarves, and even baby booties."
If I had to watch one movie or TV Show over and over and over again: The Office. I was born and raised in Scranton, PA!
The worst date I've ever been on: "Once when I was in high school I was out to dinner celebrating Valentine's Day and I had a crown fall off one of my molars so we had to end the date and make an emergency trip to the dentist!"
If I could change one thing in this world: "Every month on our calendar would have the same amount of days."
Click here for Christine's full gallery.
Floyd Mayweather, Lil Wayne, Justin Bieber and a Circus
Floyd Mayweather is unbeatable, crazy and usually entertaining. Before successfully defending his title against Marcos Maidana, he walked into the ring with Weezy, Bieber and an actual circus (or at least several circus performers).
The Force Was Not With Darth Vader
Just a terrible, cricket-like first pitch by Vader at the Cincinnati Reds' Star Wars weekend. I've got no idea what it's like to toss a ball in that kind of armor but you'd figure the Sith Lord would at least practice?
You're Gonna Need a Diaper With That Tough Mudder Medal
The CDC has warned that animal feces in muddy waters along Tough Mudder courses has caused many participants to have brutal bouts with diarrhea. Oof.
Odds & Ends
Kentucky Derby bachelor party finds a dead body in a rented RV ... The always entertaining glove throw to first for the out (by Jose Abreu) ... Devastating knockout by Raymond Daniels at Glory 16 ... Garden variety 4-3-3-6-3-4-3-4-5-2 double play ... Ben Affleck got booted from Hard Rock Casino for counting cards (clearly he deserves a role in Rounders 2 if it ever happens) ... Have you seen Deron Williams? ... Brazilian soccer fan killed by a toilet thrown during riots ... Ex-Clipper Stephen Jacksonevokes slavery in rap song about Donald Sterling ... SNL's amusing take on the NBA/Sterling situation in its cold open ... Jim Brown laces into "reprehensible" NCAA ... Crazy grab by LSU outfielder ... Blonde Yankees fan infuriated when she misses home run ball ... Tim Lincecum in a throwback, homemade fat suit of some kind ... Twins ballboy gets some laces to his grill ... Absolutely glorious, verbatim re-enactment of a crazy deposition about a photocopier.
NFL Draft Buzzword Translator
Three days of buzz words. Synergy!
[youtube https://www.youtube.com/watch?v=4VRvpJTYVmY]
Go on a Bikini Tour to Lake Tahoe
With Octagon girls Chrissy Blair and Vanessa Hanson. [Guyism]
[youtube https://www.youtube.com/watch?v=EMIaX_zhbFI]
Kiss Redemption
Remember the Raptors fan snubbed on a kiss attempt? That's his girlfriend, and below he gets his redemption. [Busted Coverage]
[youtube https://www.youtube.com/watch?v=cR_QnGw2zKE]
Walrus Smacks a Girl's Rear
Lady wants a picture, pays the price. [TastefullyOffensive]
[youtube https://www.youtube.com/watch?v=zc-CQoRtOcE]