Happy Mother's Day
Weekend Hot Clicks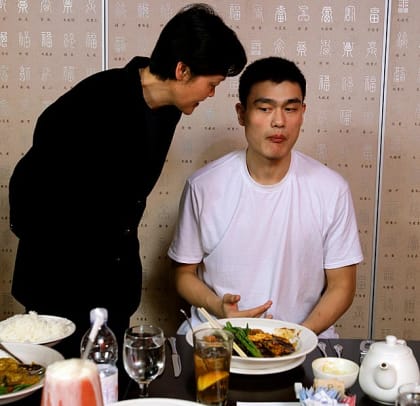 Extra Mustard salutes mothers today by pointing you to this gallery of rare photos with athletes and their moms.
Well, I feel like we need to up the ante a little bit more: Go re-watch Kevin Durant's MVP acceptance speech, in which he calls his mom "the real MVP," as well as Curtis Martin's Pro Football Hall of Fame induction speech when Martin honored his mother for sacrifices on behalf of the family.
NFL Draft Round-up
With the 249th pick of the NFL Draft, the St. Louis Rams selected co-SEC defensive player of the year Michael Sam, making him the first openly gay player in the NFL. Sam exchanged a kiss with his boyfriend during live coverage, a big moment for equal rights in sports and a knock to bigots who predictably spewed hate on Twitter. ... Bill Belichick hysterically blames "MyFace, YourFace, InstantFace" for Manziel scouting report leak ... The Rams also selected Mo Alexander of Utah State who once worked as a janitor at the Rams' Edward Jones Dome ... Lions pick Kyle Van Noy is engaged to Marissa Powellwho you may recall as the beauty queen who had to smile through the phrase "create education better" ... A shocking zero (0) Texas Longhorns were drafted for the first time since 1937, making this Longhorns tweet kind of sad and awkward ... Check out this video of draftees on the red carpet explaining locker room dos and do nots.
Caron Butler Photobombs Floyd Mayweather
It's flawless. For a price, Mayweather would probably sign and frame it for Butler. Elsewhere in "celebrities sitting courtside," in Brooklyn, check out a pained Jay-Z sandwiched between Jake Gyllenhall and Beyoncé. Either Jay was worried that the Nets would fall into a 3-0 series hole the the Heat (they didn't), or he was contemplating the meaning of Dwyane Wade's pre-game attire.
Cheerleader of the Week
Weekend Hot Clicks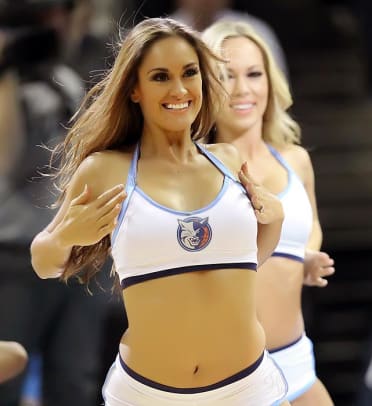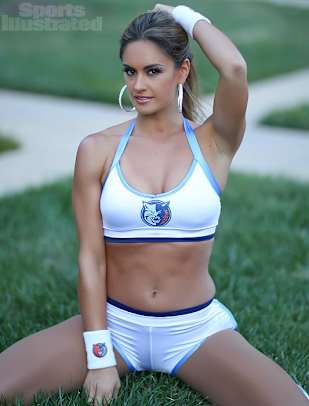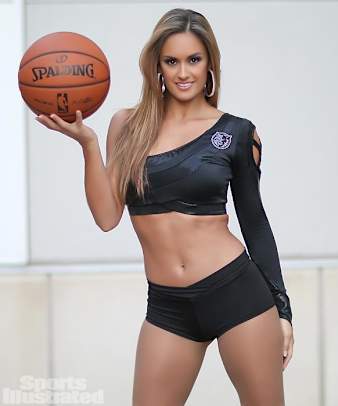 Get to know Lady Cat (Charlotte Bobcats) dancer LauRen.
The coolest person that follows me on Twitter: "Adam Richman. I saw a Man vs Food challenge out of Charleston, South Carolina on his show that I had to try. I LOVE spicy sushi and in this challenge you had to sign a waver to eat spicy tuna rolls 5-10. During the challenge we tweeted back and forth and he coached me through the whole thing! Thanks Adam!"
My worst habit: "Forgetting to charge my phone. It's always dead. My mother even gave me a mophie but I forget to charge that too. Meh…"
If you could change one thing in this world: "I know this sounds super cheesy but I would rid the world of cancer! I lost my father to cancer when I was 19 years old and I have been an advocate for cancer research fundraising ever since."
The most embarrassing thing that's ever happened to me during a game: "I'm pretty hard to embarrass. I usually just end up laughing at myself, but this past opening night I accidentally punched a camera man in the head during a sideline. Twice. I felt so bad!"
Click here for LauRen's full gallery.
Shawn Thornton Squirts P.K. Subban With Water, Laughs
Because sometimes a check doesn't get the message across.
Crazy Fan Tries to Hug Jeter, Gets Hugged By Security Instead
And by hugged, I mean tackled.
Alonzo Mourning Still Uses a Flip Phone
Zo is a throwback like Andrew Luck and Jerry Jones.
Odds & Ends
Impromptu concert breaks out during Maryland baseball rain delay ... Watch Tim Duncan split the defenders and nail Kawhi Leonhardon this post pattern ... Another great catch by a father holding a kid ... Team Chile made a pretty awesome World Cup ad ... Famous NFL moms and famous NBA moms ... Matt Brown TKO'd Erick Silva in an incredible "instant classic" fight ... Nice tribute to Dr. Jack Ramsay by a pair of Blazers fans ... Braves bat boy runs behind home plate during live action ... Tracy McGrady struggled a bit in his pro baseball debut ... Behind-the-scenes of the Rams' Mike Sam pick.
Houston Chronicle's John McClain Eats Newspaper, Hysterically Narrates
Longtime NFL writer John McClain delivers on a bet, salt and pepper be damned. [LBS]
Vladimir Putin Dominates Russian Festival Hockey Game
A perfectly choreographed hockey spectacle. [SportsGrid]
Slow Motion Video of Tyler Flowers' Bat Flying Into Stands
Waaaaaaaaaaaaaaaaatccchhhhhhhhh oooooooooooooooouuuuuuuuuuut.