Wednesday's P.M. Hot Clicks
Oklahoma City's Fashion Icon
Wednesday's P.M. Hot Clicks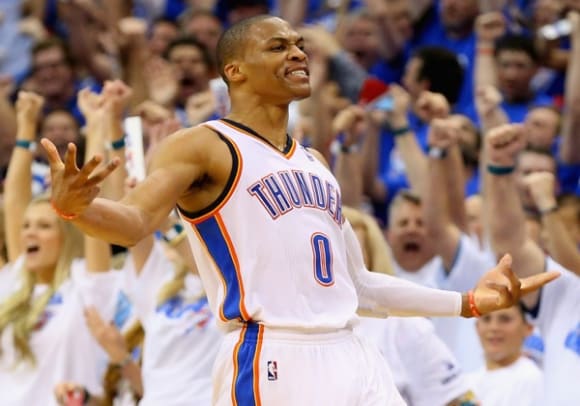 Russell Westbrook did it again last night. No, I don't mean the 40 points and 10 assists he had in the Thunder's 105-92 victory over San Antonio. I am referring to the eye-catching outfit he wore to the arena. It'd be too easy for me to make fun of his attire as he's clearly in a fashion stratosphere of his own. So sit back and enjoy the above gallery of Westbrook's best "arriving at the arena" looks from the 2013-14 season.
The Stanley Cup of Beer League Jerseys
A Philadelphia-area men's league hockey team named The Rippers have been wearing Full House-inspired jerseys with a photo of Jesse Katsopolis playing guitar on the front.
This Should Be Interesting
The Red Sox are holding their first ever Country Western Night tonight in which the first 1,000 qualifying fans will receive a special Red Sox Cowboy hat. As a native of Boston, I predict this will not end well.
Lovely Lady Of The Day
Wednesday's P.M. Hot Clicks
I'm still making my way through the Maxim 100, which includes Sarah Shahi at No. 67. I fell in love with her on The Sopranos way back when ... The 17 hottest GIFs of Sofia Vergara ... Charlotte McKinney posed for Summer Love Swimwear ... Did Justin Biebercop a feel while posing with Heidi Klum?
Senator Battier?
Grantland's Zach Lowewrote a great feature on this year's Heat squad and what it needs to do to knock out the Pacers. Buried in the story, about halfway down, is this nugget. Shane Battier was approached by the Michigan Democratic Party about running for retiring U.S. Sen. Carl Levin's seat in 2015.
Albert Belle Has An Attitude Problem
That was the conclusion from this 1991 Phillies scouting report uncovered by Busted Coverage. It predicts Belle will reach "AAA Best." Belle retired with 381 home runs and 1,239 RBIs.
Brazil's World Cup Plane
Wednesday's P.M. Hot Clicks
Brazilian graffiti artists Os Gemeos used 1,200 cans of spray paint to decorate this Boeing 737 that will transport Brazil's World Cup team to Rio.
Odds and Ends
Titans quarterback Charlie Whitehurst will wear No. 6 this season. He wanted to wear No. 12 but lost an arm-wrestling match to punter Brett Kern for the right to the number ... Evgeni Malkin made a great face while meeting Russian president Vladimir Putin ... John Wall has his own fried rice dish at a restaurant inside the Verizon Center ... This is the view of an umpire calling balls and strikes at a minor league baseball game ... Goldman Sachs predicts Brazil will win the 2014 World Cup ... The nine greatest Bill Murray stories ever told ... Meet 85-year-old Sheila Vogel-Coupe, Britain's oldest escort ... Manuel Uribe, the world's heaviest man, died at age 48. He weighed 1,230 pounds when measured for the world record in 2006 ... LeVar Burton is using KickStarter to try to bring back Reading Rainbow ... HBO ordered 18 episodes of the new Danny McBride comedy Vice Principals.
Working Out With Karl Malone
This is every bit as good as it sounds.
Burgertyme with Julian Edelman
Julian Edelman now has a YouTube show and invited Chandler Jones on to be his first guest. I hope this is a real thing and not a one-time joke.
When Dogs Fly
Whisper goes BASE jumping with his father, world famous jumper Dean Potter.