Back in the Fire
Twitter @NBA
Despite a hobbled Tony Parker who missed the entire second half, San Antonio finally broke through on Oklahoma City's home court on Saturday in a 112-107 overtime win over the Thunder, setting up a rematch of the 2013 NBA Finals between the Spurs and Heat. Kawhi Leonard delivered the poster above with a monster slam over Serge Ibaka in the game's opening minute. Only five players scored for the Thunder (including Derek Fisher's 5 points), and OKC's overtime shot chart looked like someone spilled a set of jacks on the court. For the sadists, here are the hurting, hunched over Kevin Durant and Russell Westbrooktrudging through the post-game presser.
Parker will have a few days to rest his gimpy ankle for what should be an excellent series in which the Spurs will have home court advantage. Assuming Parker is good to go at somewhere near full strength, I'm taking the Spurs in 6, setting myself up for a bout of self-loathing for betting against LeBron.
A couple more conference finals-, Lance Stephenson-related bits: Here's Lance getting a taste of his own nonsense at a WNBA game, where a youngster blew some hot air into Stephenson's ear. And here's Lance at the Spurs-Thunder game, causing a Durant turnover.
Japanese Pro Baseball Team Solves Attendance Problem With Cardboard Fan Cutouts
Only one cardboard fan has the dignity of a drawn-on face, but overall, this is an A+ move for team morale.
Jordan Farmar Wears Best Costume at Lakers Pool Party
The Lakers enjoyed some day drinking to celebrate Nick Young aka Swaggy P's birthday, where Jordan Farmar sported '90s spring break attire complete with a neon D.A.R.E. fanny pack that had to have cost at least $20 at some vintage store.
Cheerleader of the Week
Weekend Hot Clicks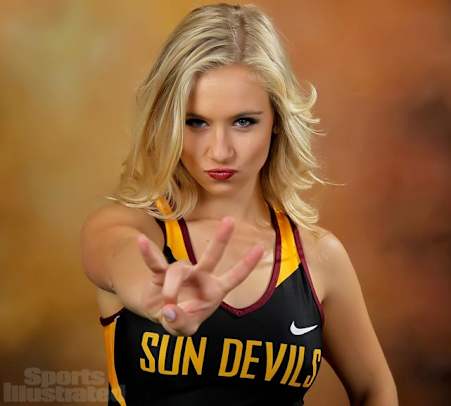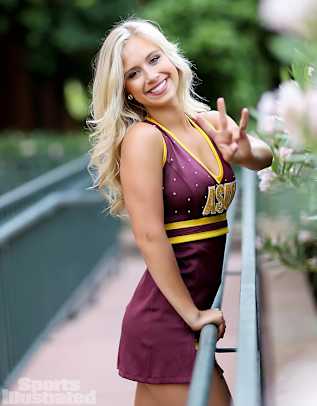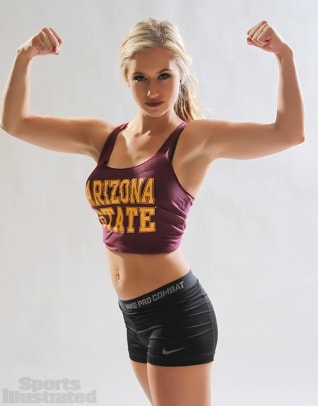 This week, get to know Arizona State Spirit Squad member and education major, Roxane.
My friends would be surprised to know that: "I played softball in high school along with being a cheerleader. They would also be surprised to know that I love playing video games, especially FIFA!"
Celebrity crushes: "Mike Trout and Ryan Reynolds because they both are extremely good looking and seem to be really cool and interesting guys."
Guilty pleasures: "Reese's and banana Sonic Blast at Sonic, watching reality TV, and taking naps. I am known for taking really long naps."
I'd want my last meal to be: "My dad's homemade burgers. They are the best you will ever have. I always ask him to make them when I come home."
Click here for Roooooooxane's full gallery.
Paper Airplane from Upper Deck Hits Defender at Wembley Stadium
Anticipation mounts as the fearless, pilot-less plane descends from the nosebleeds to the pitch.
Three Baseball Nut Shots in One Day
The unimpededknock to a diving Norichika Aoki's crotchis the best case for athletic protectors, but none of these three are pleasant to watch.
Twins Broadcast Offers Fawning "Scouting Report" for Jeter
Did someone in Minnesota once receive a Jeter gift basket?
Odds & Ends
Huge Game 7 between the Kings and Blackhawks tonight at 8 p.m. ET for the right to play the Rangers in the Stanley Cup Finals; get a preview and some notes here, including a video of goalies Jonathan Quick and Corey Crawford butting heads in Game 6 ... Manny apologizes for Manny being Manny during Red Sox tenure ... Florida Gators execute hidden ball trick ... David Price escalates beef with David Ortiz ... Dwyane Wade forgoes professional detail, has kids wash his Porsche ... Kid ruins his father's passport with doodling ... David Attenborough narrating a giant bird dump on Memorial Golf Course ... Phillie Phanaticdumping a bucket of popcorn on a Mets fan.
Man Eats Pizza WHILE Working Out at Gym
And he totally gets judged for it at the judgment free zone (Planet Fitness). I figure he's running a 15-20 calorie surplus for each bite/back extension. [The Big Lead]
Man Versus Boy, Basketball Edition
No mercy. At all. [SportsGrid]
Umpire Changes Strike Call to Ball
Sir, you can't do that. This reminds me of my first time umping little league baseball when I instinctually called some strikes before they even reached the plate. [Holdout Sports]