Air Shuttlesworth
Friday's A.M. Hot Clicks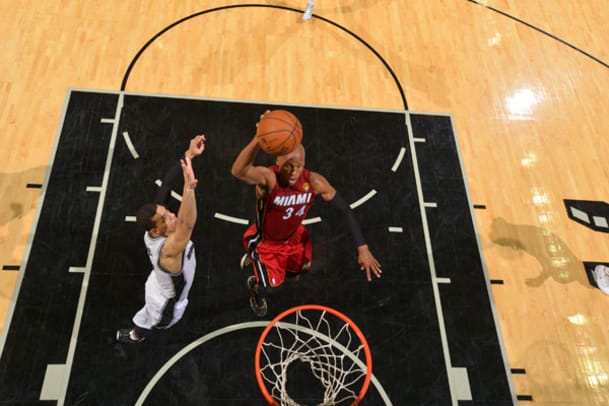 Game 1 is in the books and it was a memorable one. In the end, the Spurs took a 1-0 series lead with a 110-95 victory over the Heat. The game will be remembered for a variety of reasons -- the busted air conditioner, LeBron James' cramp (and the subsequent memes it produced), Gatorade trolling LeBron on Twitter, Jonathan Martin (of all people) trolling LeBron on Twitter, Dwyane Wade's Dream Shake and the Lance Stephenson jokes. But I still can't get over this dunk by 38-year-old Ray Allen, which just proves that Jesus doesn't age.
Andy Reid Loves Cheeseburgers
The Chiefs coach has been treating his team to cheeseburgers and unleashed one my favorite quotes this year while speaking with reporters yesterday. When asked why he loves cheeseburgers so much, Reid said, " It's like a Snickers bar in the freezer, right? I mean, it's treasured."
Philip Rivers Wears a Mullet
The Chargers quarterback put on a disguise to play softball with teammates Danny Woodhead and Eric Weddle.
Lovely Lady Of The Day
Friday's A.M. Hot Clicks
I've been waiting for an excuse to feature Kelly Gale as LLOD since I saw her at the Victoria's Secret fashion show last year. Her new photo shoot for F&M is a good enough reason.
Taking Concussion Prevention Too Far?
A Pennsylvania middle school has banned its soccer players from heading the ball.
What is Going On In Tampa?
Not only do the Rays have the worst record in baseball, but also their players are riding stick ponies around the dugout.
From the SI Vault
Dikembe Mutombo :: Getty Images
Buzzfeed has a great story on Dikembe Mutombo's trademark finger wave, how it helped turned him into a superstar and eventually raise money for thousands of needy citizens in Africa. And I thought it just made for funny commercials. Want more classic sports photos? Visit the SI Vault on Twitter.
Odds and Ends
The Basketball Tournament, featuring a handful of familiar names (Ryan Gomes, Scottie Reynolds), kicks off today. The winning team earns a $500,000 cash prize ... Slate profiled Delonte West as he attempts a NBA comeback ... EA Sports' FIFA 14 predicts Germany will win the World Cup ... A look back at Michael Chang's memorable summer of 1989 ... A college coach in Oklahoma was fired for running the Boston Marathon ... How much every country's fans would pay to win the World Cup ... Mariners pitcher Fernando Rodney wore the wrong uniform on Tuesday ... Which billionaire could buy your city ... House of Cards is holding an open casting call for actors with a "DC look." This could be your big chance!
LeBron James Mic'd Up
It's always interesting to hear what the players are actually saying to each other during the game.
Bad British Commentary Tackles the Stanley Cup
This is phenomenal, though it hurts as a Bruins fan to relive last year's Final.
Mark Teixeira Has a Talk Show
Much like Julian Edelman's show, this was surprisingly good. Big League Stew has more clips here.