Thursday's A.M. Hot Clicks
Mustardite Brett Smiley in this week for Andy. Send tips to basmiley [at] gmail [dot] com or hit me up and/or follow me on Twitter @brettsmiley.
Snow Save and a Beauty
YouTube/NBCSports
To quote the simultaneously annoying and catchy former New York lottery marketing slogan, the Rangers had a little bit of luck last night. The image above shows the puck after a deflection that passed by Rangers goalie Henrik Lundqvist with about a minute remaining in the third period as New York clutched to a 2-1 advantage. Miraculously, the puck just stopped there, thanks to a miniature snow pile. Before Lundqvist could locate the puck, while it just lay there unattended, Rangers center Derek Stepan snuck in and swatted it under his goalie.
Incredibly, the Rangers benefited in the same exact fashion in the first period on a Kings power play when the GPS-enabled puck stretched even further onto the red line, but never fully crossed over. In that instance, defenseman Anton Strålman leapt into the crease, barely beating Jeff Carter's swat, and then snuck it away from the goal with a second effort that hid the puck underneath Lundqvist.
Here are both incredible game-saving plays, beginning with the Ranger's first period miracle. The series continues Friday back in Los Angeles, Kings leading 3 games to 1.
Scenes From Novak Djokovic's Blow Up Doll-Enhanced Bachelor Party
I have no idea if blow up dolls are tantamount to naked women at your place of work, so I'd proceed with caution.
Landon Donovan Pokes Fun at His World Cup Omission in StubHub Commercial
Donovan plays a sad game of 1-on-none foosball in the pretty funny commercial. T-minus about 6 hours until the tournament begins!
Lovely Lady Of The Day
Thursday's A.M. Hot Clicks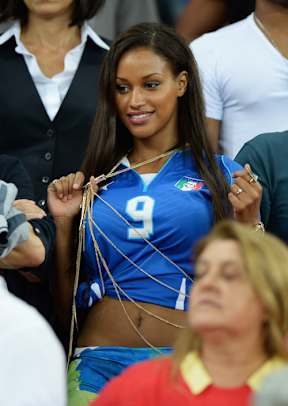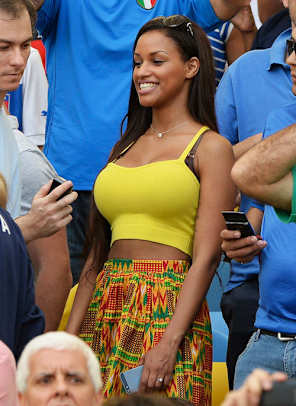 Today's Lovely Lady is the fiancee of AC Milan/Italy forward Mario Balotelli, Belgian stunner and on/off girlfriend Fanny Neguesha. The pair got engaged just yesterday. Thunder Treats has much more of Fanny and you can check out Heavy for yet more. Follow her on Instagram here.
Cespedes Strikes Again
I joked the other day that when A's outfielder Yoenis Cespedes made an astounding no-hop assist throw home after misplaying a ball, that he could use the tactic more often to induce runners to advance and then catch them with his cannon arm. He probably doesn't read Hot Clicks but it actually happened again -- last night::
The Angels once again expressed their dismay on Twitter:
Classic Rap Albums Reinvented With NBA Players
Artist Patso Dimitrov is really, really good at Photoshop. Still, I'm slightly disappointed that Shaq Diesel didn't get reinvented with, I don't know, Kevin Love.
In Other Rapper-Athlete News...
Independent rapper Hoodie Allen dropped his single "Nolan Ryan" yesterday, only the single's cover art shows a picture of ... Ryan's Mets teammate Jerry Grote. To quote Texas governor Rick Perry: Oops.
Odds & Ends
No, Team Japan did not show up for the World Cup in a Pokémon jet ... Rickie Fowlersports knickers at U.S. Open to honor Payne Stewart ... Tim Duncan's girlfriend rips Heat fans for early departure after Game 3 ... High school steeplechase competitor faceplants 10 meters short of winning state title, the says, "Well, I ran a good 2,990 meters" ... LeBron Jamesmade a cool $30 million from the sale of Beats By Dre to Apple ... Extra Mustard editor Dan asked an actual astrophysicist about the viability of Sepp Blatter's interplanetary soccer competition ... Some stalker-y MLB footage of Kate Upton at a Tigers game to see JustinVerlander.
Torii Hunter Always Performs
Jim Rome asked Hunter about LeBron James' Game 1 leg cramps. [Next Impulse]
Jack Link's Creates Humongous "Meat Rushmore"
To commemorate National Jerky Day, June 12. As a bonus, the video is full of sexual innuendo if you're listening for it. (Sorry, I can't help it.)
Don Cherry Dancing in Times Square to Techno Music
According to Awful Announcing, Cherry said that he lost a bet. This is the result.
In Case You Missed It: Dad Pants PSA
Jim Harbaugh's wife, Sarah, is boldly taking action against Americans's "dad pants" epidemic.