Thursday's P.M. Hot Clicks
Mustardite Brett Smiley in this week for Andy. Send tips to basmiley [at] gmail [dot] com or hit me up and/or follow me on Twitter @brettsmiley.
Let the World Cup Begin
Jennifer Lopez was one of the performers at the opening ceremonies in Brazil. (Getty Images)
Opening ceremonies have begun for the 2014 World Cup in Brazil and by the time you're reading this, the tournament's first game, Brazil versus Croatia, will have started too. Here we go!
Meanwhile outside one stadium, street performers are doing their best Pelé and Maradona impersonations. That's because fans still can't get enough of the great Pelé: Here are some classic photos of Pele and a daily updated gallery of scenes of the World Cup. Finally, check out this drawing, a symbolic, alternate take on the World Cup trophy.
The U.S. Open Will Beat You Down
Check out this comical image of Marcel Siem on the fourth green at Pinehurst in the opening round of the U.S. Open. Siem had just bogeyed three straight, but he bounced back to finish an even 70.
This Year's "Hard Knocks" Will Feature the Atlanta Falcons
NFL Films and the team made the announcement this afternoon. Big sigh of relief for the Bears, Steelers and Giants, who were in the mix because they had all missed the playoffs in the past two years and haven't made a coaching change. Expect a heavy dose of Roddy White. I'm not sure if Matt Ryan can be more boring than Andy Dalton last year, but kind of afraid he might be.
Lovely Lady Round-up
Thursday's P.M. Hot Clicks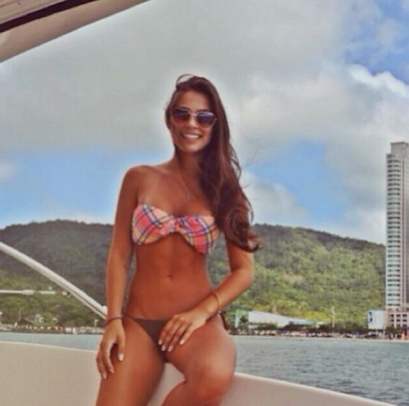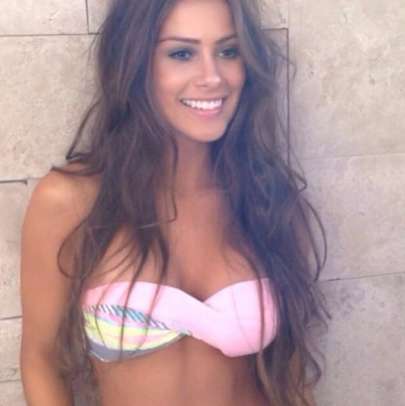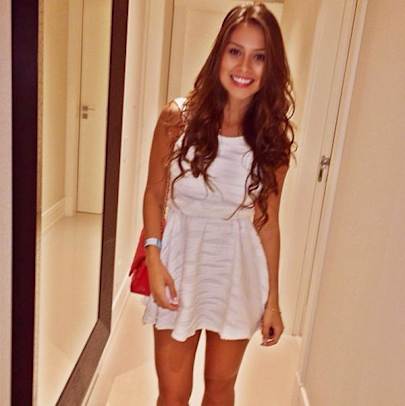 Today's round-up is led by the new girlfriend of Brazil/Barca forward Neymar (da Silva Santos Júnior), model Gabriella Lenzi who also hails from Brazil. Get more of her at Rant Sports and Esquire and you can follow her on Instagram here. ... Here's a gallery of ladies in World Cup body paint ... Model Chloe Patterson of Australia taking a turn with fitness modeling ... And let's round this out with WAGS of the U.S. Open.
Hot Clicks Giveaway: Lucky Charms Cereal & Swag
This has to be one of the tastiest giveaways we've done: Lucky Charms is asking fans everywhere to show how they help make the world a more colorful place – sharing messages, photos and video across social media using #LuckyToBe. I've got three Lucky Charms #LuckyToBe swag packs to give away, each consisting of: five (5) boxes of Lucky Charms cereal, one Lucky Charms T-shirt and one Lucky Charms iPhone case. Perfect for anyone who has an iPhone, needs clothing and isn't on a keto diet.
If you'd like to win one, tweet me @brettsmiley a picture of a certain Friends actress who appeared in a 1993 movie in which the title describes the Lucky Charms mascot.
Update: We have three winners who are responsible for their own milk. Thanks for playing.
Time to Work On Your Interviews
Cal Ripken Jr.'s advice to young baseball players is to follow the wisdom of Bull Durham's Crash Davis, whose mantra is to bore reporters to tears with cliches and canned nothings. "Of course it's boring, that's the point."
The Iron Sheik's 100 Most Insane Tweets of 2014
If you're not following him on Twitter, you're missing a bizarre, controversial blast of unfettered anger, to say the least.
The 10 Best Outfield Throws
Odds & Ends
Former president George H.W. Bushwent skydiving to celebrate his 90th birthday... Bill Murraycrashes a couple's engagement photo (and it's awesome) ... High stakes poker organizer says that Tobey Maguire "was the worst tipper, the best player, and the absolute worst loser" ... Turns out Lance Stephenson was the key to the New York Rangers' good fortune last night ... Awkward timing for the wording of a Landon Donovan sunscreen advertisement ... Best of the NFL Johnsons (safe for work indeed) ... Olympic speed skater Eddy Alvarezsigns minor league with the White Sox ... Adorable World Cup dogs ... This boy's catch is great but the reaction from the guys in his section might be better.
Who Is Gene Lamont?
He's the Tigers bench coach and has an entire troupe of actors/comedians who love him: Rob Riggle, David Koechner,Paul Rudd, Jason Sudeikis, Eric Stonestreet, Jon Hamm and more. The group gave Lamont another shout-out at Kaufmann Stadium in the run-up to their June 20-21 Big Slick campaign to benefit KC's Children's Mercy Hospital.
Vote Carlos Gomez for This Year's All-Star Game
Outstanding spoof on political campaigns. Bravo. [Score]