Wednesday's P.M Hot Clicks: Getting Injured While Celebrating
Athletes Who Injured Themselves While Celebrating
Athletes Who Injured Themselves While Celebrating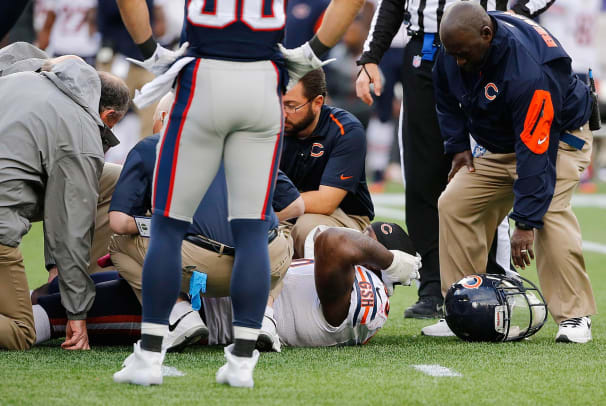 Last Sunday, Lions linebacker Stephen Tulloch sacked Aaron Rodgers and promptly suffered a season-ending ACL tear celebrating said sack. Fortunately for Tulloch, there is a history of players injuring themselves while celebrating, as this gallery demonstrates.
Help Wanted: Wizards Mascot
With Aiden Charlery (better known as the Wizards mascot G-Man) off to Charlotte to become the Hornets new mascot, the Wiz is looking for someone new to take over the role. So if you know anyone who can "brainstorm and develop skits and videos to enhance the patron's game night experience," and who also has previous dunking experience, have them contact the team ASAP.
LeBron Gets Noblified
In July, Connor Barwin commissioned a company called Noblified to create aristocratic portraits of his fellow Eagles linebackers. The paintings now hang in the team's Linebackers Room and the company is trying to paint portraits for the entire team by season's end. More importantly, Noblified decided to send LeBron James a welcome gift for his return to Cleveland and it's tremendous. I know next-to-nothing about art but I've never seen the Napoleon I in Coronation Robes by Anne-Louis Girodet de Roussy Trioson look so good.
Lovely Lady Round-Up
Nicole Trunfio attended the screening of Jimi: All Is By My Side on Monday, though I'm guessing some people were screening Nicole's dress (click here for full-size gallery) ... Thank you Popoholic for introducing me to Amy Jackson ... Daphne Joy knows her way around a bikini ... Seven more ways to model-fy your Instagram account.
Hot Clicks Giveaway: Derek Jeter T-Shirt
Derek Jeter is retiring at the end of the season -- not sure if you heard -- and the good people at Fanatics.com have 296 Jeter products available. If you're wondering, Jeter merchandise on Fanatics.com is up 1,000% for the season, 2,000% for the month and 2,700% this week compared to the same periods last year. Anywho, they have given me three Commemorative Logo T-shirts for you, the Hot Clicks audience. I will send a shirt to the 25th, 50th and 75th person who emails me (andy_gray@simail.com) the name of the girl featured in the Vault section of today's A.M. Hot Clicks. Please make the subject line "Fanatics."
Update (6:15 p.m.): Contest is closed. Winners will be notified. Thank you.
As If the Mets Didn't Have Enough Problems
The Fans Speak Out
SI polled more than 500 NFL fans on a variety of topics, including Roger Goodell's performance as commissioner, whether gambling should be legalized and the length of drug suspensions. The stat that really caught my eye is how few fans find the "Redskins" name offensive. With all the media speaking out about it, I thought the number would be much bigger.
Young A's Fan Makes Birthday Wish
Odds & Ends
Reviewing pro wrestling's tell-all biographies ... This was not the greatest moment for The Vancouver Sun ... Concession Food Item of the Week: The Funnel Dog ... Tommy Chong and Erin Andrews had an awkward boob moment on last night's Dancing With the Stars ... Colin Kaepernick has two rooms for his 400 pairs of shoes ... Cool infographic looking at Curt Schilling's famous bloody sock game ... Jeff Van Gundydoesn't appear to have much confidence in his brother ... Val Kilmer's 1985 film Real Genius is being turned into a comedy for NBC ... It'll cost you $63,718 to stay an extra year at college.
Morgan Freeman Reads Chrissy Teigen's Tweets
Well, it's actually a Morgan Freeman impersonator, but you get the point.
Another Look At Arizona's Hail Mary
The view from inside the stadium for Arizona's Hail Mary victory over Cal. (H/T Dr. Saturday)
[youtube:http://youtu.be/LxoUwethaM0​]
Ross Matthews at the Super Bowl
I may be alone in this one, but I always enjoyed when The Tonight Show would send Ross Matthews to a sporting event. Anyhow, Matthews turned 35 today so I'm going back to 2009 when he attended Media Day before the Steelers-Cardinals Super Bowl.
Neil Young in 1971
I've been listening to this all afternoon. Figured I would share with you.