Monday's P.M. Hot Clicks: Tom Izzo's Top Midnight Madness Costumes
Tom Izzo: Midnight Madness Star
Tom Izzo's Midnight Madness Costumes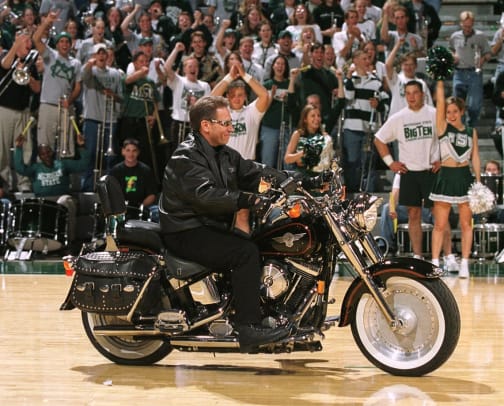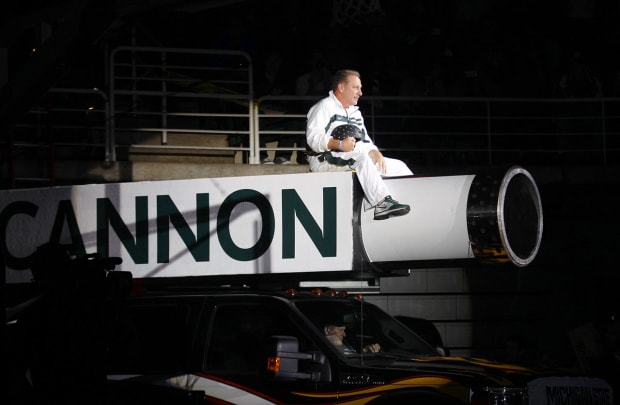 Midnight Madness began in 1971 when Maryland coach Lefty Driesell made his players participate in a one-mile run on the school's track that 800 bored students turned out to watch. It has grown in size and scope over the past 43 years and no coach has more fun with the event that Michigan State's Tom Izzo. Whether painting his face and dressing as a member of KISS (as he did this year) or dressing as a hippie and entering the arena via a Volkswagen Bus, Izzo never disappoints. Here's a look at the Michigan State coach's best Midnight Madness costumes.
The NHL's Worst Ref
Yahoo's Puck Daddy has a great piece on the atrocious embellishment penalty referee Tim Peel called on Sami Vatanenduring Sunday night's Ducks-Sharks game. Vatanen crumbled to the ice after taking a stick to the face and was soon whistled for the penalty. Tim Peel, if you recall, was the referee who joined Twitter last summer, received a bunch of hate messages from NHL fans and took down his account less than 24 hours later.
Please Carve Tony Romo's Face Into My Head
The Cowboys are off to a 6-1 start and this fan is so excited that he had Tony Romo's face carved into the back of his head. The masterpiece was done by Rob the Original, and if you haven't seen his other work, take a second and check out his Instagram page. Bret "Hit Man" Hart is my favorite.
Lovely Lady Round-Up
Michigan's football program may be a hot mess right now but at least the Wolverines have Carly Francavilla in their corner (click here for full-size gallery) ... Holly Puska is one reason to cheer for the Cowboys tonight ... A roundup of pics from Playboy's annual Halloween party ... Xenia Deli has a new lingerie photo shoot out. I still prefer her in this white dress.
Hot Clicks Giveaway
The 2015 SI Swimsuit calendars are here and I have eight to give away. I'll send them to the 20th, 40th, 60th, 80th, 100th, 120th, 140th, 160th and 180th person who emails me (andy_gray@simail.com) the name of the Lovely Lady of the Day in today's A.M. Hot Clicks. Please make the subject line "SI Swimsuit Calendar."
Update (8:55 p.m.): Contest is closed. Winners have been notified. Next giveaway is on Tuesday.
One Way To Spend $69
Russell Westbrook is Pornstache
I Want This Cake
Odds & Ends
If you happen to see a 7-foot-2 dude running the New York City Marathon on Sunday, that's just Dikembe Mutombo ... Baron Davissold a TV comedy pilot based on his life ... This couple won Halloween with this Jameis Winston-inspired costume. Here are some other memorable college football Halloween costumes ... Dick's Sporting Goods ran an ad advertising 'Royals World Series champions' merchandise ... A recap of last night's WWE Hell in a Cell ... Roger Federer continues to be the nicest athlete alive ... Ryan Lochte is a generous tipper ... The Portland Trail Blazers are going to do a lot of traveling this season ... A Different World, which I religiously watched on Thursday nights after The Cosby Show, may get a 2014 reboot ... The last known photographs of 41 famous people ... The funniest moments in Facebook history.
Steve Perry Serenades Giants Fan
The former Journey singer was rooting on the Giants and helped sing When The Lights Go Down in the City with fans.
Hockey Fights of the Week
Andrew Desjardins (Sharks) and Tanner Glass (Rangers) take first place in this week's NHL fights countdown.
Time Lapse: World Series Game 5
Relive all of Sunday night's action in just 23 seconds.
[youtube:http://youtu.be/M5YskiKFV8U]
Amy Poehler on Howard Stern Show
The Parks and Recreation star spent nearly 90 minutes on Stern's show Monday morning.
[youtube:http://youtu.be/8M093h3X0Mk]