Friday's P.M. Clicks: Sofia Vergara; A-Rod's Most Embarrassing Moments
Friday, Feb. 27, Hot Clicks. Alex Rodriguez's Most Embarrassing Moments
Follow Andy Gray on Twitter :: Become a fan of Extra Mustard on Facebook
A-Rod's Most Embarrassing Moments
Alex Rodriguez's Most Embarrassing Moments
Mitt in the Face
Jason Varitek may have cemented his place in Red Sox lore when he challenged Alex Rodriguez during a July game at Fenway Park in 2004. Varitek shoved Rodriguez in the face with his glove after A-Rod objected to being hit with a Bronson Arroyo pitch, and following the subsequent brawl (in which both Varitek and Rodriguez were ejected), the Red Sox rallied to a dramatic 11-10 victory. The image can be found hanging in many a sports bar throughout New England.
The Slap
During Game 6 of the 2004 ALCS against the Red Sox, Rodriguez hit a slow roller between first base and the pitcher's mound. As Bronson Arroyo fielded the ball and tried to apply the tag, A-Rod slapped the ball from his glove. Derek Jeter, who was on first base, came around to score while Rodriguez advanced to second. The umpires huddled and ruled that A-Rod's slap was interference, forcing Jeter to return to second and nullifying the run. Boston went onto win the game and the series.
Tabloid Magnet
It's a challenge for any New York athlete to stay out of the press, something A-Rod knows all too well. In 2006, he was photographed sunbathing shirtless in Central Park. A year later, he was spotted leaving a Toronto strip club with a "mystery blonde." Days later, an exotic dancer was quoted in the New York Daily News about A-Rod's preference for the "she-male, muscular type." A year later, Cynthia Rodriguez filed for divorce, citing "extra marital affairs and other marital misconduct."
The Demotion
The Alex Rodriguez-Joe Torre relationship reached its low point during Game 4 of the 2006 ALDS against the Tigers. Stuck in a 1-for-11 slump with no RBIs, the struggling Rodriguez was moved down to eighth in the batting order by Torre. It was the lowest A-Rod had batted since May 1996, when he was a 20-year-old rookie with the Mariners. The move made little impact as Rodriguez finished the game hitless in three at-bats and Detroit knocked the Yankees out of the playoffs.
The Pop-Up
During an early-season matchup with the Blue Jays in 2007, Rodriguez got into some hot water north of the border. With two out in the ninth and the Yankees leading 10-5, Jorge Posada hit an infield pop-up. As third baseman Howie Clark settled under the ball, Rodriguez ran past him on the base path. Video replays clearly showed Rodriguez yelling something that was described by Jays on the field as "Mine!" or "I got it!" The ball dropped, a run scored and shortstop John McDonald had to be restrained from attacking Rodriguez, who insisted he only yelled, "Ha."
Stray Rod
Probably not a good idea to be spotted leaving a Toronto strip club with a busty blonde right before heading to Boston for a three-game series. Needless to say, Red Sox fans were relentless.
World Series Announcement
Rodriguez's future in New York was a hot topic throughout 2007. Agent Scott Boras had negotiated an opt-out clause after the seventh year of Rodriguez's record 10-year, $250 million deal signed in 2000. Though A-Rod had 10 days after the conclusion of the World Series to make his decision, his choice became public during the eighth inning of the deciding game between the Red Sox and the Rockies. While Boston won the game and the championship, it was overshadowed by Rodriguez and the curious timing of his announcement.
Madonna's Main Squeeze
In 2008, rumors spread about a relationship between the recently divorced Rodriguez and pop singer Madonna. The two were spotted around town together and the Yankees third baseman reportedly joined her at several Kabbalah services in New York City. But Madonna had eyes for another man and was soon dating 21-year-old Jesus Lutz. Gossip outlets soon reported that A-Rod was "embarrassed" because he was dumped for a younger guy, and fans had a field day teasing the love-struck third baseman.
Trashed by Torre
Rodriguez had a complex relationship with Yankees manager Joe Torre during their four years together, but Torre's true feelings came out with the release of his book, "The Yankee Years," in 2009. In it, the manager reveals how A-Rod monopolized all the attention in the Yankees clubhouse, and when the third baseman was at the plate in pressure situations, he was too often unable to "concern himself with getting the job done" and instead became distracted with "how it looks."
Caught Cheating
While many fans looked at Rodriguez's impressive statistics and felt they had to be attained with the help of performance-enhancing drugs, it took two SI reporters to prove it. Selena Roberts's and David Epstein's February 2009 cover story revealed that A-Rod had tested positive for two anabolic steroids -- testosterone and Primobolan -- during his 2003 season while playing for Texas. In an interview with ESPN days later, the third baseman admitted the report was true and he used banned substances from 2001 to 2003, a charge he flatly denied to Katie Couric in an interview two years later. He was not punished by Commissioner Bud Selig because the test was supposed to be anonymous and there was no mechanism in place at the time for disciplinary action.
The Centaur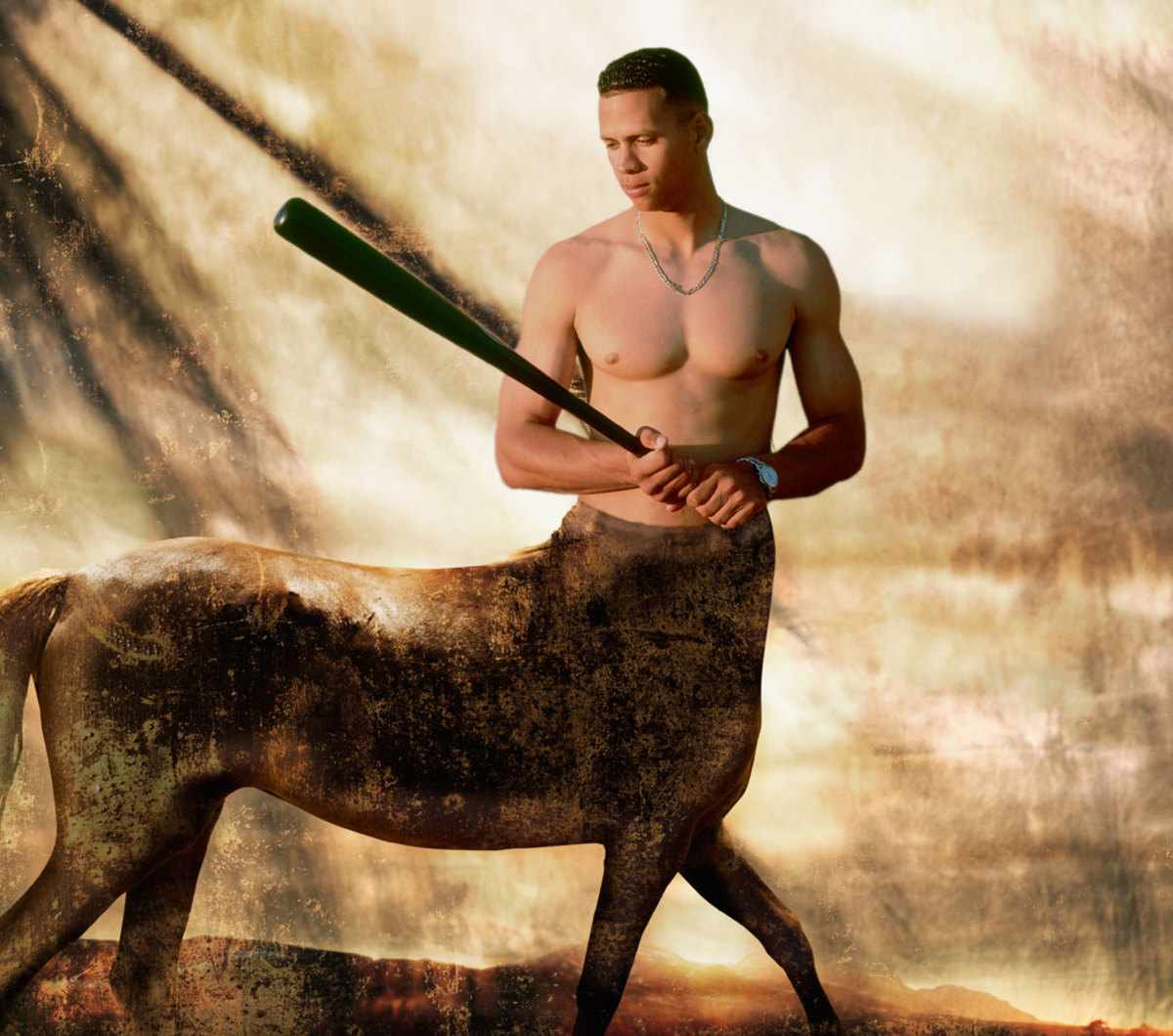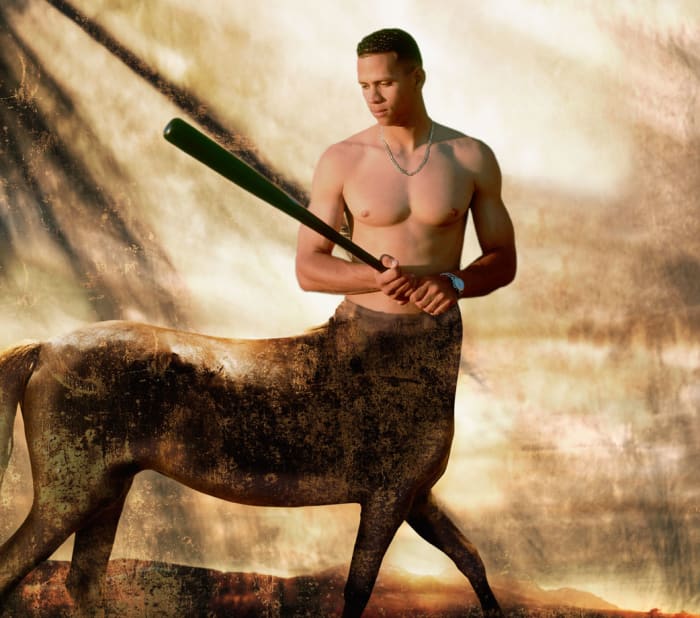 In one of the more embarrassing revelations about Rodriguez, a former A-Rod fling told US Weekly in 2009 that the player had two painted portraits of himself as a centaur hanging above his bed. "He was so vain," the ex told the magazine. "He had not one, but two painted portraits of himself as a centaur. You know, the half man, half horse figure? It was ridiculous."
In Love With His Mirrror
A-Rod's image took another hit in 2009, when he was featured in a Details magazine photo spread kissing a mirror and stretching shirtless on a bare mattress.
The Secret of His Success
By the 2009 postseason, Rodriguez had developed a reputation as a hitter unable to deliver in the clutch. But in 15 glorious games, A-Rod played like a superstar, batting .335 with six home runs in leading the Yankees to a World Series title. Credit for the turnaround was not attributed to the extra work A-Rod put in or his increasing maturity as a player. Instead it was given to girlfriend Kate Hudson, who was seen as a human good luck charm for Yankee fans. The good luck ran out a couple months after the Series, however, as the third baseman reportedly dumped the actress.
Walking Across the Mound
Rodriguez angered A's pitcher Dallas Braden when he broke the unwritten rule of not walking across an opposing team's pitcher's mound. The incident occurred in the sixth inning of an early-season game in 2010. A-Rod went from first to third on a foul ball by Robinson Cano. On his trip back to first base, Rodriguez walked over the mound. After a double play ended the inning, Braden started yelling at A-Rod, who later said he'd never heard of the rule. When asked about it after the game, Braden suggested Rodriguez "take a note from his captain" and not do it again.
The Popcorn Show
Rodriguez attended Super Bowl XLV with Hollywood girlfriend Cameron Diaz in 2011. As cameras panned to the happy couple, Diaz was shown feeding popcorn to the Yankees third baseman. The video soon went viral and A-Rod reportedly went ballistic, saying the Fox cameras were out to embarrass him.
Have a Baseball....For Your Number
He may have been benched late in the ALCS opener, but A-Rod found something to do while sitting out of the game: Flirting with a woman in the stands near the dugout, later identified as Kyna Treacy (inset right), an Australian bikini model. According to The New York Post, A-Rod reportedly asked a ball boy to give a baseball to Treacy and her Aussie friend, Kate Quinn (inset left), with a note asking for Treacy's phone number.
Suspended
On Aug. 5, 2013, the day of A-Rod's return from injury to baseball, Major League Baseball announced its suspension of Rodriguez through the end of the 2014 season for violating the Joint Drug Agreement. A-Rod's suspension is the longest non-lifetime ban in baseball history and by far the longest ever handed down under the JDA. Rodriguez appealed the suspension and played for the Yankees through Sept. 25. He would miss the entire 2014 season.
Ratter Up
Within two weeks of A-Rod's suspension, "60 Minutes" reported that his inner circle obtained and leaked documents implicating Ryan Braun and Yankees teammate Francisco Cervelli in the Biogenesis scandal just days after the Miami New Times detailed Rodriguez's use of performance enhancing drugs.
Alex Rodriguez is back with the Yankees after missing all of 2014 due to a PED suspension. And wouldn't you know, the team is already angry with him. It's going to be a long, fun summer in the Bronx. While we wait for the next A-Rod drama, take a look at the gallery above of his most embarrassing moments. (click here for full-size gallery).
Take That, Thaumatodryinus Tuukkaraski
Earlier this week, we learned that an entomologist and Bruins fan discovered a new species of wasp and named it Thaumatodryinus Tuukkaraski after Boston goalie Tuuka Rask. Terminix is not happy about this development and has offered free bug-killing service for life to the next player who scores on the Bruins netminder.
Tale of the Tape History
While putting together a Tale of the Tape for the upcoming Manny Pacquiao-Floyd Mayweather Jr. fight, we stumbled across some vintage Tale of the Tape photos dating to 1923. So we made an Extra Mustard post about it. Things have changed a tad since Dempsey-Gibbons in 1923.
Lovely Lady of the Day
Voting ends this Wednesday's for AskMen's Top 99 Outstanding Women of 2015. I've never featured Sofia Vergara, which is pretty amazing considering she hasn't taken a cleavage-free photo yet this decade. She earns LLOD honors (click here for full-size gallery).
Hulk Hogan and John Cena Visit Google
The two pro wrestling stars toured the campus, slept in the nap pod, rode a conference bike and nailed 35 workers in the head with steel chairs. Okay, I made up that last one but admit you laughed harder than you did when you watched The Internship.
Jeff Van ​Gundy Knows 4th-Grade Basketball
The ESPN analyst spoke on the "Innovators and Adopters" panel at the Sloan Sports Analytics Conference Friday and laid down his two keys to being a successful grade school coach. Not sure these tips would land him Sportsman of the Year award, but fourth grade hoops can be cutthroat.
Blake Griffin Has An Important Question
NFL Season Tickets For $40.25
Can a Good Team Please Sign Steven Jackson
The Evolution of Pat Riley
Watch Pat Riley age before your eyes.
Poor Kevin Durant
Odds & Ends
Thirty reasons Game of Thrones is better than The Walking Dead ... Rajon Rondo is unlikely to re-sign with the Mavs ... Love this item: Manny Pacquiao will sing his own ring entrance song during his fight against Floyd Mayweather ... California is trying to ban chewing tobacco at all baseball parks ... Gallery: Blue and black, white and gold soccer uniforms ... The NFL's top draft sleepers ... Remember Pimp my Ride? Turns out there was a lot of deception going on ... The week's 20 funniest tweets ... Love these House of Cards posters ... R.I.P. Leonard Nimoy.
Never Seen This Before
A table-tennis player extinguishes a birthday candle in one swing.
Eighth-Grade Steph Curry
Turns out he could always shoot.
Milk + Coke = Crystal Pepsi?
Not quite, but adding milk to Coke does bring about some type of clear color. (H/T Uproxx)
My Back Pages
This is one of my favorite all-time YouTube musical videos and is taken from Bob Dylan's 30th anniversary concert. I love how each singer (Roger McGuinn, Tom Petty, Neil Young, Eric Clapton and George Harrison) takes a verse and is seemingly better than the previous singer. Neil Young, however, wins MVP in my book for his guitar solo at the very end.
Click here for previous versions of Hot Clicks and visit our Extra Mustard Page every day for more offbeat sports stories.