Friday's P.M. Hot Clicks: Simone Holtznagel; Athletes in Little League
Friday's P.M. Hot Clicks feature the lovely Simone Holtznagel and athletes in Little League
Follow Extra Mustard on Facebook | Follow Andy on Twitter
When Athletes Were in Little League
When Sports Stars were in Little League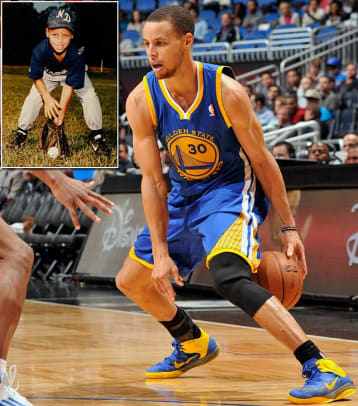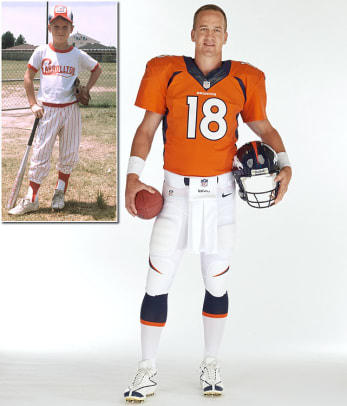 Here's the full-size version.)
Bill Murray, Director of Fun
Bill Murray, co-owner and Director of Fun for the Charleston Riverdogs, attended Thursday's season opener and caught the first pitch from Mayor John Tecklenburg. He then went to the pitcher's mound and tackled him. Also of note: Tecklenburg plays a mean piano.
Best Dives of NBA Season
Ben Golliver is back with this year's Floppies. Congrats to Matt Barnes and the Grizzlies.
P.M. Lovely Lady of the Day
).
Swamp Dragons > Nets
ESPN writer (and SI alum) Zach Lowe has a great oral history on how the New Jersey Nets nearly changed their name to the Swamp Dragons in the 1990s.
Paging Pro Wrestling Fans
We found Hulk Hogan and asked him to break down the WrestleMania card.
Nic Cage vs. Vince Neil
And the winner of most random celebrity altercation of the year is...
Odds & Ends
The Lakers are celebrating Kobe Bryant by selling a $38,024 hat ... Flavor Flav owns the O.J. Simpson statue featured at the very end of the FX series ... The Yankees finally responded to John Oliver ... SI's most popular stories of the week ... It's easy to get drugs in prison, according to Ryan Leaf ... 14 amazing trips you can take with the average tax return ... People will do anything to set a Guinness World Record ... Health and safety posters from the 1930s and 1940s ... Babies with adult heads of hair ... Gallery: The Day in Sports (April 8).
How Much Would Random Sports Memorabilia Cost? 
Ken Goldin, the guy auctioning Mike Piazza's 9/11 jersey, came by our studios, so we asked how much random memorabilia (Jaromir Jagr's mullet, Bill Belichick's sleeves), would cost.
The $100,000 Shot
Stephanie McMahon Busts a Move
Kristaps Porzingis Can Sing
Shaq vs. Mechanical Bull
Click here for previous versions of Hot Clicks, and visit our Extra Mustard Pagethroughout each day for more offbeat sports stories and videos and the latest Cheerleader of the Week gallery. Also check out the SwimDaily Page for the latest updates and Instagram pictures of models who have appeared in our issues.