Thurs. A.M. Hot Clicks: Terann Hilow; Kobe Scores 60 in Final Game
Thursday's A.M. Hot Clicks feature the lovely Terann Hilow and Kobe scoring 60 in his final game
Follow Extra Mustard on Facebook | Follow Andy on Twitter
Kobe Goes Out on Top
Kobe Bryant's Last Game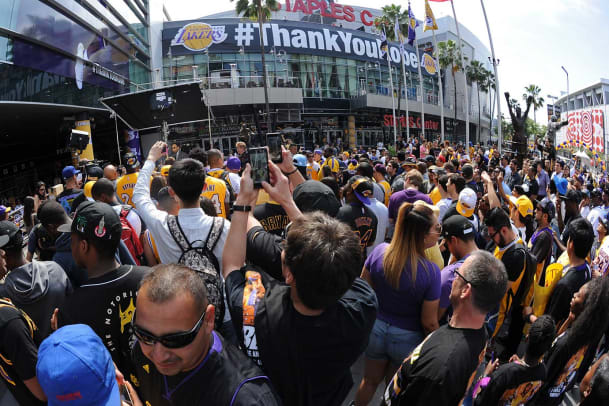 Kobe has granted the wishes of over 100 Make-A-Wish children during his career.
Warriors Are Good, Too
Somewhat lost in the Kobe celebration are the Golden State Warriors, who won their 73rd game Wednesday night, an NBA record. Stephen Curry reached 400 three-pointers on the season, which is totally nuts when you think about it. The 1995-96 Bulls were good sports about losing their record, though I'm sureMichael Jordan is off crying somewhere. Our crack NBA staff compiled the 73 best plays of Golden State's season and our favorite photo from each of the Warriors 73 wins.
Best Play of MLB Season
Francisco Lindor pretty much wrapped up a Gold Glove with this play.
Lovely Lady of the Day
to choose from.
" He's right. She does have some fantastical pics and is today's LLOD (
).
This Could Be Dangerous
The Rochester Knighthawks, a professional lacrosse team, are offering fans 10 beers and a ticket to the game for $35. This will not end well. Trust me.
Reminder: SI Model Search Voting Ends Friday
Don't forget to cast your vote (or tell me who you like in the comments).
Love These Uniforms
Steph Curry Takes Instagram Photo
Odds & Ends
Kevin Owens, Dean Ambrose and Kenny Omega take the top three spots in our weekly pro wrestling power rankings ... LOVE when ESPN personalities bash each other on Twitter ... A Liberty University student wrote a 10-page paper on Ray Lewis, which her teacher tore to shreds ... Your daily "Johnny Manziel is in trouble" story ... Soccer + wet field = splash fight ... Good piece on being in the audience at a Price is Right taping ... Wish my dad had built me a mini-garage when I was younger ... Galleries: The Day in Sports (April 13), featuring Kobe Bryant and Golden State, and a Kobe's Last Game collection, with fans and celebrities at the finale.
SI Swimsuit Meets Golden Oldies
While in Miami for SI Swimsuit launch week, we took SI Swimsuit models Kate Bock, Emily DiDonato and Hannah Ferguson to a practice with The Golden Oldies, the Miami Heat's 60-and-over dance team. A good time was had by all.
Wednesday Night in MLB
#http://www.120sports.com/video/v172214260/mlb-highlights-april-13
Nice Biker Alert
Not Donald Trump's Best Moment
Stairway to Heaven vs. Taurus
Led Zeppelin is heading to court over charges that the band stole the Stairway to Heaven intro from Spirit's Taurus. Take a listen and judge for yourself.
[youtube:https://youtu.be/9Q7Vr3yQYWQ]
Click here for previous versions of Hot Clicks, and visit our Extra Mustard Page throughout each day for more offbeat sports stories and videos and the latest Cheerleader of the Week gallery. Also check out the SwimDaily Page for the latest updates and Instagram pictures of models who have appeared in our issues.