Wednesday's P.M. Hot Clicks: Dani Evans; R.I.P Josh Samman
Wednesday's P.M. Hot Clicks feature the lovely Dani Evans
R.I.P. Josh Samman
UFC fighter Josh Samman passed away on Wednesday after spending nearly a week in a coma. Last week he was found unresponsive along with his friend, who was pronounced dead at the scene. The MMA community reacted on Twitter following the devastating news.
No Love for Pops
Odell Beckham Jr. might not be dominating the NFL in 2016, even saying he's a targeted player and that he's not having fun anymore, but he's still one of the most popular players in the league, and in Drew Brees' home. Brees said his 7-year-old son, Baylen, wanted to be OBJ for Halloween.
NCAA 2k17
NCAA Basketball and NCAA Football don't exist anymore and might never, but you can play NBA 2k17 as college basketball teams (NCAA 2k17) and it's awesome.
Dani Evans: P.M. Lovely Lady of the Day
Your afternoon LLOD is Dani Evans, who recently dropped by for a Swimsuit Casting Call. (Click here for full-sized gallery.)
This is Terrifying
Colorado is ranked in the AP Top 25 for the first time since 2005 but it wasn't all happiness at CU's athletic facility on Wednesday morning. Police fatally shot a man who entered the building with a machete.
Ohhhh, the Bluegrass Miracle
After Tennessee's Hail Mary against Georgia in Week 5, Athlon put together a list of the top college football Hail Marys of all time.
So Cool
People Are NOT Happy With Buck
Lindsey Vonn's New Book
Um .... OK?
Odds & Ends
UNC's kicker who hit the game-winner vs. Florida State reads Mean Tweets from Noles fans ... Blake Lively is really, really good at Instagram ... Poor guy: Mike the Tiger's (LSU's mascot) cancer is spreading ... Boston College is honoring 9/11 hero Welles Crowther with Red Bandana uniforms vs. Clemson ... The best NFL pregame and in-game cleats this year ... Ranking the 10 best Oregon uniforms of the 21st century ... Buy Frank Sinatra's former secret desert hideaway for $3.9 million.
FIFA 17 Fails
Gallery: Bayern Munich at Oktoberfest 2016
Bayern Munich at Oktoberfest 2016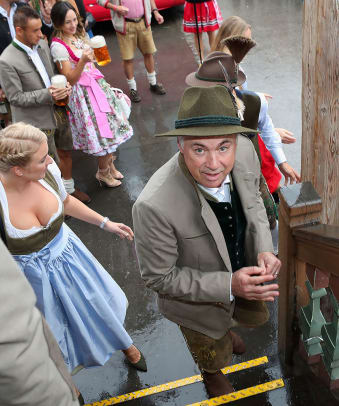 Armageddon