Monday's P.M. Hot Clicks: Emilina Adams; College Football's Most Unusual Trophies
Monday's P.M. Hot Clicks feature the lovely Emilina Adams and college football's most unusual trophies
Ranking College Football's Most Unusual Trophies
​​From Paul Bunyan's axe (Minnesota-Wisconsin) to a Wagon Wheel (BYU-Utah State), below is a gallery ranking the most unusual trophies in college football. (Click here for full-size version).
Ranking College Football's Unusual Trophies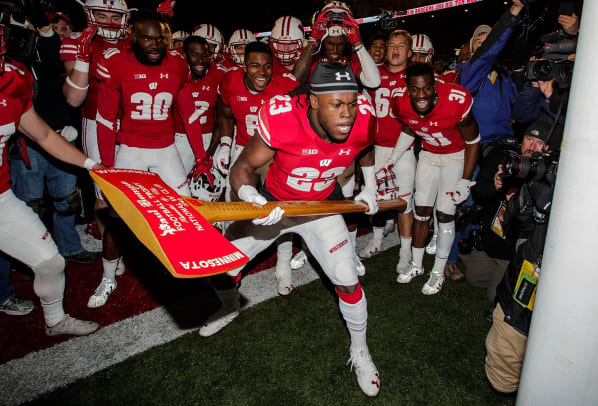 ​
Don't Let the Door Kick You on the Way Out
The Florida Panthers fired coach Gerard Gallant after Sunday night's loss to the Hurricanes. And then, just in case he wasn't feeling crappy enough, his luggage was taken off the team bus and he was forced to find his own ride home.
Jerk of the Day
After I read about the shooting at Ohio State this morning, I wondered if anyone would be dumb enough to tweet something relating it to Saturday's game against Michigan. Someone was and here's his dumb tweet.
Emilina Adams: Lovely Lady of the Day
Emilina Adams is the current Miss Nevada and a Rockstar Energy model. Put her on your radar (click for full-size gallery).
​
Hot Clicks Giveaway
Looking for a gift for the sports fan and music lover in your life? May I suggest a Bluetooth helmet speaker from our friends at NIMA Sports? These are perfect for tailgating or for blasting music in your house. There are helmets available right now for teams from the SEC, Pac 12, Big 10, Big 12 and ACC, with more schools coming soon (along with NFL and NBA versions). Go to the NIMA Sports website and purchase one now. As luck would have it, I have three helmet speakers to give away (LSU, Alabama and USC). I'll send one to the 100th (LSU), 200th (Alabama) and 300th (USC) person who emails me (andy_gray@simail.com) the newest workout for cats. The answer was in A.M. Clicks. Please make the subject line Helmet Speaker.
Black Friday vs Seattle Nike Store
Let's just say I'm glad I don't have to clean up this mess.
10 Best and Worst Songs of 2016
Spoiler: Beyonce had the best song of the year. Justin Timberlake had the worst. Here's the full list of 10 best and 10 worst songs of 2016.
Gross Ankle Alert
Highest Paid Sports Announcers in 1993
Odds & Ends
Dwight Howard tried to fight a heckling fan as he headed to Staples Center locker room ... Derrick Rose seems really into his new girlfriend ... Nicole Scherzinger wore the hell out of this black dress ... New Netflix releases for December ... I couldn't tell this Mariah Carey Instagram pic was photoshopped. Can you? ... How celebrities spent their Thanksgiving ...
Dunk of the Year
Good Explanation
The New Craze That's Sweeping the Nation!
Bill Burr on Black Friday
Email andy_gray@simail.com with any feedback or ping me on Twitter. Click here for previous editions of Hot Clicks. Visit our Extra Mustard Page throughout each day for more offbeat sports stories and the latest Cheerleader of the Week gallery. Also check out the SwimDaily Page for the latest updates and Instagram pictures of models who have appeared in our issues.