NFL Hot Clicks: February 9: It's Mock Draft Time
SI.com's latest mock draft, grades for every major Super Bowl 51 player and more in NFL Hot Clicks
The Cleveland Browns are on the Clock
With the Super Bowl in the rearview mirror and the combine dead ahead, SI's Chris Burke looks at how all 32 teams may address their needs in the draft's first two days ... Carson Palmer said today that's he's coming back next season ... In case you haven't watched Julian Edelman's mic'd up moment during his incredible Super Bowl LI catch, here it is again ... The top free agents of the 2017 off-season ... Seven teams that could be next season's Atlanta Falcons ... To say that David Johnson's rehab is going good would be an understatement ... Here's how to get Sports Illustrated's New England Patriots Super Bowl covers ... The four tech storylines that could change the NFL next season ... Jason Witten spoke with SI about Dak Prescott's success, Tony Romo's future, his own rookie year and whether or not he thinks about his chances at the Hall of Fame ... The new high-powered Pacific Pro League won't be football's only developmental league. Meet the GFL, ADPFL and RPFL.
This Will Never Happen
Shannon Sharpe has an idea on how the Patriots players should handle their champions' visit to the White House.
The Best Player in Super Bowl 51 Might Surprise You
After reviewing the tape, Greg Bedard hands out grades to all 67 players who saw major time in Super Bowl LI. As one would expect, Tom Brady and Matt Ryan both get A's, but neither was the best player on the field.
Our Most Recent NFL Videos
Saints QB Drew Brees: I'm not seeking any kind of contract extension ... NFL Stars and Dogs: Mark Herzlich and Champ, Scout ... Deshaun Watson: I laugh at the criticisms of my accuracy ... "The Super Bowl feels like sex," and other Michael Bennett musings ... What do Dan Quinn and the Falcons see in Steve Sarkisian? ... Tony Dungy: Teams have stolen signs legally for years ... Tom Brady after Gisele pleaded with him to retire: 'Too bad, babe' ... Is a media bias keeping Terrell Owens out of the Pro Football Hall of Fame? ... Ex-Titans tight end Frank Wycheck believes he has CTE.
Super Bowl 51 Sports Section Headlines
The Patriots comeback victory over the Atlanta Falcons in overtime forced a lot of writers to redo their stories and put newspaper designers on a tight deadline, too. Here are some of the section fronts to come out of the greatest Super Bowl ever.
Super Bowl 51 Sports Section Fronts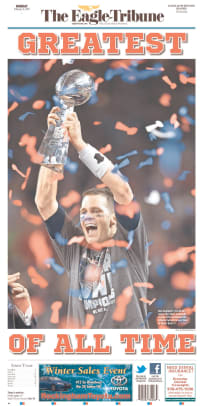 Sports Illustrated Vault Gem: Earl Campbell
Earl Campbell had never given much thought to being poor, had never really realized how deprived his family had been, until—in the space of a single year—he won the Heisman Trophy, signed a contract worth $1.4 million to play for the Houston Oilers and became the hottest thing to hit the NFL since Monday Night Football. When the full weight of his family's privation hit him, Campbell decided to take some of his NFL greenbacks and build a spacious new house for his mother and then turn the rundown plank shack where he had grown up into a museum where other underprivileged kids could come see firsthand that the NFL was, indeed, the land of opportunity.READ MORE
Super Bowl Sunday in Las Vegas
The MMQB trailed the boss of the biggest sportsbook in Vegas on the wildest Super Bowl Sunday ever—for gamblers, anyway.
From the Tweet Decks
Gallery: The Top 10 Super Bowls
We're guessing you already know what sits at No. 1, but what about Nos. 2 and 3?
The 10 Best Super Bowls of All Time