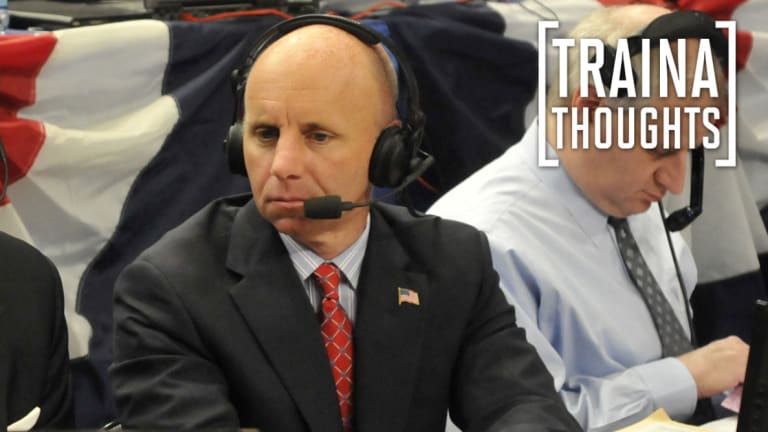 Traina Thoughts: Sean McDonough Isn't Too Sad About Leaving 'Monday Night Football'
ESPN's Sean McDonough opens up about why he didn't enjoy calling Monday Night Football.
1. It's very rare that a broadcaster, especially one working for ESPN, would be so honest about why he did not enjoy a particular job, but former Monday Night Football play-by-play man, Sean McDonough has opened up about his problems with the gig and he did not hold back.
Appearing on Boston's WEEI on Thursday, McDonough, who will go back to calling college football next season for ESPN, explained why he never enjoyed his MNF role.
"I say that after a lot of reflection and mostly a lot of belief that, ultimately, what is the most important thing in life is to be happy," McDonough said. "As much as it was a great honor to be the voice of Monday Night Football—and you guys know me well enough, and certainly a lot of my friends and family do—it wasn't a tremendous amount of fun the last two years. When I took my ego out of it, when the conversation about a reboot of MNF came up, when I took the ego part of it out, and rationalized it, I really could be fine with not being the voice of MNF, then it became easy. I love college football. For me, it's more fun, and that's a personal taste."
While McDonough said he finds college football more fun that the NFL, you have to wonder if his opinion would be different if ESPN had better games, which he addressed in the interview.
"If you go back and look at the schedule, generally we got one of the worst NFL games each week. You're trying to make something sound interesting and exciting that isn't," he explained. "For me, part of it was just the way the booth was set up the last two years. It was really geared around Jon Gruden. That's not unusual, TV really is an analyst-driven medium. Jon had a particular set of skills that he did really well, and foremost among them was analyzing the play, breaking down the play, 'here's why they ran that play, here's why it worked, here's what this guy did or didn't do.' It was really football heavy, X and O heavy, and I think most play-by-play guys, all play-by-play guys, would've felt like a bit of a bystander."
It's interesting that McDonough would call out MNF's subpar schedule of games since it seems like that won't be changing given FOX has now ponied up a massive amount of money to air the Thursday night game each week. Given how overly sensitive the NFL is, they probably aren't thrilled with McDonough's comments, either. We say props to McDonough, though, for his honesty.
2. My favorite part of Day 1 of the NCAA tournament was watching people on Twitter voice their aggressive displeasure with the camera angle used during the four games that were played in Boise (Gonzaga-UNC Greensboro, Ohio St-South Dakota St., Kentucky-Davidson, Buffalo-Arizona).
3. This was very well done by Bleacher Report.
4. I never mention the handful of hot takers who make a career out of just saying stupid stuff they don't even believe to get attention from Twitter in Traina Thoughts, but I'm going to make an exception today because this one is just too good to ignore.
5. It's funny because it's true.
6.Jimmy Kimmel's Cousin Sal decided to torture staff members who participated in the show's March Madness pool.
7. RANDOM WRESTLING VIDEO OF THE DAY: Happy 3:16 Day, wrestling fans.
The best of the Internet, plus musings by SI.com writer, Jimmy Traina. Get the link to a new Traina's Thoughts each day by following on Twitter and liking on Facebook. Catch up on previous editions of Traina Thoughts. And check Jimmy Traina's weekly podcast, "Off The Board," on iTunes, SoundCloud and Stitcher.
IN CLOSING: LeBron James can scream at Tyrone Lue all he wants.