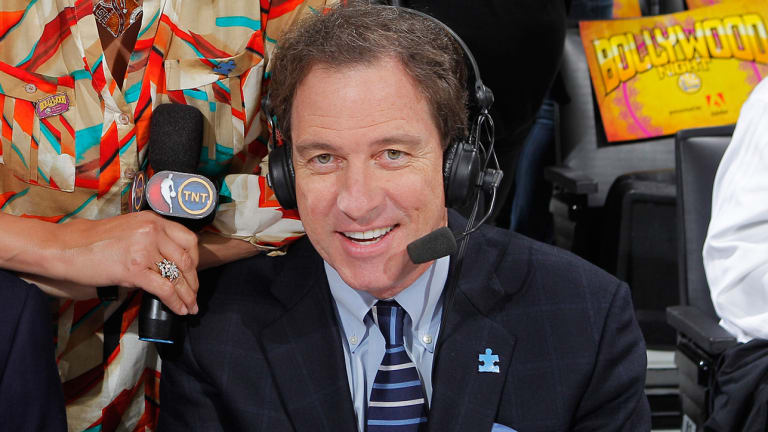 Kevin Harlan Recounts Marv Albert's Career-Changing Phone Call
Kevin Harlan became a popular national play-by-play man thanks to Marv Albert.
One of the voices synonymous with the NBA playoffs belongs to Kevin Harlan. 
The TNT play-by-play man, who also does NFL and college basketball games for CBS, appeared on the latest episode of the SI Media Podcast and talked about how he got his big break in the business.
According to Harlan, it was iconic broadcaster Marv Albert, with the help of NFL Films guru Steve Sabol, who helped Harlan take his career to a new level when FOX had acquired the rights to air the NFL.
"Back in 1994, doing the Chiefs on local radio, [Albert] gave my name, unbeknownst to me, to the folks, Ed Goren and David Hill at FOX, who were just beginning their NFL ramp up," Harlan said on the podcast. "They had hired [Pat] Summerall, they had hired [Dick] Stockton and they were looking for some younger guys and Marv gave them my name. And because of that, and the late great Steve Sabol at NFL Films giving my name, as well, they hired me along with Joe Buck, Kenny Albert and Thom Brennaman. We were the four younger guys to supplement these two great broadcasters in Summerall and Stockton, so Marv has been part of my career and different stages and very impactful.
Now, I wouldn't say that we text or visit more than a handful of times a year, but he has been incredibly gracious and so wonderful to me and my career. I hope I can pass it on to someone younger and return the favor. He's been a very good friend and I'm most grateful for that. I really appreciate that."
Harlan further expanded on the story.
"I was doing NBA stuff, back in 1993-94, and going into the '94 NFL playoffs and I remember doing the championship game for the Chiefs, and Carl Peterson who was then the GM of the Chiefs, and Steve Sabol were walking across the field toward me on a windy day. I had just finished doing a pregame show with Marty Schottenheimer, walking across the field back up to our booth in Buffalo -- when [Joe] Montana was quarterbacking the Chiefs and they were gonna play Jim Kelly and the Buffalo Bills in the AFC championship game -- and Carl, who was my boss and President of the Chiefs, was pointing at me as were getting closer and gonna meet at the 50-yard line. Steve Sabol is raising his arms and I said hello and we exchanged pleasantries and Steve Sabol said 'FOX just called me in the last couple of weeks and asked for me for the three guys I'd recommend doing local NFL radio play-by-play and your name was one of the three.'
I said, 'You gotta be kidding me. A couple of weeks ago, Marv Albert told me that he had given my name to them, too.' That's the kind of stuff a young broadcaster can only pray for. How could the confluence of those two guys suggesting… I mean, blessed beyond all measure. So lucky, so fortunate. And that's how I ended up at FOX which obviously led to my time at CBS."
During the interview, Harlan also talks about his favorite stadiums and arenas to work in, why he prefers doing radio over TV, why the NFL is harder to call than the NBA, the role social media plays in his job, whether he prefers a two- or three- person booth, what makes Bill Raftery so great, calling eight consecutive Super Bowls, whether he regrets doing play-by-play of a streaker during an NFL game, his daughter Olivia's rise at ESPN and much more.
You can listen to the podcast below or download it on iTunes.
Don't forget to subscribe to the SI Media Podcast to get a new episode each and every week.