Friday's Hot Clicks: Superintendent Revealed to Be Serial Football Field Pooper
The poopetrator has taken paid leave from his $147,504-a-year job.
Public enemy No. 2
In a story that could have been Season 2 of American Vandal, police in New Jersey have arrested a man they believe to be responsible for the piles of human feces left on a local high school football field and track "on a daily basis."
The poopetrator, it turns out, was the superintendent of another school district. Thomas Tramaglini was arrested before 6 a.m. Monday and charged with lewdness, littering and defecating in public. He has taken paid leave from his $147,504-a-year job.
Police are still searching for a motive.
A fond farewell (?) to Ichiro
I honestly don't believe Ichiro is retiring from baseball—he'll probably go to Japan and play for eight more years—but we've probably seen the last of him in MLB after he was pushed aside by the Mariners yesterday. You don't need me to tell you how great Ichiro was—I'll let Jack Dickey do that instead—though I would like to take this time to share my favorite (slightly NSFW) Ichiro video.
What else did you expect?
LeBron James did the damn thing again. He's amazing. It's normal. I can't think of anything to say that I haven't already said in the past two weeks.
May the fourth be with you
Star Wars and Sports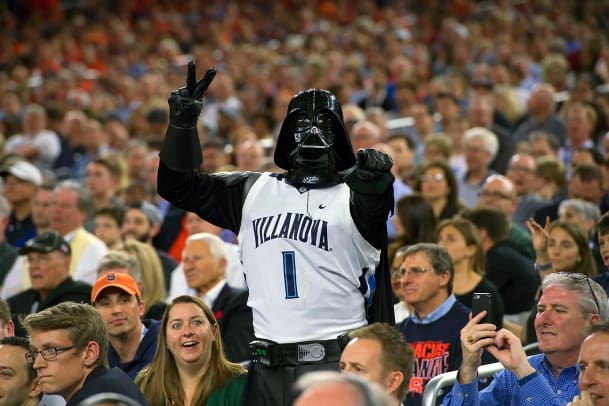 Confession: I've never seen a single Star Wars movie.
Bits & Pieces
Lacrosse fight! ... Police are hoping to finally catch the Zodiac Killer by using new DNA technology. ... This guy in L.A. keeps ditching his Tinder dates and leaving them with pricey dinner bills. ... Here's an interesting interview with Amar'e Stoudemire about how he managed his money when he first got to the NBA. ... This North Carolina student got accepted to 113 colleges and offered a total of $4.5 million in scholarships. ... Twitter did a stupid thing and now you should probably change your password.
No, Jose Calderon is not a secret billionaire
Here's a tweet that's been going viral (over 50,000 retweets and counting) that shows you can't believe everything you read online.
Maybe it should have been obvious from the phrase "The Calderon brothers keep a very low profile" but these are not the same people.
Jose Fernando Calderon is the son of a Mexican beverage magnate. Jose Manuel Calderon is a Spanish basketball player. The basketball Calderon isn't worth billions, but he's still done quite well for himself. Thus far in his NBA career he's made nearly $82 million, and that's not counting his earnings in Spain before coming to North America.
Read this incredible Twitter thread
I promise it's worth it.
Kristaps Porzingis always shoots his shot
Let's settle this like gentlemen
Throw in Trea Turner and maybe we're getting somewhere
I'm sorry, but if you're a grown-ass man you shouldn't go after a foul ball this aggressively
Before they were famous
I got a few emails when I first started from people upset that I mentioned pro wrestling the day after WrestleMania. (Like, seriously?) But I think even those people can appreciate this new video series from WWE in which they look at wrestlers before they made the big time. (The first in the series featured Seth Rollins.)
End your week with some science
A good song
Email dan.gartland@simail.com with any feedback or ping me on Twitter. Click here for previous editions of Hot Clicks. Visit our Extra Mustard page throughout each day for more offbeat sports stories.