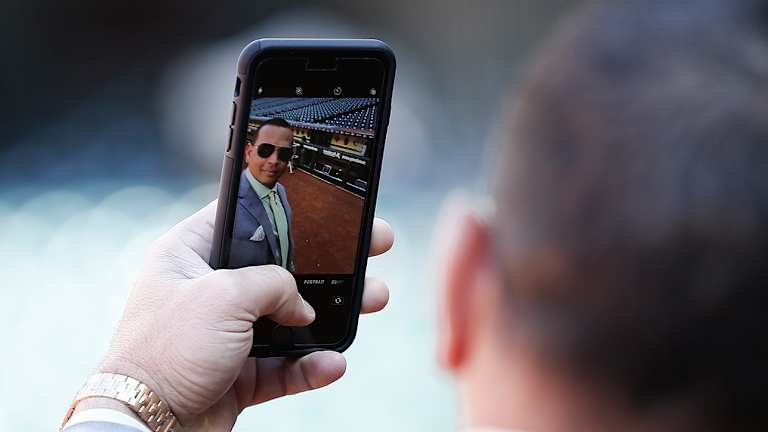 Traina Thoughts: Ratings For ESPN's Sunday Night Baseball Are Downright Ugly
Despite Alex Rodriguez joining the booth, ESPN's Sunday Night Baseball ratings are way down from 2017.
1. Who on earth would've guessed America doesn't care about Alex Rodriguez?
Despite making a big push to overhaul its "Sunday Night Baseball" booth to land Jennifer Lopez's boyfriend, which meant also bringing in play-by-play man, Matt Vasgersian, each and every Sunday night game for the World Wide Leader has been down over the same week in 2017. In 10 weeks, not one game in 2018 was up from year ago. This is a pretty remarkable chart when you see how steep the dips have been in many weeks.
Now, as much as I dislike A-Rod, I'd be an idiot to blame him for the ratings decline. ESPN is blaming the schedule and a lack of Yankees games. There are other factors involved, too. Unless it's the postseason, the days of baseball moving the needle nationally are over.
Obviously, A-Rod isn't a factor in the poor numbers. But it also shows that networks constantly getting hot and bothered to bring in big names is a short-sighted tactic. I've written about this before when discussing "Get Up!" (big names, big salaries, low ratings and the NFL Network's "Good Morning Football," which went with four lesser known media people and built an audience based on chemistry and their personalities.
The same holds true for "Sunday Night Baseball." ESPN and MLB will always want a "traditional" broadcast, but it might be time to mix things up in order to get some more national appeal. (Sorry, ESPN. Putting your broadcast team in the stands for a game instead of the regular booth is not a revolutionary change or even remotely interesting.)
It's too bad ESPN burnt the bridge with Barstool Sports because putting PFT Commenter and Big Cat from "Pardon My Take" in the booth with a play-by-play person would generate so much more buzz and interest than A-Rod. 
Obvioulsy, ESPN and MLB would never do something so radical, but if both companies were smart, they'd start to think in that direction.
2. The latest episode of the SI Media Podcast features a roundtable discussion Austin Karp, the assistant managing editor of "Sports Business Jounal," and "Sporting News" media reporter, Michael McCarthy. Topics include what ABC/ESPN wants for the NBA Finals next season, how the latest round of national anthem controversy will impact the NFL and its broadcast partners, whether ESPN made a mistake in expanding Keith Olbermann's role, the future of "Get Up," what is going on with FS1's daytime shows, future sports gambling shows, the debut of "High Noon" and much more.​ You can listen below or download on iTunes. Forgive me for begging and yelling, but this is very, very important: PLEASE PLEASE PLEASE SUBSCRIBE AND LEAVE A REVIEW. 
3. Roman Reigns would've been proud of the spear unleashed by a Red Sox security guard on a fan who ran on the field during last night's game.
4. Aaron Judge hit a big home run for the Yankees last night, but it was what happened after that was notable thanks to a young Bronx Bombers fan who was in Toronto for the game.
5. Chrissy Teigen and Anaheim Ducks goalie Ryan Miller had an entertaining exchange on Twitter last night about whether the SI Swimsuit model could make it in the NHL between the pipes.
6. Browns wide receiver Josh Gordon seems to be working out this offseason.
#https://www.instagram.com/p/Bjs_etzBCNw/
7. During his daily morning tweet session today, the person in the White House sent out a missive that started with "Isn't in ironic?" and then everyone on Twitter made Alanis Morissette jokes. So I'd like to use this opportunity to post Alanis' 2015 remake, with James Corden, of "Ironic" because it was so damn good.
8. RANDOM SACHA BARON COHEN VIDEO OF THE DAY: One thing I've noticed about watching all these old Ali G clips this week was how ahead of its time the show was. With "Fake News" being all the rage these days, this interview with Sam Donaldson takes on a whole new meaning.
Traina Thoughts is the best of the Internet, plus musings by SI.com writer, Jimmy Traina. Get the link to a new Traina's Thoughts each day by following on Twitter and liking on Facebook. Catch up on previous editions of Traina Thoughts right here.And make sure to listen to and subscribe to the SI Media Podcast hosted by Jimmy Traina.
IN CLOSING: Poor LeBron. Three tremendous games at the highest level and he's gonna get swept. Brutal.