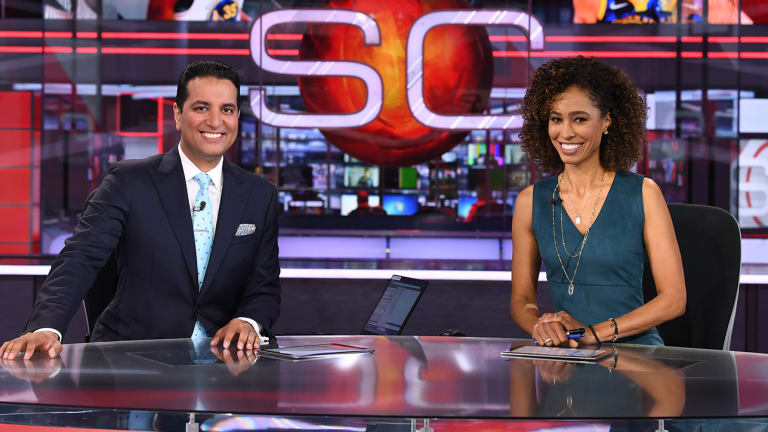 Traina Thoughts: ESPN Gets Very Good Ratings News for 6 p.m. 'SportsCenter' With Sage Steele and Kevin Negandhi
Viewers are liking the new Sage Steele-Kevin Negandhi hosted 'SportsCenter.'
Viewers are liking the new Sage Steele-Kevin Negandhi hosted 'SportsCenter.'
1. Since I've been documenting the ratings for Get Up over the past several weeks, it's only fair that I alert you to some good viewership news for ESPN.
The World Wide Leader announced today that the 6 p.m. ET edition of SportsCenter with new hosts Sage Steele and Kevin Negandhi is up 19% in the ratings since they took over for Jemele Hill and Michael Smith on May 14.
With Sage Steele and Kevin Negandhi taking over as consistent anchors on May 14, the program averaged 531,000 viewers through the rest of the month, up 19% over the 447,000 average for the same period in 2017.
The 6 p.m. SportsCenter has been keying on delivering fans up-to-the-minute news, previews and analysis of the night's slate of games and events. For the quarter of April, May and June to date, the program has averaged 491,000 viewers, a six percent rise over the average of 463,000 for the same period last year. According to ESPN, the show had increased its ratings even before Steele and Negandhi took over.

Now that ESPN has stopped the bleeding with the 6 p.m. ET SportsCenter, we'll see if they do something about Get Up which had 219,000 viewers on Monday, 196,000 viewers last Friday and 197,000 viewers last Thursday.
2. Speaking of ESPN, the network, along with Bleacher Report and Yahoo!, will not be tipping picks on Twitter during the NBA draft on Thursday night. SI.com, though, will be providing you with real-time analysis and much more with an NBA Draft Extravaganza Show beginning at 7pm with Ben Golliver, Andrew Sharp, Matt Dollinger and Rohan Nadkarni.
3. Cubs pitcher Brandon Morrow has suffered the injury of the year in MLB.
4. Ayesha Curry is opening a restaurant in Houston next month. Rockets fans, obviously, are still salty about losing to Steph Curry and the Warriors in the Western Conference Finals, so they're already giving the establishment one-star reviews on Yelp -- before it's even open for business.
5. It was shocking that the WWE's Superstar Big Cass kept his job after purposely ignoring orders from Vince McMahon a month ago, but his recent behavior away from the ring, according to SI.com's Justin Barrasso, apparently sealed his fate with the company.
6. David Price has no use for the MLB All-Star Game.
7. The latest episode of the SI Media Podcast features Sports Illustratedsenior writer Lee Jenkins and New York Post media reporter Andrew Marchand. 
Jenkins discusses the cover story he wrote for SI this week on Kevin Durant and shares insight into Durant's unique personality. Jenkins, who broke the story of LeBron James returning to Cleveland in 2014, also weighs in on The Decision 3.0. Jenkins also takes you behind the scenes of what Durant and LeBron are like away from the court. Jenkins also talks about his writing process, how long it takes him to write a story, how competitive he is with other NBA writers, and much more.
Marchand talks about a variety of sports media topics, including A-Rod taking over ESPN's Sunday Night Baseball telecast, how he expects FOX to fare broadcasting the World Cup and U.S. Open this week, Mike Francesa's ratings after his first month back on WFAN, and much more. Listen below or on iTunes.
8. RANDOM WRESTLING VIDEO OF THE DAY: Koko B. Ware turns 61 years old today, so we honor him (and Frankie) on this big occassion.
Traina Thoughts is the best of the Internet, plus musings by SI.com writer, Jimmy Traina. Get the link to a new Traina's Thoughts each day by following on Twitter and liking on Facebook. Catch up on previous editions of Traina Thoughts right here.And make sure to listen to and subscribe to the SI Media Podcast hosted by Jimmy Traina.
IN CLOSING: I wish Phil Mickelson hadn't apologized, but that's just me.