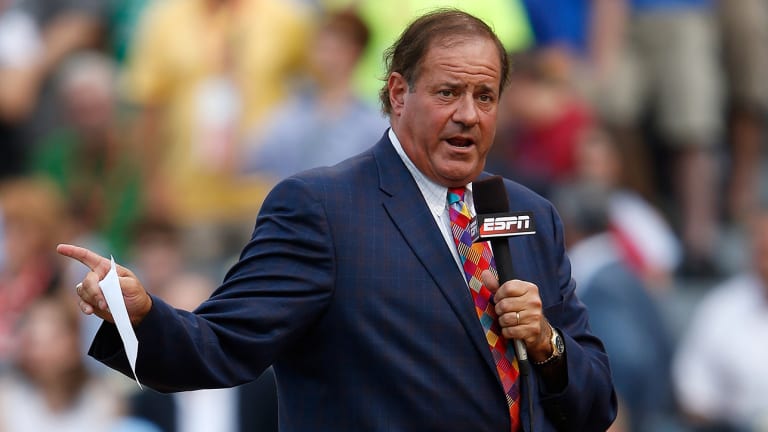 Traina Thoughts: Chris Berman to Host Weekly 'SportsCenter' Segment on NFL Rivalries
Chris Berman is returning to "SportsCenter" to host a weekly NFL rivalries segment.
1. Legendary ESPN personality Chris Berman is returning to SportsCenter in a new role carved out specifically for him, sources tell SI.com.
The man known as "Boomer" will host a weekly three-to-four minute segment called, "Berman's Blast," in which he'll recap and discuss historic NFL rivalries to coincide with a game that week. The segment, which will first air at 7 a.m. ET each Friday, will be repeated several times throughout the weekend on various editions of SportsCenter.
As of now, the segment will run for five weeks and will feature Packers-Bears in Week 1, Giants-Cowboys in Week 2, Dolphins-Raiders in Week 3, Chiefs-Broncos in Week 4 and Patriots-Colts in Week 5. Berman has some other committments for the fall, including a trip to the Ryder Cup, so that's why the inital run will only be five weeks, with the potential for more down the road.
There was speculation that Berman could have an expanded role this season on Sunday NFL Countdown, but ESPN tells SI that won't be happening. However, he will still be doing occasional interviews and features for the show. 
Berman will once again host NFL PrimeTime on Championsip Sunday and following the Super Bowl and provide his "Boomer's Vault" segment for Monday Night Countdown.
Berman was a guest on the SI Media Podcast in July and talked about how he fared during his first year away from Sunday NFL Countdown and whether he'd like to get back into having a larger role at ESPN.
2. Speaking of the SI Media Podcast, the newest episode, with former Browns Ironman offensive lineman Joe Thomas and the NFL Network's Kyle Brandt, is outstanding. Thomas talked openly and honestly about his transition into sports media, why he thinks offensive line play is ignored during NFL broadcasts, whether he regretted retiring before he could get on Hard Knocks, the Browns quarterback situation, whether players know the point spreads of games they play in, how he lost 70 pounds and much more.
At the 33-minute mark of the show, Brandt, who is part of the Good Morning Football cast, comes on to discuss his new show for the network, The Kyle Brandt Football Experience, which will air Fridays at 6 p.m. ET, with replays throughout the weekend. Brandt talks about how his new show will have a retro feel (think The George Michael Sports Machine) while taking a trip down memory lane to the most memorable NFL moments, while also focusing on the week's upcoming games. 
You can listen to the podcast below or download it on iTunes. 
3. All my fellow degenerate gamblers are giddy because we have an NFL game Thursday night, but before you go crazy with the wagers in Week 1 just keep this tweet in mind:
4. The memes off Nike's new Colin Kaepernick ad keep coming in, with plenty of athletes and sports figures getting spoofed.
However, the best one I've seen has nothing to do with sports.
​
5. Katie Nolan's new ESPN+ show debuted last night and in one segment she got some NBA folks, including  D'Angelo Russell, Jayson Tatum and Kevin Garnett, to help her prank some people.
6. In case you haven't noticed, Alex Bregman has become one of the most entertaining players in baseball (along with being one of the best). Fresh off his staredown celebration, Bregman pulled a James Harden last night.
7. RANDOM YOUTUBE VIDEO OF THE DAY: One second of every single episode of The Office.
Traina Thoughts is the best of the Internet, plus musings by SI.com writer, Jimmy Traina. Get the link to a new Traina's Thoughts each day by following on Twitter and liking on Facebook. Catch up on previous editions of Traina Thoughts right here.And make sure to listen to and subscribe to the SI Media Podcast hosted by Jimmy Traina.
IN CLOSING: Don't love Thursday night's game from a betting standpoint, so won't place a wager. But if I had to, I'd go over 44.5