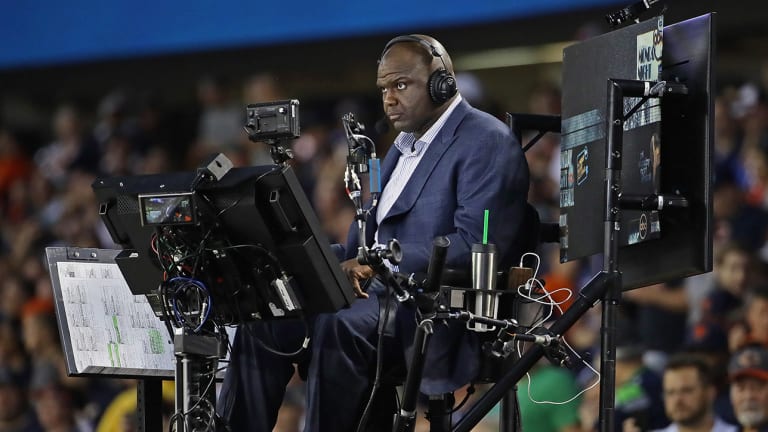 Traina Thoughts: ESPN's 'Monday Night Football' Is Close to Unwatchable
Several factors are making ESPN's 'Monday Night Football' unwatchable.
1. Do you enjoy seeing the back of Joe Tessitore's head? Do you enjoy seeing the back of Jason Witten's head? Do you enjoy seeing Booger McFarland on a crane? If you do, you're probably LOVING Monday Night Football this season. If you don't enjoy those things, I feel your pain.
Seven weeks into the NFL season, ESPN has made it clear it wants its three broadcasters to be the stars of the show from 8 p.m. to midnight ET every Monday night. The game is secondary.
While there has been an incredible amount of criticism hurled at the new annoucing team—especially toward Witten—the problem is the overall telecast. Yes, Witten has struggled and there is no chemistry between the three men. But here's the biggest problem: The broadcast is not getting better each week. It's getting worse. Chemistry is not improving. The entire telecast is all over the place. This week's Giants-Falcons game was borderline unwatchable.
ESPN's reliance on showing Tessitore and Witten in the booth and McFarland on his contraption instead of the field is out of control. Late in the game with about four minutes left, the Giants, down by two touchdowns, were in their hurry-up offense and moving down the field. If you wanted to see how the teams were lined up, too bad. This is the camera shot you got instead.
At one point during the game, ESPN ran an embarrassing in-game commercial skit, which was then followed by a shot of Witten and Tessitore in the booth, which was then followed by a shot of the back of Witten and Tessitore's heads which was then followed by a shot of the back of McFarland's head which was then followed by a shot of McFarland talking to us from that ridiculous crane. 
This is ESPN's priority. It's not serving the viewer. It's not bringing you the game. It's not showing you what's happening on the field. The network's priority is to make you care in some way, shape or form about its announcers.
Why else would the three men spend several minutes breaking down the Amari Cooper-to-Cowboys trade during a Giants-Falcons game? You could've analyzed that trade during your 52-hour pregame show, at halftime and during your postgame show. But instead, ESPN chose to do it while action is going on during the game.
So to sum up: A) ESPN wanted to copy CBS and try to duplicate the success they had with Tony Romo by hiring a Cowboys player to go from the field to the booth. The result has been Witten struggling on air and fans ripping him mercilessly. B) ESPN couldn't care less about showing you the game and just wants to cut to the booth every five minutes. C) Someone at ESPN came up with a gimmick of having their No. 2 analyst work the game from a crane instead of the booth so they could then cut to said analyst on said crane a million times over the course of the game.
And the problem with the crane isn't just the awkwardness it has created for the broadcast trio on the air. It has angered many fans who have to sit behind it during the game.
My prediction is that the crane will be gone next year and ESPN will keep the booth intact for at least one more season. Again, who is calling the game doesn't matter when the production team doesn't actually have any interest in showing you the game.
2. I discussed the Monday Night Football telecast on a brand new SI Media Podcast with the NFL Network's Rich Eisen. We also discussed Eisen stepping out of the studio and going to London to call this week's Ealges-Jaguars game as part of a four-man booth. Eisen also gave us his power rankings of the most exciting teams in the NFL this season, explained why the Rams are by far the best team in the NFL and talked about LeBron James taking over L.A. and dominating the Rams and Dodgers. At the 40-minute mark of the podcast, New York Post columnist Andrew Marchand joined the show to talk about the latest controversy with Mike Francesa and his infamous app.
3. Roman Reigns has addressed the outpouring of support he received after revealing that he's battling leukemia.
4. Red Sox outfielder Brock Holt does not care for Taco Bell's World Series giveaway.
5. According to Sixers co-owner Michael Rubin, Joel Embiid is engaged to SI Swimsuit model Anne de Paula. 
Who knows if this is true, since the news is coming via an Instagram caption, but this does provide an opportunity to post this quote Embiid gave GQ about dating:
"You gotta do your background check. You don't want to be that guy marrying a girl that someone else in the NBA has been with ... I'm sure some guys end up getting married to women that have been around. And maybe on the court they also get told, 'Hey, I f---ed your wife.'" 
6. I told you earlier in this column that Rich Eisen is heading to London for Sunday's Eagles-Jags game. The Good Morning Football crew has been across the pond all week and this morning each cast member paid tribute to Shakespeare (with a football theme) in a spectacular bit that ends with Kyle Brandt giving a must-see performance.
7. RANDOM YOUTUBE VIDEO OF THE DAY: With the World Series under way on FOX, here are 21 seasons of Joe Buck promos from the Fall Classic.
Traina Thoughts is the best of the Internet, plus musings by SI.com writer, Jimmy Traina. Get the link to a new Traina's Thoughts each day by following on Twitter and liking on Facebook. Catch up on previous editions of Traina Thoughts right here.And make sure to listen to and subscribe to the SI Media Podcast hosted by Jimmy Traina.
IN CLOSING: This new trend of legit NFL trades in season is wonderful. Keep it going, please.