Fantasy baseball 2013 team previews: Texas Rangers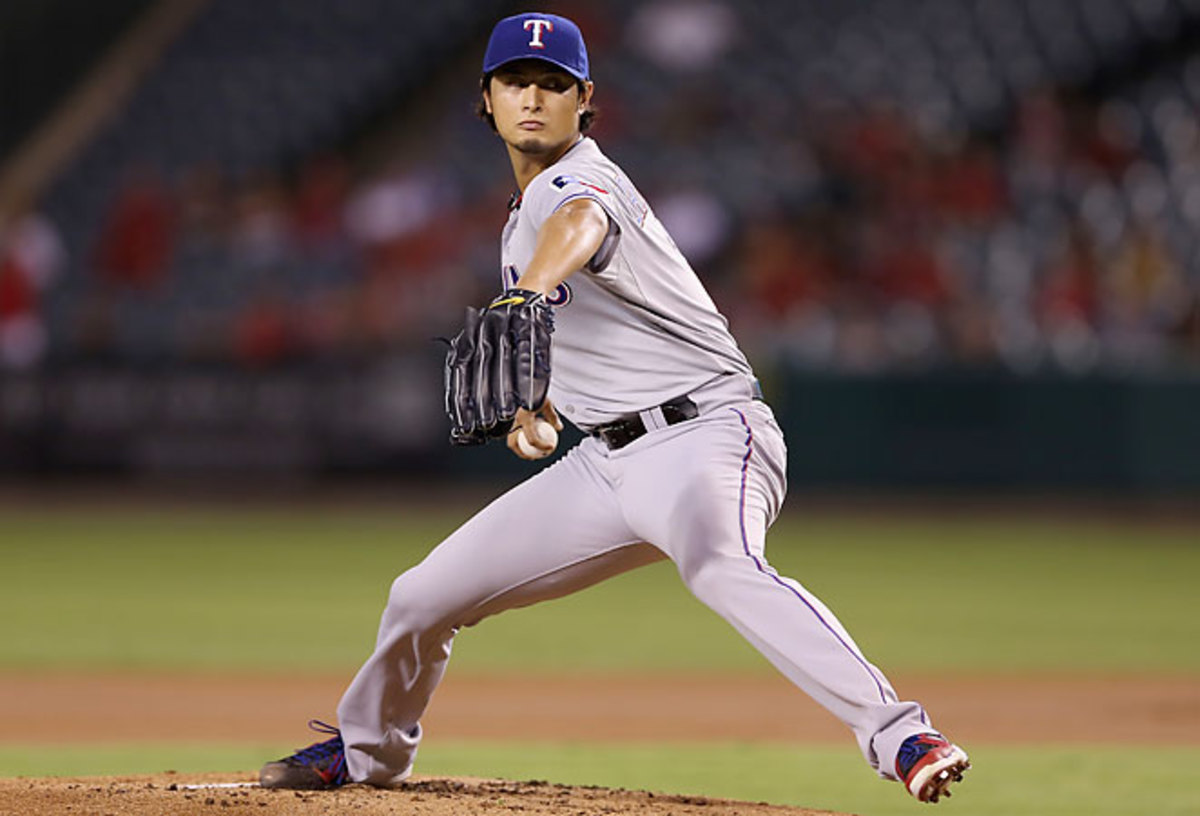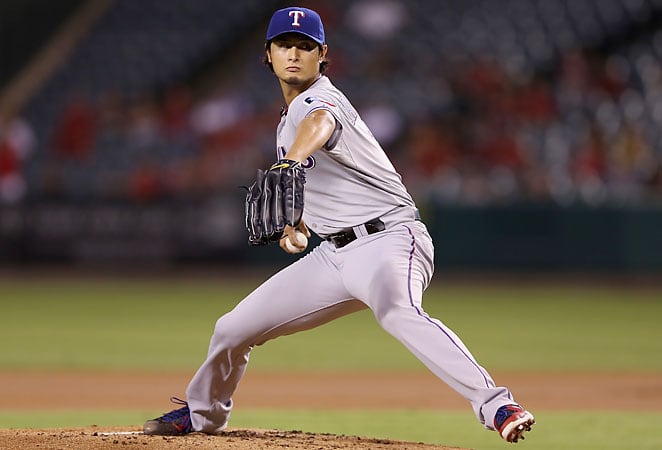 Fantasy baseball 2013 draft prep central: Rankings, position primers and much more
It's hard to imagine a baseball team going on a more successful yet disappointing three-year run than the one that unfolded in Arlington from 2010-12. The Texas Rangers went 279-207 in the regular season, a .574 winning percentage, and made the playoffs all three years, winning the American League pennant in '10 and '11. But they suffered a heartbreaking collapse in Game 6 of the '11 World Series against the Cardinals, twice being one strike away from taking the crown. After looking like the best team in the majors for a broad swath of the '12 season, the Rangers went 15-16 in September, blowing a four-game AL West lead to the A's before ultimately losing to the Orioles in the AL's inaugural coin-flip game. So excuse the Rangers and their fans if they aren't exactly thrilled about their three consecutive playoff appearances.
You know who has been thrilled over the past three seasons, though? Pretty much any fantasy owner who invested resources in a Ranger or two. From current Rangers Yu Darvish, Ian Kinsler and Nelson Cruz to former Rangers Josh Hamilton, Cliff Lee and C.J. Wilson, the Rangers have been a source of fantasy gold even while falling short of the real-life championship. That song should remain the same this year, even with Hamilton now suiting up for the rival Angels. The talent might not be as abundant as it once was, but with Kinsler, Darvish, Cruz, Adrian Beltre, Elvis Andrus, A.J. Pierzynski and Joe Nathan, many of the Rangers' fantasy-worthy guys are top-end players. Throw in starting pitchers Matt Harrison, Derek Holland and Alexi Ogando, and Texas has four starters who should all be owned in mixed leagues. And remember, shortstop Jurickson Profar, the top-rated prospect in all of baseball, will be heard from sooner rather than later. More on him in a bit.
Projected roster
Lineup:
1. Elvis Andrus, SS 2. Ian Kinsler, 2B 3. Lance Berkman, DH 4. Adrian Beltre, 3B 5. Nelson Cruz, RF 6. A.J. Pierzynski, C 7. Mitch Moreland, 1B 8. David Murphy, LF 9. Leonys Martin, CF
Rotation:
1. Yu Darvish 2. Matt Harrison 3. Derek Holland 4. Alexi Ogando 5. Martin Perez
Bullpen: Joe Nathan (closer), Joakim Soria, Tanner Scheppers, Josh Lindblom, Robbie Ross, Michael Kirkman
Others: Neftali Feliz (injured), Colby Lewis (injured), Randy Wells
Key questions
? How highly should owners value YuDarvish in his second year? To understand how strong last year's AL rookie class was, consider: Darvish, who went 16-9 with a 3.90 ERA and 221 strikeouts, came in third in Rookie of the Year voting behind Mike Trout and Yoenis Cespedes. But by all measures, Darvish had a phenomenal year, and he doesn't turn 27 until August. If he can cut back on his walks, he could end the year as a top-five pitcher.
Darvish's propensity for issuing the free pass is what kept him from being a truly elite fantasy option as a rookie. Walks drove his WHIP up to 1.28 and were often the cause of his struggles. That he still managed to dominate hitters says a lot about his stuff. He racked up those 221 whiffs in 191.1 innings, good for a 10.4 K/9. He had a 3.29 FIP and a below average 70.5-percent strand rate, which tells us that he pitched even better than his surface stats indicate. His .295 BABIP is about league average, and completely sustainable for a strikeout pitcher. In fact, most strikeout pitchers tend to have better-than-average BABIPs, so there's room for improvement there, too. The key will be Darvish's control, and the good news is that he began improving as last season progressed, cutting his walk rate from 11.9 percent in the first half to 9.8 percent in the second. If Darvish reduces his walk rate, he'll stay out of trouble and in games, making a 3.30-ERA, 1.20-WHIP, 250-strikeout season is entirely possible.
? When will Profar come up, and how will it impact ElvisAndrus? I like to think there was a recent phone call between Rangers general manager Jon Daniels and Diamondbacks GM Kevin Towers that went a little something like this:
Daniels: "Hey Kevin. We know you'd like to get rid of Upton. We're interested."
Towers: "We've got a lot of people calling, but I'd stop talking to any of them if you'll include Profar."
Daniels: [After 30 seconds of unrestrained laughter] "OK, see ya, Kev."
No one could blame Daniels if he chose to ridicule Towers after the latter insisted on receiving Profar when the two teams discussed a possible trade for Justin Upton. Profar was recently named the top prospect in all of baseball, and with good reason. At age 19, he hit .281/.368/.452 with 14 homers, 26 doubles and 16 steals for Double-A Frisco last year while playing all-world defense at the most demanding position in baseball. When you have a guy who looks like a sure-thing shortstop at age 19, you need to be given a Godfather offer if you're going to trade him. The Rangers already have a very good shortstop in Andrus, so they might choose to have Profar start the year at Triple-A Round Rock. But if he proves that he's ready for The Show, they might not be able to keep him down there for long. But could he and Andrus, two natural shortstops, really co-exist? They could both get in the lineup with one of them DHing and Berkman spelling Moreland at first, but that is not an ideal situation. So could Andrus be on the block?
Andrus' current deal with the Rangers goes through '14, and he's owed $6.475 million next year, according to the invaluable Cot's Baseball Contracts. He's also coming off two years in which he posted wOBAs of .319 and .322. Profar's ceiling might be higher, but Andrus has proven to be rock solid on both sides of the ball. And can we even say for sure that Profar's ceiling is higher? At just 24, Andrus still has plenty of room to grow. With the Rangers likely back among the AL's best, Profar will either have to dazzle at Triple-A, or someone will have to come to Texas with a no-brainer offer for Andrus. Either way, these are two guys to keep an eye on come draft day. Just be careful with Andrus if you're in an AL-only league.
? Where the heck did that come from, A.J. Pierzynski? Pierzynski had always been a reliable hitter for average, as well as a thorn in the side of every single person with any relation to baseball, save his teammates and fans of his team. What he hadn't ever been was a big power hitter. Going into '12, the most home runs he had ever hit in a season was 18 (in '05), and his highest slugging percentage was .464 (in '03). That's why it was such a shock when he blasted 27 homers on his way to a .501 slugging percentage last year, at age 35, earning himself a Silver Slugger over Joe Mauer and Matt Wieters.
Pierzynski actually struck out more last year than he ever had in his career, but he also hit the smallest share of ground balls -- 42 percent -- in his 13 years in the league. With the increase in line drives and fly balls came a huge spike in HR/FB rate, as 18.6 percent of Pierzynski's fly balls left the yard.
Expecting Pierzynski to duplicate his outlier season as he enters the twilight of his career would be foolish, but there's good reason to believe he can hit about 20-22 bombs. His former home, U.S. Cellular Field on Chicago's South Side, was the second-best run-scoring and fourth-best home run park in '12, according to park factors. The Ballpark at Arlington is a bit of a downgrade, but no slouch either at fourth and seventh in those categories, respectively. Even with that, though, I'm going to stay away from Pierzynski on draft day. His career year will likely drive his price up, and I'm not willing to bet that he's a markedly different player at age 36.
? After the report out of Miami, what do we make of NelsonCruz? I would be remiss if I did not mention the recent PED allegations surrounding Cruz. No one knows exactly how this will play out, and the evidence on all the players involved is not exactly airtight. Until something truly damning comes out, I wouldn't let this impact how I feel about Cruz. What does bother me is that after posting a .258 ISO in '10 and a .246 ISO in '11, his mark fell all the way to .200 last year. He has also ceased being a reliable stolen base threat. If he's not delivering consistent power, I'm not sure what he's bringing to the table, other than third-outfielder production. Treat him as such this March.
Sleeper
LanceBerkman: Sign me up for as many Berkman shares as I can possibly get my hands on this year. He won't have the strain of playing in the field anymore, and he'll be hitting right in the middle of a still-potent lineup in a great hitters' park. We know he'll get on base a ton, and 25 homers feels realistic while playing half his games in Arlington. He may be an oldie, but he's still a goodie.
Bust
A.J.Pierzynski: As stated, I find it very hard to believe that Pierzynski totally changed his stripes as a player in his mid-30s. You'll have to pay for the career year to get him, and chances are he'll revert to the high-teens in homers. That would still make him a fantasy starter, but it certainly doesn't justify the cost you'll have to incur to get him.
Breakout
AlexiOgando: Now that he's back in the rotation, I think he'll build on the 3.7 WAR he gave the Rangers as a starter in '11. With a fastball that sits in the mid- to high-90s and a knee-buckling slider, he already has two dominant pitches. He'll need to develop a third to be a reliable starter, and a changeup would seem to be the pitch he needs to add. Given that his fastball is overpowering, his changeup doesn't even need to be exceptionally sharp to be effective. Ogando has one of the best pitching coaches in the game in Mike Maddux to bring him along, and he'll carry a cheap price tag on draft day.
AL-only players to know
DavidMurphy: Murphy starred in an everyday role last year, hitting .304/.380/.479 with 15 homers and 61 RBI. His rates my regress to his career average, but he should approach those levels in his counting stats again.
LeonysMartin: Josh Hamilton's replacement in center hit .359/.422/.610 with 12 homers and 10 steals in 231 at-bats at Triple-A Round Rock last year.
Mike Olt: Olt was mentioned in a handful of possible trades this offseason, and the fact that he remained in Texas is good for his development. He blasted 28 homers en route to a .977 OPS at Double-A Frisco in '12. He'll likely start in the minors.