Fantasy baseball 2013 team previews: Chicago Cubs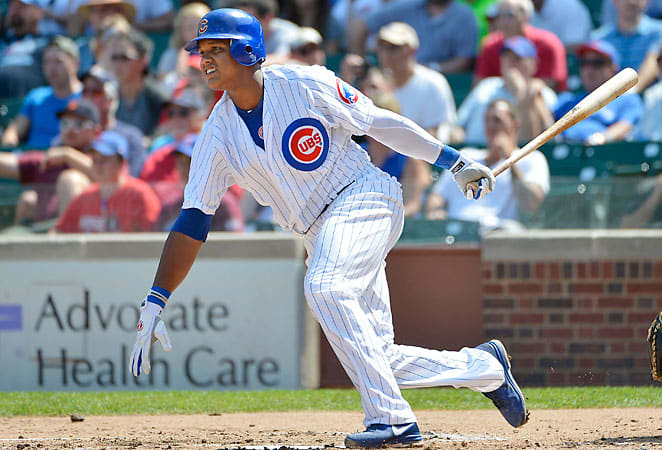 Fantasy baseball 2013 draft prep central: Rankings, position primers and much more
If the Cubs are searching for solace after a tough 2012, at least they don't have to exhaust themselves mentally to recall all the positive developments from the season. Jeff Samardzija proved himself a front-line starter. Starlin Castro pounded out nearly another 200 hits in his third season. Alfonso Soriano revived his sagging trade value, against all odds. Darwin Barney won a gold glove. That's about it for on-field accomplishments.
Off the field, however, owner Tom Ricketts and the baseball operations duo of Theo Epstein and Jed Hoyer began the Cubs' slog back to relevance in earnest. It's that project -- one that admittedly can only be accomplished in the long term -- that has everyone associated with the Cubs excited about the dawn of the 2013 season. Realistically, the Cubs are unlikely to compete for a playoff spot: Coming off a 101-loss season, the Cubs did little to address an offense that scored just 613 runs last year, the third-lowest total in the majors.
Most of the team's gains will come from a strengthened starting rotation. With Edwin Jackson, Carlos Villanueva, Scott Baker and Scott Feldman joining Samardzija, Matt Garza and Travis Wood, the Cubs feature one of the deepest rotations in the league. There may not be a true, shutdown ace among those starters, but it's not hard to see the Cubs getting No. 2- and No. 3-starter production out of all five rotation spots. Carlos Marmol is back once again as the closer, and the team brought in Kyuji Fujikawa from Japan as a ready-made stopper who can step in during Marmol's inevitable wild streak.
Projected roster
Lineup:
1. David DeJesus, CF 2. Darwin Barney, 2B 3. Starlin Castro, SS 4. Anthony Rizzo, 1B 5. Alfonso Soriano, LF 6. Nate Schierholtz, RF 7. Ian Stewart, 3B 8. Wellington Castillo, C
Rotation:
1. Jeff Samardzija 2. Matt Garza 3. Edwin Jackson 4. Travis Wood 5. Carlos Villanueva
Rotation contenders: Scott Baker, Scott Feldman
Bullpen: Carlos Marmol (closer), Kyuji Fujikawa, James Russell, Shawn Camp, Michael Bowden
Bench: Brett Jackson (OF), Luis Valbuena (IF), Dioner Novarro (C)
Key questions
? Just how strong are those offensive building blocks? If Epstein proves to be the savior in Chicago he was in Boston, a lot of his deification will be thanks to shortstop Castro and first baseman Anthony Rizzo. And if the Cubs are to take that first step back toward competitiveness in 2013, Castro and Rizzo will both have to jump a level in their development.
Castro has been remarkably consistent in his three years in the majors. On its face, his 2012 slash line of .283/.323/.430 appears to be a slight decline from '11, but a lot of that is explained by his .315 BABIP. He posted a .346 BABIP in his rookie year and a .344 BABIP in '11. Even as his BABIP dropped 30 points, he posted a career-high line-drive rate (20.5 percent) and a career-low ground-ball rate (47.5 percent). He also notched career bests in home runs (14) and stolen bases (25). By and large, Castro has been the same hitter since his first day in the majors, and has taken small steps forward each year. He still swings at far too many pitches outside the strike zone -- 37.4 percent of them as measured by Fangraphs. He's also entering his age-23 season and carries a career .297/.336/.425 line across 1,783 at-bats. He's a star in the making and the third shortstop on my board behind Jose Reyes and Troy Tulowitzki.
Rizzo, meanwhile, earned a promotion to the majors about halfway through the '12 season and went on to hit .285/.342/.463 with 15 homers and 48 RBI in 337 at-bats, exorcising the demons from his disastrous 50-game stint in the majors with the Padres in '11. Now he'll be asked to be the legitimate power bat in the middle of the Cubs' lineup. Everything suggests he'll be ready to do that this season. Before getting the call to the big league club last year, he absolutely mashed at Triple-A Iowa, posting a 1.101 OPS with 23 homers in 257 at-bats. First base is as deep a position as there is in fantasy, so Rizzo may not project as a starter in mixed leagues right away. That does not necessarily mean he'll come cheap, but he's definitely a guy to keep on your radar. A 30-homer season is well within his reach.
? Who rounds out the rotation? We know Samardzija, Garza and Jackson will be the top-three starters in the rotation. Holdover Wood and newcomers Villanueva, Baker and Feldman will fight for the final two spots. All four could crack the rotation, but I'm betting on Baker and Villanueva to grab the final two spots.
For Baker, it all comes down to health. He has performed at the level of a solid No. 3 starter, a guy who strikes out seven or eight batters per nine innings and doesn't issue many free passes. He has never been anything other than a starting pitcher in his seven-year career and, if nothing else, could be a valuable trade chip at the deadline. He'll start if he's healthy.
The true battle will be between Villanueva and Wood. The former has been successful as a starter, middle reliever, setup man and closer in the majors, but he made no secret about his desire to be a starter this year. Wood had a decent season for the Cubs last year, posting a 4.26 ERA, 1.19 WHIP and 119 strikeouts in 156 innings. He'd also be the only lefty in the rotation. While Villanueva might give the team more flexibility in the bullpen, I think his ability to miss bats will play better as a starter getting about 170 innings than a reliever getting 70. Of course, none of these final options warrants consideration in mixed leagues to start the season. Baker and Villanueva are both draft-worthy in NL-only leagues.
? Should I invest a pick in Brett Jackson? The Cubs have been talking about Jackson as a center fielder of the future ever since he has been in the organization, and he appeared to move in that direction last year when he logged his first service time in the majors. However, he struggled mightily, hitting just .175/.303/.342 with 59 strikeouts in 120 at-bats, an alarming 41.5 percent K-rate. The problem that plagued Jackson all through his successful minor league career -- his free-swinging ways -- doomed his debut in the majors.
The Cubs went out and signed Nate Schierholtz in the offseason, so Jackson will likely start the year as the team's fourth outfielder. Chicago could also decide that he'd be better off playing every day in the minors instead of every so often in the majors, which would result in him starting the year at Triple-A Iowa. David DeJesus and Soriano are already on the trade block, so it wouldn't be surprising to see either of them go, opening up a spot for Jackson. He proved last year he could handle center field at the major league level, and the new regime on the North Side has placed a greater emphasis on run prevention. That said, Jackson won't see a lot of time early, and doesn't deserve your confidence just yet.
Sleeper
Scott Baker: There's a good chance I'm Baker's biggest supporter outside of his own family, but that doesn't change the fact that he remains criminally underrated, so long as he can stay on the field. He missed the 2012 season, but racked up a sub-1.2 WHIP in '08, '09 and '11. He has fanned more than seven batters per nine innings in each of his last four seasons and doesn't walk anyone. He can be one of those necessary, reliable cogs in a fantasy rotation, provided he gets 30 starts.
Bust
Alfonso Soriano:Soriano enjoyed a resurgence last year, hitting .262/.322/.499 with 32 homers and 108 RBI. That might be enough to convince an AL contender to trade for him this year, but don't let it sway you during your draft or auction. He's probably good for another 25 homers, but that's all he's good for, and he plays the deepest position in fantasy baseball.
Breakout
Anthony Rizzo: We touched on Rizzo above, but I think he'll become a fantasy mainstay within the first four-to-six weeks of the season. His 2012 numbers projected across a full year translate to 28 homers and 89 RBI. I see that as his floor this season.
NL-only players to know
Welington Castillo: The new starting catcher hit .265/.337/.418 with five homers in 190 plate appearances last year. With a full season as the starter, he could hit up to 15 jacks.
Travis Wood: In his age-25 season, Wood's ERA remained above 4.00, but he had a 1.20 WHIP and 119 strikeouts in 156 innings. His fantasy relevance is contingent on him getting a spot in the rotation.
Kyuji Fujikawa: How much longer can the Cubs continue to ride the Marmolcoaster? While it makes sense for the team to keep Marmol in the closer's role to showcase him for a potential trade, there's no doubt they'd like to give Fujikawa a chance at some point. He had a career 1.36 ERA, 202 saves and 510 strikeouts in six seasons with the Hanshin Tigers.