Burning Questions: How will Upton brothers fare in Atlanta?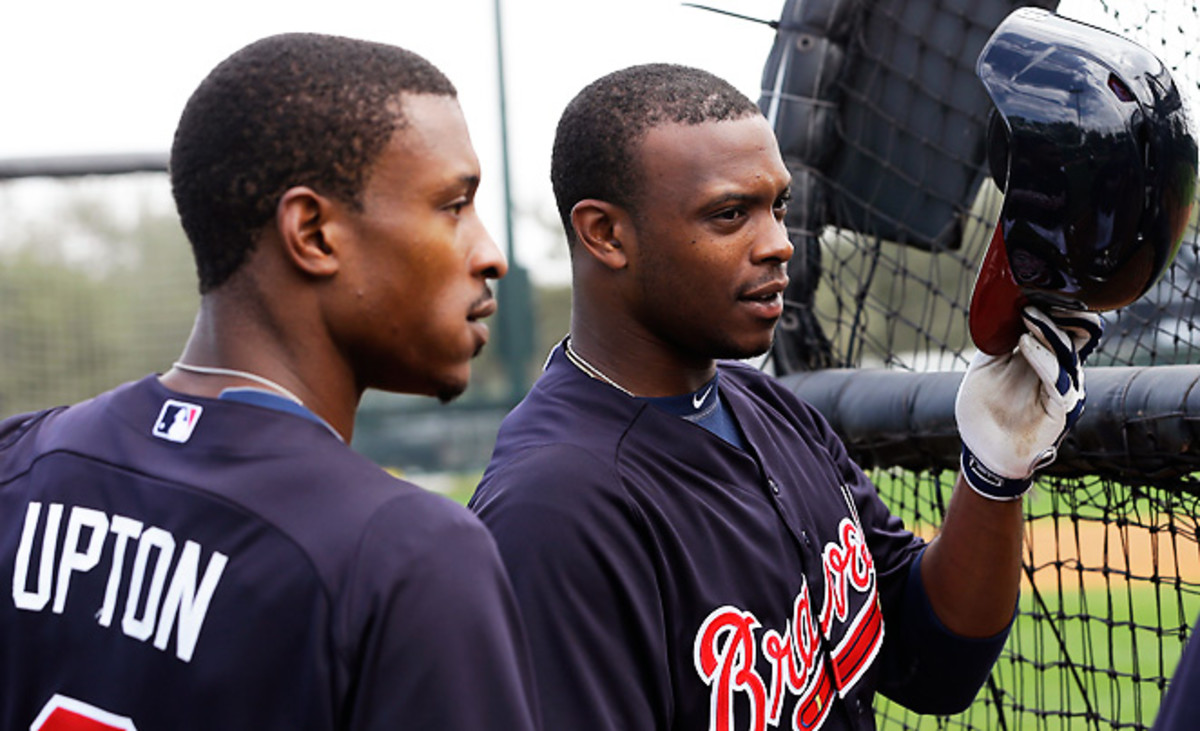 Fantasy baseball 2013 draft prep central: Rankings, position primers and much more
The final week of January was a monumental one for brothers in sports. Four days after John and Jim Harbaugh led their respective teams to the Super Bowl, the Braves sent Martin Prado and a cadre of prospects to the Diamondbacks for Justin Upton, who joined older brother B.J. in Atlanta. Together with Jason Heyward, the Upton brothers comprise one of the most talented and exciting outfields in the league. It'll probably be the only outfield to produce three top 40 picks in fantasy baseball drafts this March.
Despite their high profiles, however, both Upton brothers have disappointed fantasy owners in the past. B.J. is a career .255 hitter and experienced a power outage in 2008 and 2009. After being a consensus first-round pick a year ago, Justin hit just 17 homers and posted an OPS below .800 for the second time in five years (the other time, his OPS was .799). Atlanta will be a different environment for both of them, though. B.J. leaves the merciless Tropicana Field down in Tampa, while Justin is forced to say goodbye to Arizona's Chase Field, a hitter's paradise. Both Uptons have been fantasy stars in the past, and both deserve to be high picks this season. That is not up for debate. What is debatable: what we can expect from them in Atlanta, and how you should rank them among their peers.
Like John Harbaugh, B.J. Upton is the older, sometimes overlooked brother in the family. Given that John and the Ravens pulled the small upset over Jim's 49ers in the Super Bowl, we'll tip our cap to older brothers everywhere and start with B.J. Before we get to his numbers and projections for 2013, keep the following in mind: According to Mock Draft Central, B.J.'s current average draft position is 24.62. The other hitters in his neighborhood conveniently include outfielders Josh Hamilton (22.43), Adam Jones (24.24) and Jay Bruce (29.19), as well as Edwin Encarnacion (25.2) and David Wright (27.65). If you're considering B.J., chances are you'll have a shot at a handful of these guys as well. Your first pick will undoubtedly influence your selection to a certain degree, but in a vacuum, where does B.J. slot in this group?
B.J.'s value is tied inextricably to his power. We know the steals will be there; last year's 31 swipes were his least in a season since stealing 22 bags in 2007. Even if his speed is starting to slip ever so slightly, a notion supported not only by his declining stolen-base totals, but also by a BABIP that has dropped each of the last five seasons, he's still going to get his on the base paths. He has also been very consistent in his rate stats the past four years, posting batting averages of .241, .237, .243 and .246 and OBPs of .313, .322, .331 and .298. Even with his speed, he's going to hurt your rates.
PRINTABLE DRAFT KIT: Top 300 Cheat Sheet | Position Rankings Cheat Sheet
If B.J. is the player from 2007, 2011 and 2012 -- the one who hits at least 24 or 25 homers -- we have a stud on our hands, one of the few guys in the league who will throw up a 25/30. If he's the B.J. from 2008, 2009 and 2010, though -- the one who hit just 38 homers in those three seasons combined -- we have a glorified version of Drew Stubbs. So which B.J. Upton will show up in Atlanta? I believe the former.
There's no doubt Turner Field is a better offensive park than the Trop. According to park factors, Turner was the 11th best park for hitters, as measured by runs scored, in 2012. Tropicana Field ranked 23rd. However, for home runs, the parks ranked 22nd and 23rd, respectively. B.J. actually thrived at home last year, hitting 17 of his 28 homers in the unfriendly confines of the Trop. His career numbers are eerily similar at home and on the road.
? Home: .252/.336/.422, 60 homers ? Road: .258/.335/.422, 58 homers
Turner may be a better place to hit than Tropicana, but it might not have more than a negligible effect on B.J.'s numbers. We'll find better evidence supporting his lofty ranking in his advanced stats.
Even when B.J. wasn't hitting a ton of homers, he was racking up extra-base hits at an impressive rate. From 2008-10, his three worst seasons for home run output, he had a combined 108 doubles, usually a sign of more power waiting in the wings. As he hit more homers in 2011 and 2012, his doubles totals fell. The big change, beginning in 2010, was that he started putting more balls in the air. In 2008, when B.J. hit just nine homers, he posted a ground-ball rate of 50.5 percent. In 2009, a season in which he hit 11 homers, his ground-ball rate was 44.3 percent. The next year he had a respectable 18 jacks with a ground-ball rate that fell all the way to 39.7 percent. It has remained essentially flat at that level the past two years (40.9 percent and 40.3 percent), and B.J. has mashed 23 and 28 homers in those campaigns. When he keeps the ball in the air, he hits home runs, a fact supported by his career 12.2-percent home-run-to-fly-ball ratio, above average for major league players. As a comparison, Miguel Tejada and Raul Mondesi had career HR/FB ratios of 12.2 percent. Jeff Kent's was 12.3 percent.
While Turner may not have a huge impact on B.J., playing outdoors in the sweltering Atlanta heat will help his fly balls carry just a bit more than they did in the indoor environment of the Trop. Combined with his status as a true fly-ball hitter, I think the power is here to stay, especially in his age-28 season. Revisiting our earlier discussion, I prefer Upton to Adam Jones, Edwin Encarnacion and Jay Bruce, though would take Josh Hamilton and David Wright ahead of him.
Little brother Justin is up in the draft penthouse of the late-first, early-second round. His current ADP is 12.13. In his neighborhood are Jose Bautista (9), Carlos Gonzalez (11.54), Curtis Granderson (11.99), Buster Posey (13.06) and Prince Fielder (14). He's also a different case because he's coming off a season of clear regression. So let's take a look at those numbers and see if we should be optimistic about a bounce-back campaign.
After hitting .289/.369/.529 with 31 homers in 2011, Justin's power fell off the map last year. He hit just 17 homers and slugged .430. His isolated slugging plummeted to .150 from .240. Put another way: In 2011, he hit for power like Frank Robinson (career .243 ISO); in 2012, he was more like Lou Whitaker (career .150 ISO). It turns out Justin pulled the reverse of older brother B.J. last year, hitting a huge share of ground balls. His 43.8-percent ground-ball rate was his highest since 2009, and his 35.6-percent fly-ball rate was the lowest of his career. However, we can't exactly consider one year a trend. It is possible for a player to simply have a down year without becoming a fundamentally different hitter, especially a guy who is just 24 years old, as Justin was last season.
He may have hit for less power, but Justin was undoubtedly a more selective hitter last year. He got his walk rate back into double digits and kept his strikeout rate below 20 percent for the second straight year. He swung at pitches outside the strike zone 26.7 percent of the time, down from 30.3 percent in 2011, and accumulated a career-best 10-percent swinging-strike rate. More patience is almost always a good thing, as long as a player isn't being too selective with pitches in the strike zone. While his propensity to offer at pitches in the zone fell to 67.4 percent from 70.3 percent in 2011, that's not a cause for concern. So far, we're liking Upton to rebound in a big way this year.
The move from Arizona to Atlanta is a cause for concern, however. As mentioned, Turner Field depressed homers last year, averaging just 0.873 round-trippers per game. Chase Field, on the other hand, was the sixth-best home run park in the league, seeing an average of 1.192 homers per game. For his career, Justin has been a far superior hitter at home.
? Home: .307/.389/.548, 67 homers, 219 RBI ? Road: .250/.325/.406, 41 homers, 144 RBI
Those are troubling splits. Justin has played well in Atlanta, albeit in a small sample. In 67 plate appearances, he has hit .293/.388/.483 with a homer, four doubles and eight RBI at Turner Field. Should those numbers knock him from his perch as, at worst, a mid-second rounder? No. Should they keep him out of the very top tier of outfielders and behind guys like Bautista and Gonzalez? Yes, especially Gonzalez, given that he'll likely put up the same 20 or so stolen bases that Justin will give you. I'd also take Giancarlo Stanton ahead of Justin. The younger Upton is the eighth outfielder and 18th overall player on my board.
More Burning Questions: ? Part I: Can Trout, Harper avoid sophomore slump? ? Part II: Will R.A. Dickey regress after Cy Young? ? Part III: Is Anthony Rizzo an elite first baseman? ? Part IV: Can Brett Lawrie reach his potential? ? Part V: How will the Upton brothers fare in Atlanta? ? Part VI: Is Atlanta's Kris Medlen a top-tier starter? ? Part VII: Is Kansas City's Eric Hosmer worth the wait? ? Part VIII: Can Wil Myers be MLB's next rookie sensation? ? Part IX: Are hitters still more valuable than pitchers? ? Part X: Predictions for the 2013 MLB season