Fantasy baseball 2013 draft preview: Third base primer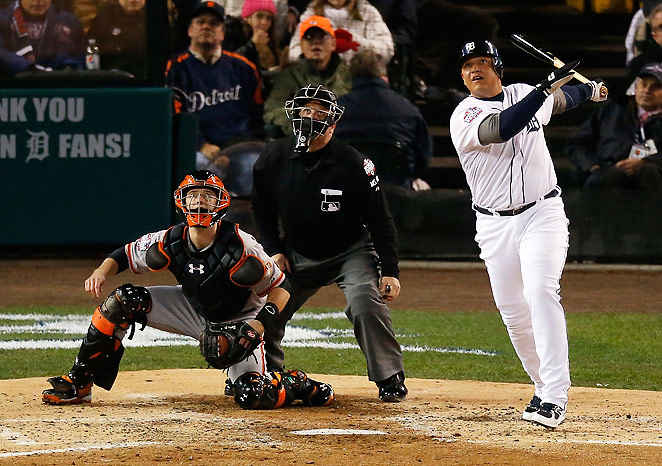 Fantasy baseball 2013 draft prep central: Rankings, position primers and much more
Fantasy baseball can giveth, and fantasy baseball can taketh away. But last season it was unusually kind, giving us third base eligibility for Miguel Cabrera. The result? A Triple Crown season, unheard of in the fantasy era at any position.
Cabrera isn't the only elite third base option, but the most exciting thing about this position is the depth. Following breakthrough campaigns from Chase Headley (who drops from eighth to 12th in our rankings following a spring thumb injury) and David Freese and the arrival of Todd Frazier, there are a number of burgeoning fantasy gems at third base. In fact, the position has improved so much that it barely matters that Alex Rodriguez, the richest man in baseball, has almost completely fallen off the map following a second hip surgery that will knock him out until after the All-Star break -- and into the late draft rounds.
POSITION PRIMERS: C | 1B | 2B | SS | 3B | OF | DH | SP | RP
Is there a debate at No. 1?
Not anymore. Cabrera's move back to third gives fantasy its most dominant third baseman since before Albert Pujols moved to first base. After winning the Triple Crown, Cabrera is a top-three overall candidate on draft day, which is at least a round earlier than the next third baseman that should go off the board. Cabrera is on another level, but the position is deep, so if you miss out on Cabrera you might want to wait until the middle rounds.
PRINTABLE DRAFT KIT: Top 300 Cheat Sheet | Position Rankings Cheat Sheet
Comeback player: Evan Longoria, Rays
Judging by his suppressed 2012 numbers (.289/17/55/39/2/.368/.527), Longoria might not look elite, but extrapolating his half-season totals to 150 games presents a .289/34/110 monster. Many will pick Adrian Beltre before Longoria. They shouldn't. Some might even go with Aramis Ramirez or 2012 breakout Headley. That would also be a mistake. Longoria is one of the faces of baseball, and when his surgically repaired hamstring holds up for a full season again, he'll make every fantasy owner who passed on him regret it. What's more: He's going to be 27 this season, which could mean career highs across the board (.295/35/115/105/15/.375/.535).
Breakout: Brett Lawrie, Blue Jays
Lawrie is a lot like an overlooked sophomore who gets ignored by bitter fantasy owners after failing to meet the hype as a rookie. Lawrie technically wasn't a rookie in 2012, but his .273/11/48/73/13/.324/.405 line definitely left his fantasy owners feeling jilted. This can be the year your loyalty pays you back. Lawrie showed in his brief rookie year in 2011 (150 at-bats) that he can perform at a .293/36/100/104/28/.373/.580 clip, numbers which would make him a first-round fantasy candidate. Don't expect that kind of production, but .285/25/90/90/15/.350/.500 line is possible, and that would be a nice return for a player who may not be picked among the top 10 at his position.
Bust: Adrian Beltre, Rangers
There's no denying Beltre has excelled the past three seasons, averaging .314/32/87/103, but he will turn 34 this season and the Rangers no longer have a hammer like Josh Hamilton in their lineup. This could be the year Beltre crashes back down to the third base fantasy mediocrity of .280/25/90/80 -- if a significant injury doesn't cut his season in half. Given his elevated draft position, Beltre isn't a smart pick.
Sleeper: Mike Moustakas, Royals
His first full major league season might not have earned him fantasy starter status, but expect significant improvement over his disastrous second half. Moustakas wore down after the All-Star break, managing a mere .211/5/26/28/2/.261/.325. He should be drafted more based on his first-half numbers, though, which were borderline elite: .268/15/47/41/3/.327/.490. There is considerable room to grow here, and Moustakas has the potential to be a great run producer, perhaps as early as this year. If he falls to you in the late rounds, rest assured your third base position is in capable hands.
Top prospect/rookie: Mike Olt, Rangers
Many prospect rankings list Twins farmhand Miguel Sano as the top third base prospect long term, but Sano is just 19 years old. The Rangers' Olt, 24, is stalking the major leagues and would be a starter on just about every other team in baseball. He still might land the gig with the Rangers. Olt went .288/28/82/65/4/.398/.579 in 354 Double-A at-bats, which earned him a late-season call-up. The current plan has him opening the year in Triple-A -- although he is working at first base and outfield in spring training to improve his chances of making the team. It won't take long for Olt to mash his way into the Rangers' lineup, especially if the aforementioned injury finally hits Beltre. If your league generally stashes elite prospect call-ups after draft day, Olt is one of the must-haves in all of fantasy.
Other potential eligibles
Our rankings only consider those who play third base as their primary position or played at least 20 games there in their most recent major league season. Here are some other players who are eligible in leagues with different requirements:
? Fifteen games: Mark Reynolds, Marco Scutaro and Adeiny Hechavarria ? Ten games: Eric Sogard, Josh Harrison, Chone Figgins and Willie Bloomquist ? Five games: Mark Trumbo, Brett Wallace and Omar Infante ? Three games: Albert Pujols, Wilin Rosario, Logan Forsythe, Adam Rosales and Alexi Casilla ? One game: Jose Bautista, Edwin Encarnacion, Ian Kinsler, Everth Cabrera, Brett Pill and Mat Gamel
Target averages
From the rough estimate projections below, your average starter in a 12-team, one-3B league should be around .282/24/92/82/8/.349/.487.