Fantasy baseball 2013 team previews: Toronto Blue Jays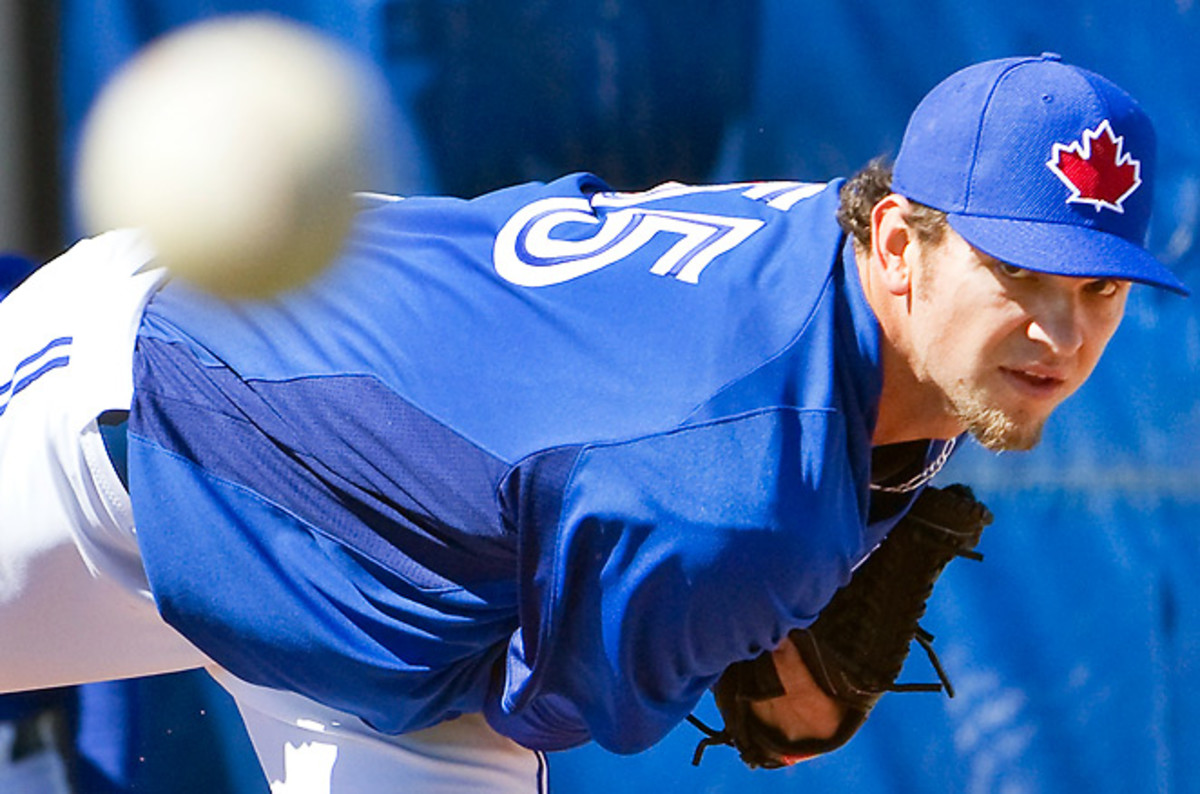 Fantasy baseball 2013 draft prep central: Rankings, position primers and much more
The Toronto Blue Jays clearly understand what it takes to compete in the AL East. The Yankees are the Yankees. Despite a few down years in a row, the Red Sox remain a constant threat. The Rays have turned themselves into a perennial contender and are still a dangerous team, even after losing James Shields and B.J. Upton. Now even the Orioles, who advanced to the ALDS in 2012, present a challenge. The AL Central, this is not.
The Blue Jays, who couldn't have realistically expected to compete in 2013 with their 2012 roster, went out and easily won the offseason, swinging two huge trades. The first infuriated the 100 or so remaining Miamians who pay attention to baseball, with the Marlins sending Jose Reyes, Josh Johnson, Emilio Bonifacio, Mark Buehrle and John Buck north of the border for a package of prospects. The second netted Toronto R.A. Dickey, the National League Cy Young Award winner from 2012, giving them potentially one of the best rotations in the American League. They also signed Melky Cabrera to a four-year deal. Say what you will about Cabrera's drug suspension from a year ago, but the bottom line is he hit .346/.390/.516 and, at 28 years old, is in the middle of his prime years. He and Reyes join holdovers Jose Bautista, Edwin Encarnacion, Brett Lawrie, J.P Arencibia and Colby Rasmus. This is a team with realistic World Series aspirations, not to mention a slew of fantasy studs.
Projected roster
Lineup:
1. Jose Reyes, SS 2. Melky Cabrera, LF 3. Jose Bautista, RF 4. Edwin Encarnacion, 1B 5. Brett Lawrie, 3B 6. Adam Lind, DH 7. J.P. Arencibia, C 8. Colby Rasmus, CF 9. Maicer Izturis, 2B
Rotation:
1. R.A. Dickey 2. Brandon Morrow 3. Josh Johnson 4. Ricky Romero 5. Mark Buehrle
Bullpen: Casey Janssen (closer), Sergio Santos, Brad Lincoln, Darren Oliver, Steve Delabar, Esmil Rogers, Brett Cecil
Key questions
? There are question marks up and down this rotation. Whom can I trust? I covered Dickey a few weeks ago in the Burning Questions series. You can read my in-depth thoughts on him there, but here's the gist: I'll be targeting him in all my leagues this year. I'm not nearly as confident in the following three.
Brandon Morrow: Morrow dealt with injuries once again last year, making just 21 starts, but he also had arguably his best statistical season. He went 10-7 with a 2.96 ERA, 1.12 WHIP and 3.65 FIP in 124.2 innings. He also walked just 2.96 batters per nine innings, easily the best ratio of his career. While that might portend a true breakout looming in 2013, I'm not so sure. Morrow also posted the worst K/9 ratio of his career, fanning only 7.8 batters per nine innings. His average fastball velocity dipped by a full mile per hour. This is highly suggestive of a pitcher who willingly sacrificed velocity for command. That could be an improvement for his real-life prospects, but not necessarily for his fantasy ones. I'd still happily take Morrow on my team, but, depending on league size, I wouldn't want him any higher than third in my rotation.
Josh Johnson: 2011 was a lost year for Johnson, but everyone figured he'd get back to being his dominant self in 2012 if he could just stay healthy. He did that, making 31 starts, but was essentially nothing more than a solid No. 2 or strong No. 3. That's nothing to sneeze at, but it's not ace material by any stretch of the imagination. Now he moves to the American League and a division that features three of the top-12 offenses by OPS from last year (Yankees, Orioles, Red Sox). His average fastball velocity fell to 92.8 MPH and he struck out just 7.76 batters per nine innings, both career lows. His 3.81 ERA and 3.40 FIP were also the worst marks of his career. Johnson very well could revert to ace fashion, but I'll likely be staying away.
Ricky Romero: What happened? Romero had steadily progressed from his rookie season in 2009 through 2011, and looked primed for a breakout during his age-27 season last year. Just look at these numbers, starting with 2009 and ending with 2012.
No matter how you slice it, 2012 was an abject failure for Romero. But I'm bullish on him this year. When you look at his peripherals, not a lot changed. His BABIP leapt up to .311 from .242 and his first-pitch strike percentage plunged to 53.3 percent, well below league average. Other than that, I see a pitcher who was largely the same guy, but struggled for reasons that are hard to define. That happens from time to time. He induced ground balls at a 53.5-percent clip, and upgrading the middle infield to Jose Reyes and Maicer Izturis should help more of those balls find gloves. If he can get in front of hitters with more regularity, I think he'll continue on the trajectory he set from 2009-11. He's one of my favorite buy-low candidates this year.
? Speaking of trust, how should we value Melky Cabrera?Cabrera was in the midst of a breakout season last year when he gave us probably the most entertaining story in the entire sordid history of PED use. Cabrera was hitting .346/.390/.516 with 11 homers, 25 doubles and 10 triples through 113 games when he was suspended for the remainder of the regular season for violating the league's drug policy, then setting up a fake website in what was one of the most creative attempts at establishing an alibi we've ever seen. Now that he's active once again, can we take last year's numbers at face value?
While we can probably assume the PEDs inflated Cabrera's stats a bit, they didn't create them out of thin air. What's more worrisome to me is his .379 BABIP from 2012. That is simply an unsustainable number. As that inevitably regresses, so will all of his rate stats. In 2011, when he theoretically could have been using PEDs, he posted a .332 BABIP, so he does have a bit of a track record for a higher-than-average BABIP. On the other side of the ledger, he's entering his age-28 season, so there is reason to expect some growth in his prime. It's a tough call, but I value Cabrera as a strong second outfielder, though one I'd want to pair with a reliable power hitter.
? Why are there so many trust issues with this team? Can we believe in Edwin Encarnacion's breakout?I'm going to kill any suspense and just tell you right away that the answer to this question is an unequivocal yes. Encarnacion was on the verge of a breakout with the Reds back in 2009 after hitting 26 homers and posting a .215 isolated slugging and .352 wOBA in 2008. Injuries ruined his 2009 and 2010 seasons, but he hit .272/.334/.453 with 17 homers in 2011. He finally put it all together last season, and he did it largely by becoming a different hitter.
While Encarnacion's walk and strikeouts rates were never egregious, they weren't ever a strength, either. Last year, he posted a career-best 13-percent walk rate to go along with a 14.6-percent K-rate, just one-tenth of a point worse than the best mark of his career. His 7.2-percent swinging-strike rate was also nearly a career low. He offered at just 24.5 percent of pitches out of the strike zone, the second best total of his career. In other words, he was far more patient last year than he ever had been, and he converted that into a .280/.384/.557 slash line with 42 homers. When a hitter makes this drastic of a change in his approach, he rarely goes back. Draft Encarnacion with confidence and take about 35 homers to the bank.
Sleeper
Ricky Romero: He's going to come so cheap, and we've already seen him have consistent success in the majors. He'll be in his age-28 season, and many of his advanced stats from his disappointing 2012 season are right in line with previous seasons in which he looked increasingly like a solid mid-rotation starter. This is the prototypical sleeper, just waiting for someone to call his name.
Bust
Josh Johnson: Johnson is still going to carry a hefty price tag, but he might not be the dominant strikeout pitcher he once was. If he's not whiffing batters at a high rate, and if he, like so many pitchers before him, struggles making the transition to the AL from the NL, he won't come anywhere near justifying his draft day cost.
Breakout
Brett Lawrie: Lawrie is another guy I've tackled in the Burning Questions series. He's one of my favorite "last year's bums" candidates. He's entering his age-23 season, and showed significant power in 2011, both in the minors and in his 43-game stint in the majors. That power came from out of nowhere, but it's not uncommon for a guy to jump a level in power when he starts getting through his early 20s. Don't let last year scare you off. A 20/15 year could end up being his floor.
AL-only guys to know
Colby Rasmus: Rasmus is draftable in deep mixed leagues, and could make his presence felt in all mixed leagues if the power he flashed last year is here to stay. As for AL-only leaguers, you'll love the 25/10 potential he brings to the table. He's not going to help your rate categories, though, and he'll likely hit at the bottom of the order.
Anthony Gose: Gose will likely start the year with the big league club, serving as a backup outfielder. For AL-only owners, he'll be a cheap source of speed, but not someone you'll want to count on as a staple of your lineup.