Fantasy baseball 2013 team previews: Oakland Athletics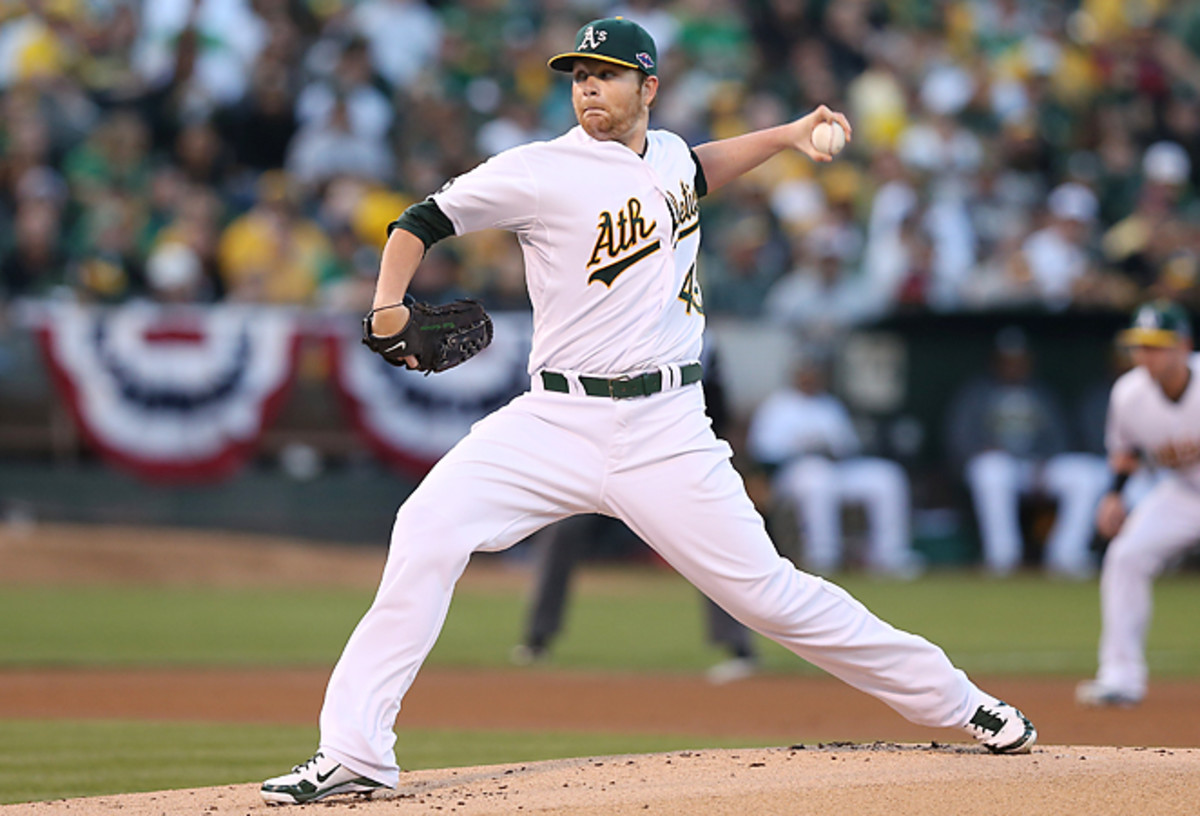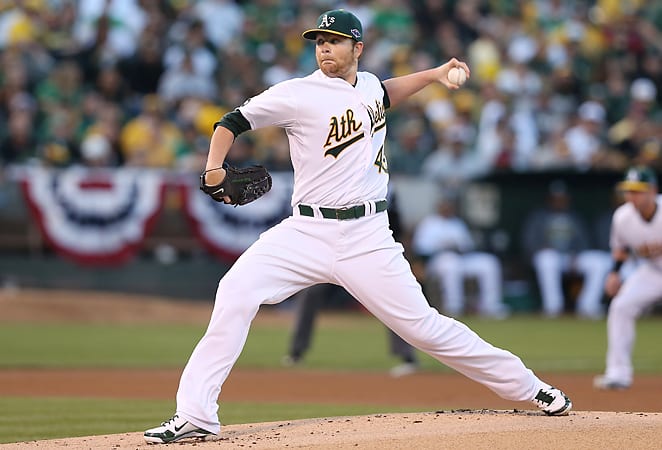 Fantasy baseball 2013 draft prep central: Rankings, position primers and much more
No 2012 division champion was more surprising than the Oakland A's. Not only did the sabermetric stat PECOTA peg them as a 77-85 team, but the Rangers and Angels looked like the two best teams in the American League heading into the year; PECOTA had the Rangers as a 98-win team, seven games better than the 91-71 Angels. Against those long odds, and despite being 22-29 at the end of May, the A's won the West, sweeping a season-ending series against the Rangers to do so in dramatic fashion.
Even though the A's outlasted the Rangers and Angels to win arguably the best division in baseball last year, few believe they can do it again this year. The Rangers may have lost Josh Hamilton (to the Angels, of course) and Mike Napoli, but their rotation remains one of the best in the league, and they're not exactly hurting on offense. The Angels lured Hamilton from the Rangers and added Tommy Hanson to blunt the loss of Zack Greinke. The A's, meanwhile, will have to do it again with a somewhat anonymous roster. That anonymity carries over to the fantasy realm, where the A's offer few impact players. Yoenis Cespedes looks like a star in the making, but he's the only premium player on the team. Josh Reddick and Chris Young are likely fantasy starters, Jarrod Parker and Brett Anderson have what it takes to be mid-fantasy-rotation guys and Dan Straily, Tommy Milone and A.J. Griffin should find their way onto rosters in all but the shallowest of leagues. If you're a mixed leaguer, you probably won't dig much deeper than that on this team.
Projected roster
Lineup:
1. Coco Crisp, DH 2. Chris Young, CF 3. Yoenis Cespedes, LF 4. Brandon Moss, 1B 5. Josh Reddick, RF 6. Josh Donaldson, 3B 7. John Jaso/Derek Norris, C 8. Hiroyuki Nakajima/Jed Lowrie, SS 9. Jemile Weeks/Scott Sizemore, 2B
Starting rotation:
1. Jarrod Parker 2. Brett Anderson 3. Tommy Milone 4. Dan Straily 5. A.J. Griffin
Others: Bartolo Colon
Bullpen: Grant Balfour (closer), Ryan Cook, Jerry Blevins, Sean Doolittle, Jordon Noberto, Chris Resop, Pat Neshek
Key questions
? Will Brett Anderson stay healthy? This is the $64,000 question for the A's, and an important one for the entire AL West. If he stays healthy, the A's could surprise everyone the way they did in 2012. In 68 career starts, Anderson has a 3.57 ERA, 1.25 WHIP, 3.53 FIP and 311 strikeouts in 406 innings. He appeared on the verge of a breakout in 2010, his second year in the majors, before an elbow injury ultimately forced him to undergo Tommy John surgery. He came back last year, making six starts and going 4-2 with a 2.57 ERA and 1.03 WHIP, but was sidelined with an oblique injury. However, if his final start of the season is any indication of what's to come -- six innings, two hits, no runs against the Tigers in the ALDS -- 2013 might be the year the breakout finally happens. Make sure his name is in bold on your cheat sheet. He could provide one of the greatest returns on investment of any player this season.
? The middle infield conundrum: Nakajima or Lowrie? Weeks or Sizemore? Let's dispose of the shortstop question first since it's a bit more cut and dried. The A's signed Hiroyuki Nakajima away from the Seibu Lions of Japan to be their starting shortstop. He'll be out there on Opening Day and will be given plenty of leash to prove he deserves the job. Jed Lowrie was brought in as a solid insurance policy. With that said, there are questions as to whether Nakajima can play shortstop at the major league level. There isn't any doubt about his on-base skills. Nakajima posted a career .310/.381/.474 line with 104 home runs in six seasons in Japan. But he'll turn 31 in July, and he might not be up to playing baseball's most demanding position at its highest level. Heading into draft season, I have him just on the outside looking in at the starting shortstops, though his upside is intriguing.
Second base is a bit more interesting since it's a legitimate battle, but it's also less significant since it likely only matters for AL-only leagues. Mixed leaguers shouldn't be counting on either Jemile Weeks or Scott Sizemore to be their starter. This appeared to be Weeks' job for the taking last year, but he struggled to the tune of .221/.305/.304 in 2012. Sizemore missed the entire season with a torn ACL, but he carries a career .239/.329/.382 slash in 592 plate appearances. Neither guy has made a strong case for the job in the past, and they're both well beyond prospect status: Weeks is 26 and Sizemore is 28. Here's something to keep an eye on, though: If both Nakajima and Lowrie hit this spring, manager Bob Melvin could opt to move one of them to second while starting the other at short. The A's do envision Lowrie in the role of a Ben Zobrist-style super-utility man, but if neither Weeks nor Sizemore can hit enough to warrant a starting role, getting Nakajima and Lowrie in the everyday lineup is a likely scenario.
? What does Yoenis Cespedes have on tap for an encore? Mike Trout and Bryce Harper got all the attention for taking the league by storm last year, but Cespedes made just as remarkable a transition to the rigors of Major League Baseball, even if he does have six years on Trout and seven on Harper. Cespedes hit .292/.356/.505 with 23 homers and 16 steals in his rookie year. From his first game, he looked like he belonged. And he accumulated all his numbers in just 129 games while missing time due to various injuries. That's the one aspect of his game that should temper your expectations a bit heading into 2013. He had a .326 BABIP, but he hit nearly 20 percent line drives and has good speed, so it's not totally out of line. One advanced stat to watch is his home run/fly ball ratio. Last year, it was 14.8 percent, on par with Freddie Freeman and besting Albert Pujols. If he can maintain that pace and stay healthy, Cespedes could be looking at a 30/20 season in his second year.
? Is the Josh Reddick power surge for real? This answer will be short and sweet, but I'd be remiss in my role as a fantasy adviser if I didn't touch on it. Yes, Reddick's power is real. Check out his minor league stats with the Red Sox:
He then hit seven homers in limited duty with the Red Sox in 2011 before exploding for 32 with the A's last year. Moreover, he hit 18 of those homers at cavernous O.co Coliseum in Oakland. Feel free to buy in.
Sleeper
Brandon Moss: Moss hit 21 homers, slugged .596 and posted a ridiculous .402 wOBA in just 296 plate appearances last year. Now, he gets his chance to play every day. While the increased exposure will undoubtedly bring his rate stats down, his counting stats should jump a level. If he stays healthy, 30 homers -- cheap ones for fantasy owners -- are well within his reach.
Bust
Chris Young: In his seven-year career, all with the Diamondbacks, Young has been a much better hitter at home than on the road. He hit .254/.326/.465 with 70 homers in Arizona and .224/.311/.409 everywhere else. Now he'll play half his games at O.co Coliseum, one of the league's worst parks for hitters, instead of the bandbox that is Chase Field. Don't be surprised if Young's power numbers don't register the way they have in past seasons.
Breakout
Jarrod Parker: Parker dazzled in his rookie year, going 13-8 with a 3.47 ERA, 1.26 WHIP, 3.43 FIP and 140 strikeouts in 181.1 innings. It wouldn't be a surprise to see that K/9 rate jump this year. Parker got almost 10 percent swinging strikes last year, solidly better than league average. If he can get out in front of hitters more often -- his 55.3-percent first-strike rate was about four percentage points below league average -- he should be able to whiff north of seven batters per nine innings. That's a skill that usually grows with age and experience. Remember, Parker is just 24. The kid is still getting better.
AL-only guys to know
John Jaso: In 361 plate appearances with the Mariners last year, Jaso hit .276/.394/.456 with 10 homers. He's a definite starter in AL-only leagues, and could even be a factor in mixed leagues depending on how the playing time is divided.
Hiroyuki Nakajima and Jed Lowrie: See above. My bet is they both end up starting.