Fantasy baseball 2013 draft preview: Relief pitcher primer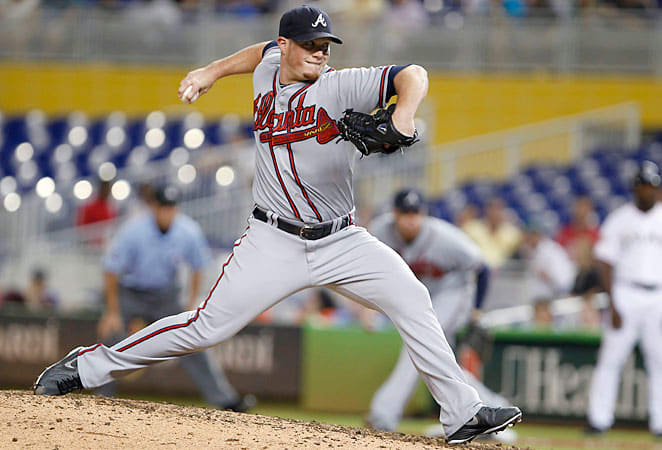 Fantasy baseball 2013 draft prep central: Rankings, position primers and much more
Relief pitchers tend to frustrate fantasy players more than any other position group. You think you have your closer spot licked after spending a few premium picks, and then steady guys like Brian Wilson, Heath Bell and Joakim Soria go bust.
Pitcher is the most volatile fantasy position, and year-to-year inconsistency among relievers is the biggest reason why. You can't afford to skimp on the position come draft time and rely on waiver wire adds, however. That strategy will occasionally work, but it's too tough to reliably execute. You're best off putting your faith in the highly ranked closers, crossing your fingers and hoping for the best. Prepare for the roller-coaster ride accordingly.
POSITION PRIMERS: C | 1B | 2B | SS | 3B | OF | DH | SP | RP
Is there a debate at No. 1?
Until the Reds switched gears and decided to keep Aroldis Chapman in the bullpen, Craig Kimbrel projected to post the best ERA and WHIP among closers and dominate the counting categories of saves and strikeouts. Instead of being the unanimous choice as the top reliever selected in all leagues, Kimbrel is now 1A to Chapman. A general rule of thumb is to pick the first relief pitcher around the 50th overall selection. Coming off a couple years of closer disappointments, Kimbrel and Chapman might be the only closers picked among the top 100.
PRINTABLE DRAFT KIT: Top 300 Cheat Sheet | Position Rankings Cheat Sheet
Comeback player: Mariano Rivera, Yankees
An ACL injury seemed likely to end Rivera's Hall of Fame career. Instead, Rivera, 43, decided to return for a 19th season. He said in January that his surgically repaired knee felt about 95 percent, which would put him on pace to open the season as the Yankees' closer again. Rivera has defied the odds throughout his career, so we shouldn't discount his ability to post another solid season. With so few sure things at closer, Rivera ranks just outside the top 10.
Breakout: Addison Reed, White Sox
Reed's 4.75 ERA and 1.364 WHIP as a rookie don't make him the next Kimbrel, but his power arm might. The 24-year-old righty looks like he was born to close. He saved 29-of-33 games after taking over the closer's role in early May last season, but his second-half struggles (5.63 ERA) will likely see him fall into the later rounds on draft day. Reed is a legit talent, and he has a big opportunity on a White Sox team that might be better than anyone expects. Few late-round picks at closer come with this kind of potential. A 40-save season isn't out of the question.
Bust: Fernando Rodney, Rays
If Rodney were 25, he'd have a claim as the top relief pitcher in baseball. But he was 35 years old last season when he posted a microscopic 0.60 ERA and 0.780 WHIP while racking up 48 saves and more than a strikeout per inning. That breakthrough came out of nowhere, as he hadn't produced an ERA under 3.50 since 2005. Heck, he'd only posted a sub-4.20 ERA twice in his entire career (2005 and '06), and his WHIP last year was more than 0.40 points lower than his previous career best. Given his advanced age and the uncharacteristic nature of his 2012 success, Rodney will be a dangerous pick among the elite closers -- especially with talented 26-year-old Jake McGee (1.95 ERA, 0.800) being groomed to close if Rodney falters or is dealt midseason.
Sleeper: Kenley Jansen, Dodgers
Because a closer's fantasy value is entirely determined by his role, sleepers often pop up at the position. Jansen could be a big-time sleeper this season, even if the re-signed Brandon League enters the season as the Dodgers' closer. Jansen has the better arm, is younger (25) and had the better numbers a season ago. Still, the Dodgers head into spring training with a plan to have League close and Jansen set up along with Javy Guerra, another part-time closer in seasons past. If history is any indication, League will be unable to hold the role for the full season. Once Jansen becomes the closer, he will be a top-five option at the position. He's one of the late-round must-haves if you can afford to stash a reliever or slot a middle man on your Rotisserie staff.
Top prospect/rookie: Bruce Rondon, Tigers
How confident are the Tigers in the 22-year-old Rondon? Confident enough to ignore former closer Jose Valverde on the free-agent market even when his price is coming down to bargain levels. Rondon has yet to throw a major-league pitch, but the 6-foot-3, 265-pound fire-baller can hit triple digits and be an instant success for one of the top contenders in baseball. The Tigers could add a veteran to compete with Rondon for the closer's role before Opening Day, but the job will inevitably be Rondon's. He just needs to prove he can stay healthy and throw strikes early in his first big-league season.
Other potential eligibles
Head-to-head points leagues tend to favor the starting pitcher over the relief pitcher, so if you can slot a current starter who retains relief eligibility, it can pay huge dividends. We're using the base rule of at least 10 games of relief a year ago as a guide for relief eligibility. Starters generally need at least five starts.
Here are the top relief-eligible pitchers who figure to be starters (at least at some point) this season:
? RP Aroldis Chapman, Reds: The Reds wanted to stretch him out to start, but he wants to close, and Dusty Baker prefers him there. That makes it likely Chapman opens the season as a closer and perhaps stays there indefinitely. If the Reds need a starter midseason or a fresh arm down the stretch, they could switch gears again, so monitor Chapman closely throughout the season. Regardless of the role, he is going to be a must-start fantasy pitcher.
? SP/RP Kris Medlen, Braves: His numbers were ridiculous when he became a starter coming off Tommy John surgery. They also will be nearly impossible to duplicate. Draft him a few rounds higher if you can slot this front-line starting pitcher in a relief spot all season. Medlen is the best of the pitchers eligible at both starter and reliever to open the season.
? RP Alexi Ogando, Rangers: Texas learned a painful lesson with Neftali Feliz, an elite pitching prospect the Rangers bounced back and forth from closer to starter. That should lead them to make a decision with Ogando and stick with it. That decision appears to be using Ogando as a starter, which will make him a nice late-round sleeper, albeit one who might only be relief-eligible in fantasy to start the season.
? RP Wade Davis, Royals: Davis is in the same boat as Ogando, a reliever a year ago who will be used as a starter this season. Davis was looking like a perennial 15-game-winner before a numbers game forced the Rays to slot him as a reliever and eventually deal him to the Royals in the James Shields-Wil Myers blockbuster. The Royals aren't usually a great place to look for fantasy starters, but Shields and Davis give them a chance to erase that stigma. Davis, like those above, might be held to a innings count later in the year, though.
? SP/RP Hisashi Iwakuma, Mariners: If you're in the hunt for strikeouts late on draft day, this is a pretty good option. The 31-year-old Japanese right hander struck out 101 batters in his 16 starts and 14 relief appearances as a rookie. He is now the Mariners' No. 2 starter behind King Felix Hernandez and, even with the fences pulled in, Seattle's Safeco Field is a nice place to pitch.
Those are the top five among fantasy swingmen this year. Brett Myers is going to stretch out to start after signing with Cleveland, but he might be just off the fantasy radar in standard leagues.
Here are the other pitchers with dual eligibility, having made at least five starts and 10 relief appearances a year ago (with their projections):
Target averages
Based on the rough estimate projections below, the average relief pitcher in a standard 12-team Rotisserie league featuring a nine-man staff should produce around 2/2.96/69/1.163/27.