Fantasy baseball 2013 team previews: Chicago White Sox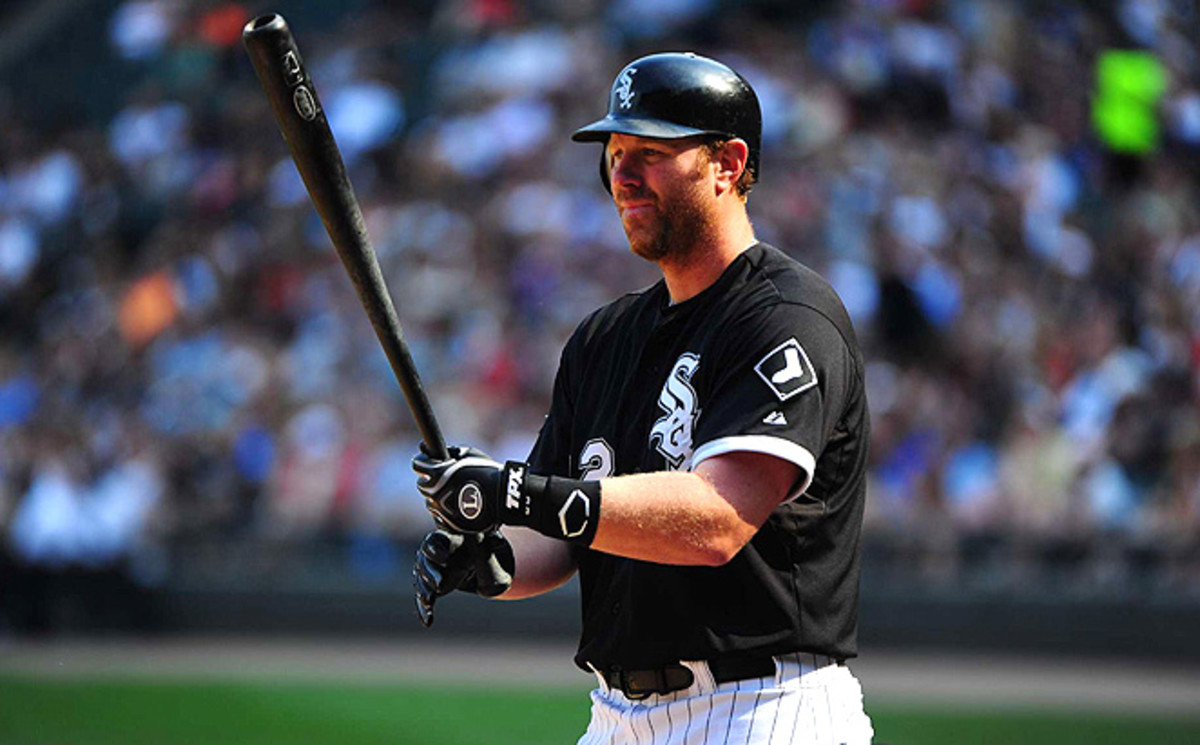 Fantasy baseball 2013 draft prep central: Rankings, position primers and much more
After a 3-2 win over the Royals on September 18 last season, the White Sox held a three-game lead over the Tigers in the AL Central. They lost their next five games, eight of their next nine and 10 of their next 12, ceding the division to Detroit, the eventual AL champion. Despite that disastrous finish to the season, it was an unexpectedly successful year on the South Side of Chicago. The White Sox started the 2012 season with a questionable rotation and two of 2011's worst players -- Adam Dunn and Alex Rios -- in their everyday lineup. Dunn and Rios bounced back in a huge way, Chris Sale proved to be a legitimate ace and the since departed A.J. Pierzynski had the best year of his career.
This year the White Sox enter the season in similar fashion to 2012. It's the Tigers and then everyone else in the AL Central, and the White Sox have to be considered somewhat of a long shot to make the playoffs. Still, there is plenty here for the fantasy owner. Sale can sit at the top of a fantasy rotation, and Jake Peavy enjoyed a resurgent 2012 season. Dunn, Rios and Paul Konerko make up a strong 3-4-5, and though this team will miss Pierzynski's presence, Dayan Viciedo and Alejandro De Aza both could be overlooked at draft tables. On the whole, this team likely overachieved last year, and they should regress in the win column.
PRINTABLE DRAFT KIT: Top 300 Cheat Sheet | Position Rankings Cheat Sheet
Projected roster
Lineup:
1. Alejandro De Aza, CF 2. Jeff Keppinger, 3B 3. Adam Dunn, DH 4. Paul Konerko, 1B 5. Alex Rios, RF 6. Dayan Viciedo, LF 7. Alexei Ramirez, SS 8. Gordon Beckham, 2B 9. Tyler Flowers, C
Starting rotation
1. Chris Sale 2. Jake Peavy 3. John Danks 4. Gavin Floyd 5. Jose Quintana
Others: Hector Santiago
Bullpen: Addison Reed (closer), Matt Thornton, Jesse Crain, Matt Lindstrom, Dylan Axelrod, Nate Jones, Donald Veal
Key questions
? Can you please remind us again why we should trust Adam Dunn? I'd be happy to. Dunn's 2011 season was clearly an anomaly -- after seven straight seasons with at least 38 homers and 92 RBI, Dunn hit .159/.292/.277 with 11 homers and 42 RBI in his first season with the White Sox. Dunn may have been on the wrong side of 30 that year, but his skill set -- essentially his prodigious power and great eye at the plate -- shouldn't deteriorate with age the way a speedy player's would. Dunn rewarded owners with confidence in him last year, providing 41 of the cheapest homers in fantasy baseball history.
I see no reason why Dunn won't hit another 37-42 homers and drive in 100 runs this season. If you're in a batting average league, you have to compensate for him, and if you already have a roster that doesn't exactly feature world beaters in the batting average category, you'll probably have to stay away from Dunn. However, if you can get yourself a few Vottos or McCutchens or Reyeses or Mauers, you can easily take on Dunn's batting average sinkhole. And if you're in a league that uses OBP, slugging percentage or OPS, all of a sudden Dunn becomes an asset in your rate category.
? What does Chris Sale have in store this year? It seems asinine that the White Sox actually considered moving Sale back to the bullpen after his strong start in the rotation last year. Luckily, the team remained sensible, kept Sale in the rotation and reaped the rewards. The lefty went 17-8 with a 3.05 ERA, 3.27 FIP and 192 strikeouts against 51 walks in 192 innings. He was an All-Star and finished sixth in Cy Young voting.
With Sale entering his age-24 season, I don't think anyone doubts there are big things in his future. Instead of talking about that, let's look at why you should take him ahead of some pitchers being selected around him, specifically CC Sabathia, Gio Gonzalez and Kris Medlen. I'll be taking Sale over Sabathia this draft season because of Sale's strikeout ability. Sabathia obviously has never been a slouch in terms of strikeouts, but he has a few things working against him: He turns 33 years old in July, and his velocity is starting to slip. I love Gonzalez (I'd take him over Sabathia and Medlen), but he was a bit lucky last year, evidenced by his .267 BABIP. He whiffed 9.35 batters per nine innings, and I'm betting that comes down a bit this year as National League hitters become more and more familiar with him. As for Medlen, I trust Sale more because we saw him pitch for a full season last year. I'd be thrilled with any of these guys as my No. 2 starter, and would even feel good about having any of them as my ace, but I'm grabbing Sale first out of this bunch.
? Can Dayan Viciedo jump a level this season? Viciedo got his first significant playing time in the majors last year, and put together a pretty good season for a youngster who wasn't at the Mike Trout/Bryce Harper level. The 24-year-old hit .255/.300/.444 with 25 homers and 78 RBI in 2012, and had back-to-back 20-homer seasons with Triple-A Charlotte in 2010 and '11. He has decent chances of developing into a 30-homer-per-season guy, but I'm not sure if he can get on base enough to be a reliable fantasy outfielder this year.
On the plus side, Viciedo had a 22.1 percent line-drive rate last year; if he can consistently post a number like that, he should be able to improve on his .286 BABIP from last season. On the downside, Viciedo's lack of plate discipline could undermine his overall skills. He had a 5.2 percent walk rate and 22.1 percent strikeout rate last year, and he swung at 39.9 percent of all pitches he saw outside the strike zone, way more than league average. Unsurprisingly, he had a 12.2 percent swinging-strike rate.
In a league that only uses three outfielders, I wouldn't feel totally comfortable with Viciedo as a starter on Opening Day, though I would consider drafting him. In a five-outfielder league, he's definitely a starter.
Sleeper
Alejandro De Aza: De Aza got his first chance to be an everyday player last year and made the most of it, hitting .281/.349/.410 with nine homers, 26 steals and 81 runs. Back atop the White Sox lineup this year, those numbers should be floor levels for him in 2013. Depending on roster composition and league depth, he can easily be a starter in mixed leagues.
Bust
Alex Rios: I like Rios at the right price this year, but my right price will never actually get him. The 25 homers and 23 steals a year ago were great, but his .304 batting average, earned on the back of a .323 BABIP, really pushed his value over the top. If and when that comes down, a likelihood given the high ground-ball and infield-fly-ball rates he has posted the last two years, the batting average will come down with it. Again, I like him, but not at his current average draft position of 77.33, which is ahead of Desmond Jennings, Shin-Soo Choo and Josh Willingham.
Breakout
Addison Reed: Reed eventually took over as the White Sox closer last year, saving 29 games despite a 4.75 ERA. Don't be fooled by that unsightly number, however. His FIP was 3.64, and he suffered with a .323 BABIP and 68.5 percent strand rate. He struck out nearly nine batters per nine innings, thanks in large part to a fastball that averaged 94.6 MPH last year. Get ready for a big year out of Reed in 2013.
AL-only guys to know
Tyler Flowers: Flowers takes over for A.J. Pierzynski behind the plate this year. His rates were unseemly, but he hit seven homers in just 153 plate appearances last season.
Alexei Ramirez: He's no longer an option in mixed leagues because of his low batting average and OBP, but Ramirez is a decent bet to hit 15 homers and steal 15 bases. That's pretty good production out of your shortstop in an AL-only league.
Gordon Beckham: At this point it's safe to say Beckham isn't going to become the player many of us thought he would, but he did manage 16 homers, 62 runs and 60 RBI last season. Like his double-play partner, that's a nice stat line out of an AL-only middle infielder.