Fantasy baseball 2013 team previews: New York Mets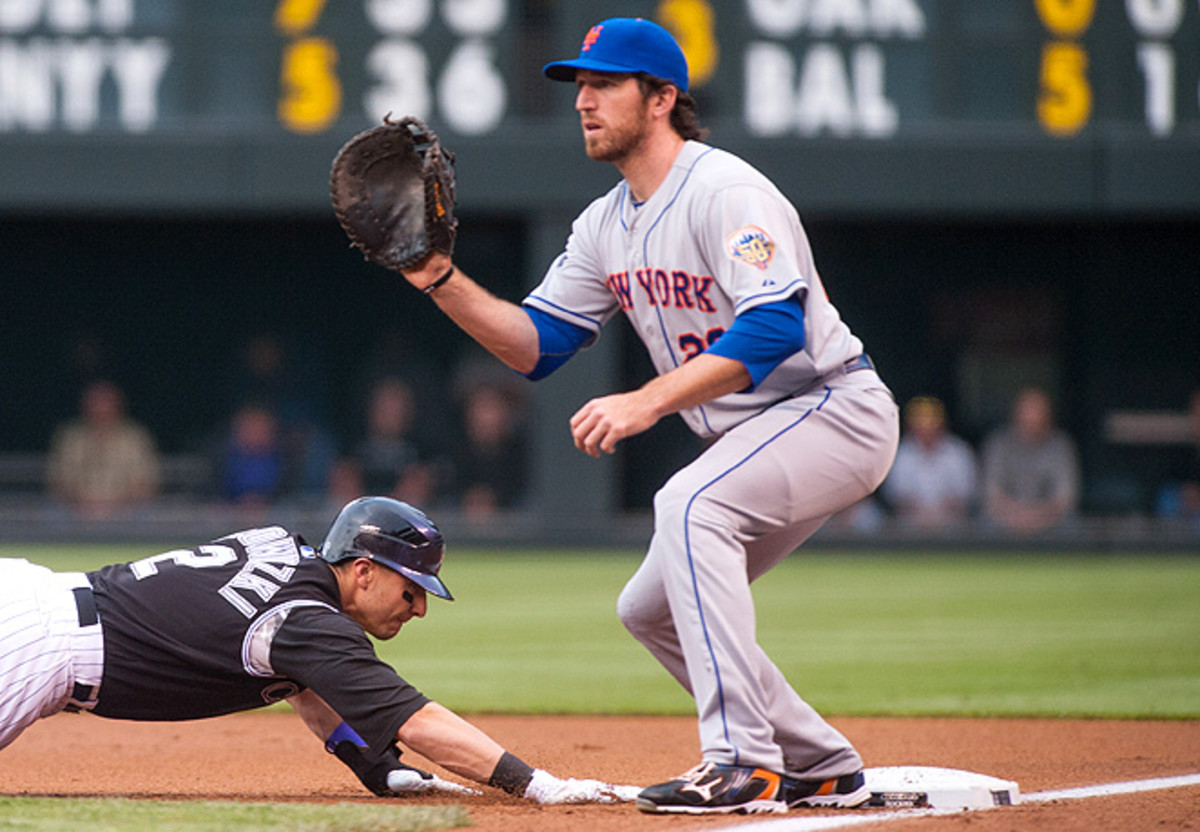 Fantasy baseball 2013 draft prep central: Rankings, position primers and much more
I was talking with a Mets fan recently, and he gave me a piece of advice a lot of fantasy owners will probably take when they sit down to draft their teams in the next few days.
"Just skip the Mets," he said.
Outside of David Wright, Ike Davis and the solid-on-paper rotation, there isn't a whole lot in Flushing for the fantasy owner. Surprisingly, the Mets got off to a good start last year, and took a 46-40 record into the All-Star break. They floundered after the break, however, going 28-48 the rest of the season. Gone is Cy Young and fan favorite R.A. Dickey, dealt to the Blue Jays in a cost-cutting move that shows just how financially strapped the Mets will be in the coming years, thanks in part to Jeff Wilpon's losses in Bernie Madoff's ponzi scheme. That means they'll need to hit on their prospects, particularly Matt Harvey, Zach Wheeler and Travis D'Arnaud.
PRINTABLE DRAFT KIT: Top 300 Cheat Sheet | Position Rankings Cheat Sheet
Projected roster
Lineup:
1. Ruben Tejada, SS 2. Daniel Murphy, 2B 3. David Wright, 3B 4. Ike Davis, 1B 5. Lucas Duda, LF 6. John Buck, C 7. Mike Baxter, RF 8. Kirk Nieuwenhuis, CF
Starting rotation:
1. Johan Santana 2. Jon Niese 3. Shaun Marcum 4. Matt Harvey 5. Dillon Gee
Bullpen: Bobby Parnell (closer), Frank Francisco, Josh Edgin, Robert Carson, Jeurys Familia, Elvin Ramirez
Key questions
? Can Ike Davis be more than a Rob Deer redux? Look, we know Davis' power is for real. He hit .227/.308/.462 last year with 32 homers and 90 RBI. His isolated slugging was .235, good for 18th in the majors and ahead of Albert Pujols, Carlos Beltran and Andrew McCutchen. He also had a 21.1 percent home run/fly ball ratio last year. As a 22-year-old splitting time between High-A St. Lucie and Double-A Binghamton, Davis hit 20 homers with 71 RBI. While there's no doubting his power, I believe Davis can avoid being the batting average sinkhole he was a year ago, as well, and he won't even have to change all that much.
Davis hit .264/.351/.440 as a rookie in 2010, and .302/.383/.543 in an injury-shortened 2011 season. In those years, he carried BABIPs of .321 and .344, respectively. Last year, when his batting average and OBP fell off a cliff, his BABIP was .246, despite posting a career high in line-drive rate (21.1 percent) and career low in ground-ball rate (38.9 percent). He did pop out more often than he ever had, but not enough to offset his line-drive and ground-ball rates, or explain a .246 BABIP. Davis has never posted a walk rate of less than 10 percent as a professional. As his BABIP returns to a normal level this season, look for him to push his batting average into the .260s and OBP into the .340s. That makes him a desirable, endgame target at first base.
? Jon Niese, breakout star? For the second straight year, Niese was quietly effective, going 13-9 with a 3.40 ERA, 3.80 FIP and 155 strikeouts in 190.1 innings. In 2011, his 11-11 record and 4.40 ERA belied a 3.36 FIP. As he enters his age-26 season, he is primed for his true breakout.
Niese made one major change to his pitch repertoire last year that paid huge dividends: he threw his cut fastball 27.8 percent of the time last year -- up from 17.2 percent in 2011 -- and with good reason. According to Fangraphs' pitch values, Niese had the best cutter in the majors in 2012 by a wide margin -- the pitch registered a score of 10.8 on Fangraphs' scale (Yu Darvish had the second best cutter, with a 7.3 score). As you might guess, having the league's best cutter helps Niese induce a ton of ground balls. His ground ball rate was near 50 percent, and he got more than 1.5 ground balls for every fly ball. His strikeout rate remained steady and he decreased his walk rate from 2011, which had already been an improvement on 2010, his first year getting significant time in the majors. These are all signs of a pitcher who keeps on getting better.
? What are this year's expectations for Matt Harvey? Harvey had been one of the Mets' top prospects, and he earned a promotion last year after a strong season at Triple-A Buffalo, where he went 7-5 with a 3.68 ERA, 3.70 FIP and 9.16 strikeouts per nine innings. He found a way to be even more effective in 10 starts in the majors, notching a 2.73 ERA, 3.30 FIP and 10.62 strikeouts per nine innings. He was a bit fortunate, evidenced by a .262 BABIP and 81.3 percent strand rate, but the fact remains that he looked every bit the major league pitcher at 23 years old.
Harvey features a power repertoire, with a fastball that averaged 94.7 MPH last year, a power slider and a curveball, which does have a noticeably different break and velocity from his slider. He relies on that fastball, throwing it 65.4 percent of the time, and he has a nice gulf between his changeup and fastball. Wins are basically impossible to project, but if he stays healthy and makes 30 starts, he should get to 190 strikeouts to go along with solid rates. No matter the depth of your league, you want Harvey on your radar.
Sleeper
Jon Niese:I made the case for Niese earlier, but he doesn't get the respect that his track record merits. In a rotation with a guy who was once the best pitcher on the planet and two big-name prospects, Niese will end the year as the team's best starter. If he continues on the trajectory he has set for himself the last few seasons, he can be a No. 3 in a fantasy rotation.
Bust
Johan Santana:It feels a bit silly to call Santana a bust since no one will be drafting him as anything more than rotation fodder, but the fact remains that you should stay away from him this year. He struggled mightily last season, registering a FIP north of 4.00 for the first time in his career. His strikeout totals bounced back a bit, but not enough to justify going after him this season with any zeal.
Breakout
Ike Davis:The power is for real, and so long as his BABIP normalizes, he will be neutral in batting average and positive in OBP. First base is about as deep a position as you'll find in the fantasy game, so Davis doesn't project as a starter in 12-team leagues. You can use this to your advantage and get him on the cheap. He will come at a higher price in leagues that use corner infielder as a starting position, though.
NL-only guys to know
Daniel Murphy: Murphy hit .291/.332/.403 last year and .320/.362/.448 in 2011. He can give you those rates with a ceiling of 10 homers and 10 steals. All told, that isn't too bad for a second baseman in an NL-only league.
Ruben Tejada: Tejada hit .289/.333/.351 as a 22-year-old last year. He's not going to give you much in the way of power or speed (though he did steal 19 bases at Double-A Binghamton in 2009), but he has solid rates and will lead off for this team. As was the case with Murphy, you could do worse for your shortstop in an NL-only league.