Fantasy baseball 2013 season preview: Position battle updates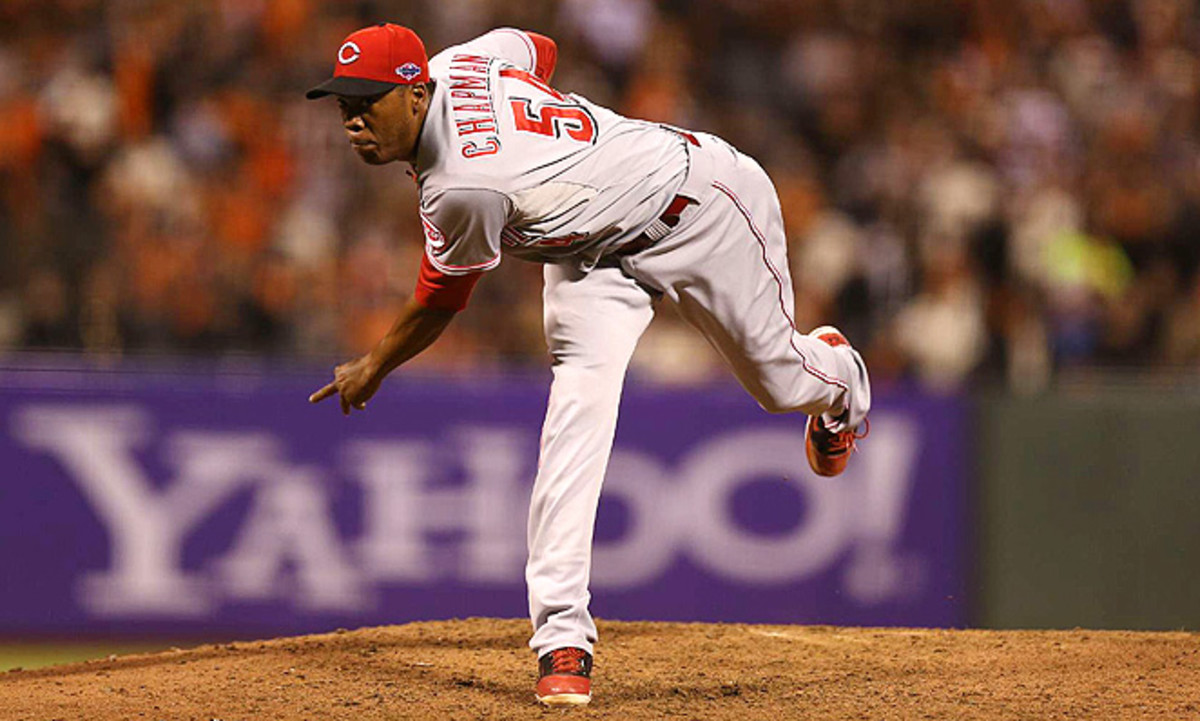 Fantasy baseball 2013 draft prep central: Rankings, position primers and much more
The Tuesday before the start of the baseball season is moving day. Players competing in spring training position battles hope that means packing their bags for the major leagues, not the minors.
Hello, Red Sox outfield phenom Jackie Bradley!
Er, hello?
We're still waiting to hear whether one of the biggest discoveries of spring training will complete his surprising March run by punching a ticket to the big leagues. In the meantime, as we drool over his near-.500 spring batting average and oozing long-term potential, here's a team-by-team spring recap of the position battles that have (seemingly) been resolved, listed in order of fantasy importance.
PRINTABLE DRAFT KIT: Top 300 Cheat Sheet | Position Rankings Cheat Sheet
Top position battle winners
1. Cincinnati Reds closer: Aroldis Chapman -- We can now relax knowing the Reds have officially announced Chapman will be their closer. He moves from being a 160-inning risk at starting pitcher to one of the best closers in fantasy, along with Craig Kimbrel. Bid aggressively if you thirst for some certainty at the most uncertain position in baseball.
? Other Reds who won battles: SP Mike Leake.
2. Atlanta Braves starting pitcher: Julio Teheran -- His spring is a case study for why it's unwise to overspend on young pitchers before they're ready, but also foolish to give up on them too soon. The lightning-armed 22-year-old Dominican struck out 10 in six hitless innings on March 23 to lower his spring ERA to 1.04. That's borderline ridiculous. He's a must-have in the late rounds of all leagues and a potential NL Rookie of the Year contender.
? Other Braves who won battles: 3B Juan Francisco (LH platoon mate with Chris Johnson) and C Gerald Laird (until Brian McCann is ready).
3. San Diego Padres second baseman: Jedd Gyorko -- He had the second base job won even before third baseman Chase Headley broke his finger. Headley will miss April, and Gyorko will get some time at third base. Regardless of where he plays, Gyorko is on the roster, is a starter and is the favorite for NL Rookie of the Year honors after hitting a combined .311 with 30 homers, 100 RBI, 80 runs, five steals, a .373 on-base percentage and a .547 slugging percentage in 126 games between Double- and Triple-A. His numbers got better as the season wore on last year and he has more than held his own in spring training (.286/3/10). Consider him a late-round sleeper in all leagues.
? Other Padres who won battles: 2B Alex Amarista (until Logan Forsythe or Headley are ready), RF Will Venable (LH platoon mate with RH Chris Denorfia) and SPs Eric Stults and Tyson Ross (if Andrew Cashner is not ready).
4. Los Angeles Angels of Anaheim closer: Ernesto Frieri -- Ryan Madson (elbow) has had some setbacks, so Frieri opens the year as the Angels' closer. With Madson's health dicey, Frieri is capable of hanging on to the job for a long time. Frieri is more desirable to an owner now than he was at the start of spring training.
? Other Angels who won battles: CF Peter Bourjos.
5. Minnesota Twins center fielder: Aaron Hicks -- Punch anyone who says spring training stats don't mean a thing in the face. The Twins made Hicks the starting center fielder after he went .285/13/61/100/32 (.382/.459) in Double-A last season. This spring he is hitting .361/4/16 and is 3-for-3 in his steal attempts. With Adam Eaton (elbow) going down for 6-to-8 weeks, Hicks should be the flavor of outfielder sleepers late in rotisserie leagues.
? Other Twins who won battles: RF Chris Parmelee, 2B Brian Dozier, SS Pedro Florimon and SPs Liam Hendriks and Cole De Vries.
6. Texas Rangers center fielder: Leonys Martin -- The breakout candidate didn't win a job as much as prove he's healthy. He could be a 20/20 candidate and represents great value late in mixed leagues.
? Other Rangers who won battles: SP Nick Tepesch (at least until Martin Perez is ready).
7. Houston Astros left fielder: Chris Carter -- This behemoth has 30-homer potential, especially in that hitter-friendly park. If he can hit even .250, he's going to provide huge bang for his draft-day buck. Astros camp was arguably the most open one in baseball, but there's hardly any true draft day fantasy value here outside of second baseman Jose Altuve, Carter and the closer Jose Veras.
? Other Astros who won battles: CL Veras, first baseman Brett Wallace, shortstop Ronny Cedeno, third baseman Matt Dominguez, center fielder Justin Maxwell and RF Rick Ankiel.
8. Pittsburgh Pirates closer: Jason Grilli -- He held off Mark Melancon to earn the Pirates' closer job to start the season. We probably should only give him a 50/50 chance of keeping it at fantasy's most volatile position.
? Other Pirates to win battles: RF Travis Snider and LF Starling Marte.
9. Philadelphia Phillies right fielder: Domonic Brown -- It has taken him years to prove healthy, worthy and productive, but it all came together for him this spring. The Phillies sorely needed it, too. Consider him a late-round sleeper in mixed formats as a 15/15 candidate.
? Other Phillies who won battles: SPs Kyle Kendrick and John Lannan, LF John Mayberry (at least until Delmon Young is ready) and C Erik Kratz (at least until Carlos Ruiz is ready).
10. St. Louis Cardinals starting pitcher: Shelby Miller -- The former first-round pick won the sweepstakes to replace Chris Carpenter (shoulder, perhaps done for his career). Miller can be this year's Lance Lynn breakthrough pitcher of the first half and should be owned in all leagues. Expect some bumps along the way, but Miller's ceiling is exciting.
? Other Cardinals who won battles: CL Mitchell Boggs (until Jason Motte is ready), 2B Matt Carpenter (although he will play third base until David Freese is ready with Daniel Descalso at 2B) and SS Pete Kozma.
11. New York Yankees shortstop/third baseman: Eduardo Nunez -- He didn't win anything, but he's one of the few healthy infielders in camp. He will start at shortstop until Derek Jeter (ankle) is ready and then at third base until Mark Teixeira (wrist) is ready. Kevin Youkilis will open at first and then move to third. Nunez has 30-steal potential as an everyday player and he will have useful fantasy versatility. This is the start of a potentially big year for him.
? Other Yankees who won battles: LF Vernon Wells (via trade or Brennan Boesch via waivers), C Francisco Cervelli, 1B Juan Rivera (until Jeter is ready), DH Travis Hafner (once Jeter can play SS) and SPs Ivan Nova/David Phelps (until Phil Hughes is ready).
12. Tampa Bay Rays starting pitcher: Alex Cobb -- This is a young arm capable of impacting all fantasy leagues right away. The Rays stocked two-fifths of the Royals' rotation in the Wil Myers deal and still have ample fantasy-worthy starters waiting in the wings. Cobb is going to be a good one.
? Other Rays who won battles: 2B Kelly Johnson, LF Matt Joyce/DH Luke Scott (until Myers is ready), 1B James Loney and C Jose Molina.
13. Los Angeles Dodgers starting pitcher: Hyun-Jin Ryu -- This might be a temporary assignment, but the Korean left hander is expected to start the second game of the season for the Dodgers. There is clearly some potential here, but it was expected that Chad Billingsley would be in the rotation behind Clayton Kershaw, Josh Beckett and Zack Greinke (once healthy). Billingsley could be ready for that turn the second time around, or merely return in the bullpen if Ryu opens well. In one of my biggest disappointments of spring, Dee Gordon was sent to the minors instead of opening the year as the starting shortstop. Cuban phenom Yasiel Puig was also sent down to the minors Tuesday after Carl Crawford proved ready for the start of the season.
? Other Dodgers who won battles: SS Luis Cruz (he moves to third baseman once Hanley Ramirez is ready) and 3B Jerry Hairston (platooning with Nick Punto and Juan Uribe).
14. Baltimore Orioles second baseman: Brian Roberts -- The 35-year-old is back! Well, sorta. He can be a nice stopgap at the thin second base position, especially if you need some steals late.
? Other Orioles who won battles: DH/LF Nolan Reimold, LF Nate McLouth (vs. RHP), DH Ryan Flaherty (vs. RHP), SPs Jake Arrieta and Brian Matusz (if Chris Tillman is not ready).
15. Oakland Athletics shortstop: Jed Lowrie -- The A's traded for Lowrie to make him a super utility man; instead, he wound up beating out Japanese import Hiroyuki Nakajima, who had a terrible spring. Lowrie was going to be a full-time player regardless, so this is actually a bit of bad news because of lost versatility. The fact that Chris Young is merely a LH portion of an outfield platoon is noteworthy on the negative side, too.
? Other Athletics who won battles: C John Jaso, CF Coco Crisp, DH Seth Smith, 1B Brandon Moss, 2Bs Eric Sogard (vs. RHP) and Scott Sizemore/Adam Rosales (vs. LHP) and SPs Tom Milone, A.J. Griffin and Dan Straily.
16. Seattle Mariners first baseman: Justin Smoak -- A solid spring reignites his lost prospect hype and gives hope that he can be a 20-homer candidate. Kendrys Morales will mostly serve as the DH and Jesus Montero will be the everyday catcher.
? Other Mariners who won battles: RF Michael Saunders and SPs Blake Beavan and Brandon Maurer.
17. Toronto Blue Jays second baseman: Emilio Bonifacio -- The slap-hitting base stealer was going to be in a mere platoon with glove man Maicer Izturis until Brett Lawrie (rib) needed to open the season on the DL. Now Izturis will open as the third baseman until Lawrie is ready. Bonifacio is a rotisserie sleeper for his steals and versatility. In one of the shockers of camp, J.A. Happ also beat out Ricky Romero for the fifth spot in the Blue Jays' rotation. Happ is a must-add immediately in AL-only formats, while Romero can be cut in all mixed formats.
? Other Blue Jays who won battles: SP Happ, CL Casey Janssen (or Sergio Santos if Janssen is not ready).
18. Cleveland Indians starting pitcher: Scott Kazmir -- The reclamation project has gone so well, the Indians decided they would take the shot on this former elite lefty and bring the likes of Carlos Carrasco (Tommy John surgery) and Trevor Bauer (prospect) up later from Triple-A. Kazmir is a late-round AL-only flier and merely someone to watch in mixed formats right now.
? Other Indians who won battles: CL Vinnie Pestano (if Chris Perez isn't ready) and SP Zach McAllister.
19. Arizona Diamondbacks outfielders: A.J. Pollock and Gerardo Parra -- The loss of Eaton and Cody Ross to the DL to start the season is Pollock's and Parra's gain. They are sleepers in NL-only formats and have the chance to earn full-time jobs going forward if they get off to good starts.
? Other Diamondbacks who won battles: SS Cliff Pennington.
20. Chicago Cubs third baseman: Luis Valbuena -- With Ian Stewart (quad) perhaps out the entire month of April, Valbuena is the de facto starter at third base. He is merely an NL-only flier late.
? Other Cubs who won battles: CL Carlos Marmol and SPs Travis Wood, Scott Feldman and Carlos Villanueva (at least until Matt Garza and Scott Baker are ready).
21. Miami Marlins first baseman: Casey Kotchman -- He is the de facto starter until Logan Morrison (knee) is ready. Kotchman doesn't warrant being owned outside of the deepest NL-only leagues.
? Other Marlins who won battles: SPs Nathan Eovaldi, Wade LeBlanc, Henderson Alvarez and Kevin Slowey.
22. Milwaukee Brewers first baseman: Alex Gonzalez -- The converted shortstop will fill in at first base until Corey Hart (knee) is ready in late April or May. Gonzalez has some value in NL-only leagues while getting at-bats, because he retains shortstop eligibility and has some pop still.
? Other Brewers who won battles: SPs Marco Estrada, Michael Fiers, Chris Narveson and Wily Peralta (at least until Kyle Lohse is ready).
23. Kansas City Royals starting pitcher: Luis Mendoza -- He beat out Bruce Chen, who was sent to the bullpen, and Luke Hochevar, who was sent to the minors. Mendoza is barely a low-end AL-only option.
? Other Royals who won battles: CF Lorenzo Cain and 2B Chris Getz.
Four teams still in flux:
Detroit Tigers -- There has been no official announcement, but no news is good news for Bruce Rondon, the front-runner to close. Otherwise, SP Rick Porcello and LF Andy Dirks have won jobs, at least until prospects Avisail Garcia and Nick Castellanos are ready.
Boston Red Sox -- LF Bradley/DH Jonny Gomes (if David Ortiz is not ready) and SS Jose Iglesias (if Stephen Drew is not ready).
Colorado Rockies -- Third base is still up in the air between Chris Nelson, Nolan Arenado and Jordan Pacheco. SPs Jeff Francis, Juan Nicasio and Jon Garland appear to round out the rotation.
New York Mets -- This is an Amazin' Mess. Jordany Valdespin might start at second if Daniel Murphy isn't ready, while Collin Cowgill might start in center with Marlon Byrd in right. John Buck beat out Travis d'Arnaud, the No. 1 catcher prospect in baseball. Bobby Parnell will close, while Jeremy Hefner will open in the rotation at least until Johan Santana is ready. They still need a No. 1 starter, since Shaun Marcum (shoulder) is starting the year on the DL.
Three teams already set
Washington Nationals -- They didn't have a true position battle waged this spring, outside of Danny Espinosa staving off platoon talk with Steve Lombardozzi.
San Francisco Giants -- They are relatively set, save for the LF platoon of Gregor Blanco (vs. RHP) and Andres Torres (vs. LHP).
Chicago White Sox -- SP Dylan Axelrod was named the No. 5 starter since John Danks needs a DL stint.