Fantasy baseball spring Risers/Sliders: Teheran, Greinke, more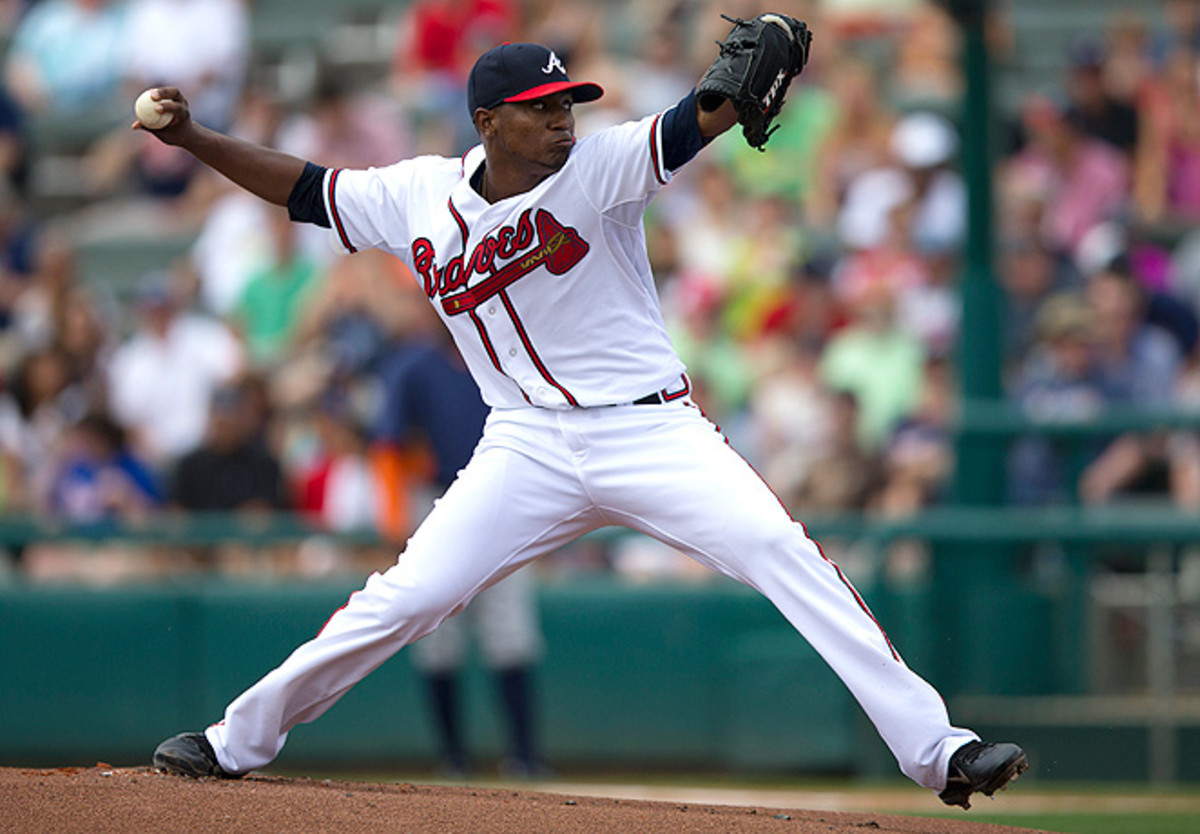 Fantasy baseball 2013 draft prep central: Rankings, position primers and much more
We made it, everyone. We're just one weekend away from real, meaningful baseball games. While the results of the spring training games didn't carry any weight for the teams as a whole, some of the players' performances decided position battles, placed new names before the eyes of fantasy owners and sent others tumbling down draft boards. If you're still drafting this weekend, or if you're in a shallow league and already looking to hit the waiver wire, you'll want to take note of these risers. Conversely, those of you who have yet to draft will want to downgrade the following sliders. If you already own some of them, there isn't a reason to cut bait yet -- just be wary of a slow start.
PRINTABLE DRAFT KIT: Top 300 Cheat Sheet | Position Rankings Cheat Sheet
Risers
? Julio Teheran, Atlanta Braves: Manager Fredi Gonzalez ended the least suspenseful job battle this spring when he named Teheran the Braves' fifth starter. Teheran dominated Grapefruit League hitters, posting a 1.04 ERA, 0.62 WHIP and 35 strikeouts in 26 innings. However, watch out for Teheran's red flag: In his 2012 season at Triple-A Gwinnett, he finished 7-9 with a 5.08 ERA, 4.83 FIP, 1.44 WHIP and just 97 strikeouts in 131.1 innings. Nonetheless, the positives are way too overwhelming to ignore. The previous year at Gwinnett, he was 15-3 with a 2.55 ERA, 3.06 FIP, 1.18 WHIP and 122 strikeouts in 144.2 innings. He's 22 years old and has been a top prospect since the day the Braves signed him in 2007. Now, his performance this spring portends a breakout season on the horizon.
? Shelby Miller, St. Louis Cardinals: Miller earned the final spot in St. Louis' rotation after compiling a 3.94 ERA, 1.38 WHIP and 13 strikeouts in 16 innings this spring. Baseball America has ranked Miller as a top 10 prospect each of the last two seasons, and with good reason. Don't pay too close attention to his superficial stats from last year at Triple-A Memphis. The Pacific Coast League is known for being kind to hitters, and Miller was in the top 20 in ERA and top 10 in WHIP. More importantly, he fanned 160 batters in 136.2 innings. Like Teheran, he's a top prospect on a great team that will give him plenty of run support and a long leash with which to work. Like Teheran, he's 22 years old. And like Teheran, he will be a fantasy mainstay this season.
? Domonic Brown, Philadelphia Phillies: This feels like a now-or-never season for Brown, and he got off to the right start during spring training. He's hitting .354/.414/.646 with seven homers and 16 RBI in his first spring as an everyday starter with Philadelphia. Brown feels like a post-hype guy; he has spent significant parts of two seasons in the majors, but keep in mind, he's still just 25 years old. If nothing else, he has proved this spring that he deserves to be selected in all but the shallowest leagues. I feel great about him as a starter in any league that uses five outfielders or any three-outfielder league that goes 14 or 16 teams deep.
? Brandon Belt, San Francisco Giants: Belt finally entered a spring as the unquestioned starter for the Giants at first base heading into the season. He has looked every bit the top prospect this year, hitting .453/.478/.906 with seven homers and 18 RBI this spring. He didn't hit for a ton of power in 145 games last year, but did manage to hit .275 and post a .360 OBP. He turns 25 at the end of April, and the power looks legit as the season is about to begin. The only problem is that Belt plays one of the deepest positions in fantasy. Even with his hot spring, I can't recommend him as a starter at first base in 12-team leagues. However, if your league goes 16 deep or if you use a corner infield spot, he's definitely worth taking a chance on once you've got your starters squared away.
? Martin Prado, Atlanta Braves: I find myself inching Prado up my draft board as we near the start of the season -- not because of anything he has done, but because of the attrition surrounding him. David Wright, Pablo Sandoval, Brett Lawrie, Chase Headley, Hanley Ramirez and David Freese are all dealing with maladies of varying seriousness. Meanwhile, the versatile Prado will give you solid, steady production across all five categories, as well as some roster flexibility. In drafts where I've been missing out on the elite at the position, Prado has been my target.
Sliders
? Zack Greinke, Los Angeles Dodgers: Elbow issues are always worrisome for pitchers, especially when they cost a hurler his entire spring. Such is the case with Greinke, who made just three starts this spring, allowing seven earned runs in eight innings. There were already red flags concerning Greinke, such as his declining velocity and a 2011 strikeout rate that appears anomalous, but the elbow problems this year were enough for me to blacklist him in drafts. I may ultimately pay a price, but I don't think so, largely because the starters in his draft range are all more reliable, at least in my opinion. If you're dead set on a starting pitcher around the 100th pick of the draft but are willing to pass on Greinke, you could end up with Yovani Gallardo, Jordan Zimmermann, Johnny Cueto, Roy Halladay or Ian Kennedy. There are plenty of options in this area of the draft, and most of them aren't saddled with troubling question marks as is Greinke.
? Josh Rutledge, Colorado Rockies: Spring stats usually don't matter for most players, but they do matter for the young guys trying to earn a starting spot. Rutledge was part of that group this spring, and while he hasn't fallen flat on his face, he hasn't exactly impressed, either. He's hitting .286/.300/.469 with a homer and eight RBI. More importantly, he has seven strikeouts and zero walks. Rutledge has always been a low-walk player, and that's being reinforced this spring, which is not a good sign. The Rockies have plenty of competition on the infield with Chris Nelson and Jordan Pacheco in the mix, so a slow start from Rutledge could earn him a spot on the bench. Luckily, his defense has been quite good this spring, so that could keep his leash a bit longer. Still, I'm not as high on him as I was a few weeks ago.
? Hunter Pence, San Francisco Giants: This one is more a commentary on myself than on the fantasy baseball populace, because I just find myself avoiding Pence in all my drafts. I fear that the suppressive impacts of AT&T Park showed up in Pence's stats once he got traded to the Giants, and that won't change much this year. He hit .219/.287/.384 after getting shipped to San Francisco. Of course there's a time and a place to grab Pence, but I just don't think it's anywhere near where I'm comfortable taking him. According to Mock Draft Central, outfielders being selected around Pence include Shin-Soo Choo, Austin Jackson and Carlos Beltran. I'd happily take any of them over Pence.
? Ricky Romero, Toronto Blue Jays: Romero had a poor spring on top of a disastrous 2012 season, which was enough for J.A. Happ to sneak into the fifth spot in the rotation. Not only will Romero not be one of the Blue Jays' starting pitchers to begin the year, he was sent down to High-A Dunedin. It's unrealistic to think he'll be pitching in High-A ball for long, and chances are he makes his way back to Toronto sooner rather than later. Still, there's just no way you can trust him. It goes without saying that you shouldn't be anywhere near him on draft day, but even if he eventually gets back to the Blue Jays, resist the temptation represented by his pre-2012 years. This is a guy who must prove he is back before the fantasy community can jump on board.