Fantasy baseball season preview: Tips for a daily league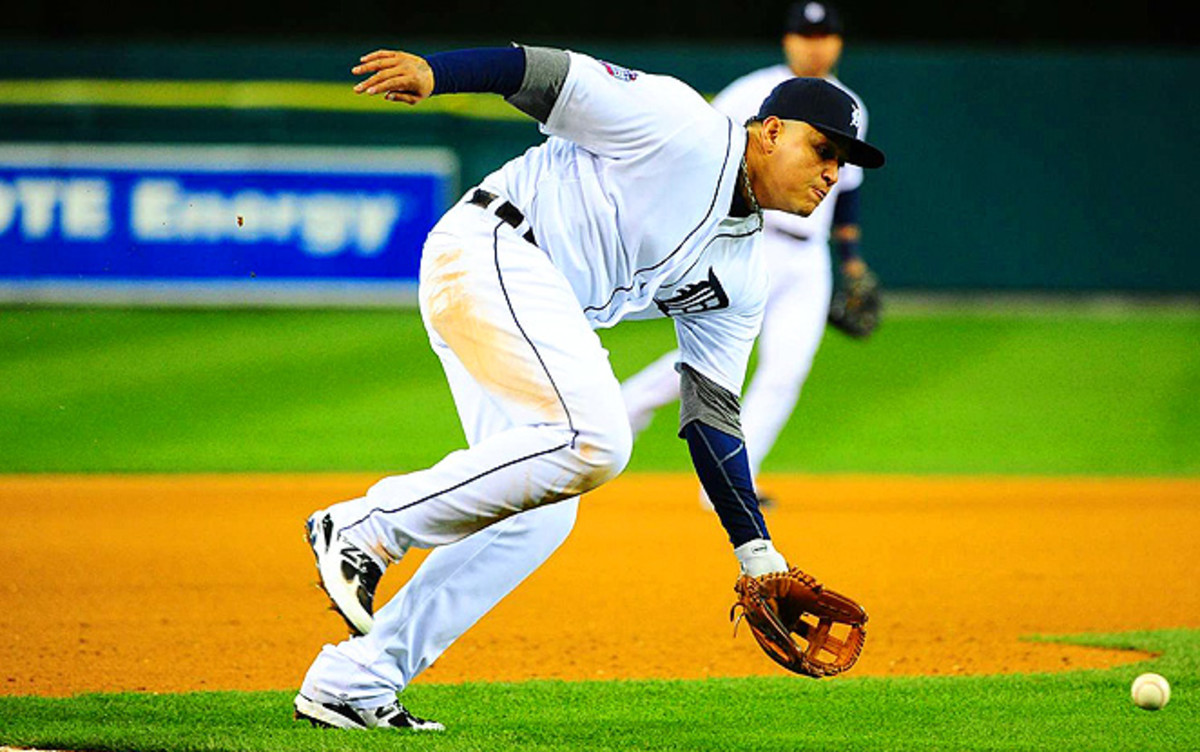 Fantasy baseball 2013 draft prep central: Rankings, position primers and much more
We're just about set to yell "Play Ball" for the 2013 fantasy baseball season and settle in for the 162-game grind. While fantasy football, in which you set a lineup weekly, might appeal to the masses, nothing engages the hard-core player like daily fantasy baseball. Here are our tips for succeeding at a phenomenon that is a labor of love and an addiction for those who need more stimulation than merely one Sunday a week.
Let's start with the five W's, which you probably learned about in the sixth grade, and which can help simplify this sometimes-perplexing game.
Top 20 daily fantasy baseball tips
1. The Who: Consider the matchup. Some hitters own some pitchers, while some arms dominate certain teams. The Day by Day Database at BaseballMusings.com is one of the most useful tools to dig through when comparing matchups between players. You're welcome.
2. The Who II: When considering matchup splits, make sure the data is meaningful. With older vets, data from back in 2004 is less useful than data from recent years. The above resource allows for an incredible amount of flexibility, so take advantage of it.
"I think a lot of people think [pitcher versus batter] is the most important when choosing hitters," said DraftDay.com's TheTakeOver, an avid daily player who asked that we use his fantasy name. "It can be a really useful tool, but the problem with it is that you don't know if players accumulated these stats one year ago or 10 years ago. Baseball is a game of adjustments, so just because a player may 'own' a pitcher, it doesn't necessarily mean it will continue on that given day."
3. The Who III: Along the same lines, remember that some data isn't very telling. Seeing that Derek Jeter, a .313 career hitter, is hitting .300 against a certain pitcher doesn't mean much. Lean on the data that differs most greatly from a player's career norms. For example, a pitcher who limits David Wright to a .221 average and .338 slugging percentage (Tim Hudson in 68 at-bats) is worth noting.
4. The Who IV: Some batter versus pitcher data can be limited, particularly with the advent of interleague play, which will be played throughout the season now that each league has an odd number of teams. A general rule of thumb for sample sizes is 30, which is enough plate appearances to generate meaningful matchup trends.
5. The What: Knowing the details of a righty versus lefty matchup can be telling. Buster Posey hit .433 with 13 homers and 47 RBI versus lefties last season, making him easily the toughest out in baseball against southpaws. Miguel Cabrera (.395) and Andrew McCutchen (.392) were among the leaders, too. But everyone knows those guys are stars and can hammer anyone. How about discovering that Jeff Keppinger is .376 with four homers against lefties, or that Chris Denorfia is .337/4? Platoon guys become must-knows in daily leagues.
MLB.com's sortable stats are my favorite place to find these nuggets of splits information.
6. The What II: Keep in mind that the data varies. Some batters defy convention and can handle facing the same hand. A right-handed hitter like Adrian Beltre can still be relied upon against right-handed pitchers, for example. He hit .339 with 30 homers and 83 RBI against them last season. Let the data tell the story, not necessarily the conventions of baseball.
7. The What III: What's in the forecast can ruin even the best laid plans. You don't want to put your eggs into one basket only to have that game rained out, or have your starter get stuck in a lengthy rain delay and have to come out before qualifying for a victory. Wunderground.com features a page with the current and forecasted weather conditions broken down by venue. This is particularly useful in the dicey northeast during April and September. Or you could just focus your efforts on games played under roofs.
8. The When: Sometimes player performance can vary like night and day -- literally. Catchers don't generally play day games after night games, but Yadier Molina, Joe Mauer and Buster Posey do. They also happen to hit a bit better under natural lighting: Molina hit .341 last season, Mauer .335 and Posey .333, including a remarkable 17 of his 24 homers.
9. The When II: Night vs. day games can be similarly important for pitchers. A hard thrower like Brandon Morrow can be tough to pick up in the shadows of the sun. Morrow posted a 0.26 ERA with a .114 batting-average against in day games (five starts), while David Price was 1.71/.185 last season. Some of the elite relievers like Craig Kimbrel, Fernando Rodney, Huston Street and Joel Hanrahan were a bit more effective at night, perhaps because the games are late and hitters' circadian rhymes are a bit slower.
10. The Where: Ballpark factors are obviously a large part of performance. You should love the pitchers working in San Diego, Seattle, New York (Mets) and San Francisco. Otherwise, lean on the hitters in places like Colorado, Chicago (White Sox), Fenway Park and Texas (Rangers). You can get a good read on the places to target here.
"For a pitcher, I think it's just important to avoid good lineups in hitter-friendly ballpark," DraftDay.com's TheTakeOver said.
11. The Where II: It should be noted that the Mariners (Safeco Field) and Padres (Petco Park) both moved their fences in this winter to make their parks less pitcher friendly. Both of those ballparks still should prove challenging, especially for the questionable home team offenses in those cities, but you might want to avoid banking on the historical data until new numbers are forged in April and May in those places.
12. The Where III: While the ballpark can be an aide, some hitters are just better playing at home versus away, and in certain ballparks over their careers. Splits for specific hitters are readily available by many sources, but we do not have a great place to rank and sort leading hitters and pitchers by ballpark. If you do know, pass it along in the comments below.
13. The Why: Very few players play every game in this post PED-era. Bodies are breaking down more, recovery is taking longer and there is a list of banned stimulants players cannot take to get up for the day-after-day grind. You have to be sure players are in the lineup. Twitter has become a daily fantasy player's invaluable tool to get the latest lineup information. There are also websites scouring the latest lineup info, like Rotoinfo.com, which also updates us on Twitter @mlb_lineup, Baseballpress.com and MLBstartingnine.com.
14. The Why II: Some sites are quicker and more reliable than others. Just because you saw a lineup at 10 a.m. doesn't mean that will be what the manager hands in at game time. If you're playing a part-timer because he was listed in the lineup and has favorable splits under the day's conditions, you need to double-check the information right before game time. The earlier a lineup is posted, the less accurate it can be.
15. The Why III: Baseball managers don't just have the objective data on their minds when writing the daily lineup. They also have to take injuries into consideration. Players can be out of the lineup for any number of reasons, right down to eating bad sushi on the road. Player news sites like Rotoworld.com, Rotowire.com and CBSSports.com can be your best resources for breaking injury updates. Rotoworld is the quickest. CBSSports.com's injury report doesn't update very quickly, but it can be the most thorough on a daily basis.
The next few tips are bit less obvious and more general rules of thumb to follow on a daily basis:
16. Play some whiff-le ball: Load up on pitchers facing free-swinging teams. The A's, Astros and Pirates were the three most-frequently fanned teams in baseball last season, so it's little coincidence they were also near the bottom in average, on-base percentage and slugging percentage (save for the A's here). Strikeouts rack up quickly against certain teams and picking the pitchers in those matchups can help you rack up daily strikeouts, points and fantasy victories.
17. Walk on the wild side: Conversely, walks are a pitcher's worst enemy. Not only are they a signal of bad control out of the strike zone, but in it as well. Load up on hitters facing a wild arm. Those pitchers give up a lot of base runners, which leads to early runs and quick hooks. The worst pitchers on a pitching staff are those long and middle relievers. Getting to the soft underbelly of a team's pitching staff can mean a great day for your hitters. Pick hitters facing baseball's walk leaders each day. This is one of the most important tips of all.
18. Go to the (bad) bullpens: Even if you dislike a hitter's matchup with a starting pitcher, there can still be an opportunity in daily leagues against the bad bullpens. Teams with bad bullpens are more likely to lose, which means you should make a play on the opposing starter and closers. Also, hitters can pick up some nice garbage-time numbers against the weakest bullpens in the league. The Mets, Cubs and Astros had three of the worst bullpen ERAs in baseball last season. It's no wonder they were among the most victimized teams in the standings.
19. Who's hot and who's not: An owner can throw a lot of the above strategies out the window if a hitter or pitcher is on a roll. Baseball runs in cycles, and when things are going well -- or poorly -- no nuance can stop it. Any sortable stat resource is useful in farming out these players for your lineup.
"Matchups are everything in this game, but you also want to make sure that you're not taking guys that just aren't seeing it right now, or pitchers that can't find the strike zone," said avid and successful DraftStreet.com player Ryan Keur, who admittedly didn't want to give away his best-kept secrets. "Nick Blackburn is the ultimate slump buster, but if you're not seeing the ball, even he can be tough to hit."
20. The rule of thirds: This is a who's hot, who's not caveat. One 4-for-4 game or complete-game shutout doesn't necessarily make a player hot. Like drawing a straight line, you need more than one point (or game) to make a trend. Three is best. Take three games of data for a hitter, or better yet three weeks to judge if a player is truly hot. With starting pitchers, it would be three weeks or his past three starts. That is the industry standard for streaks.
In the survey of the daily fantasy league players at DraftDay.com and DraftStreet.com, here are some of the notes that resonated unanimously:
? Watch a lot of baseball. "I think my edge comes from my enjoyment of the game," DraftDay.com's TheTakeOver said. "I really love the sport and always have. I can enjoy watching any two teams play. By watching a lot of baseball, I think I have a feel for the players more than the typical number-crunchers."
? Don't focus in on one team or set of teams, but keep a holistic view of the league.
? You can reduce (bad) luck by being prepared.
? Have reliable daily resources for stats and, most specifically, lineups.
? Know the favorable pitcher-versus-batter matchups.
? Know the streaks. "For a hitter, streakiness outweighs matchups," TheTakeOver agreed.
? Know how the ballparks play.
So, as baseball tosses out the first pitch Sunday night, let's "play ball" and do it with these daily fantasy baseball tricks of the trade.