Fantasy baseball Pitching Report: Rangers' Ogando excelling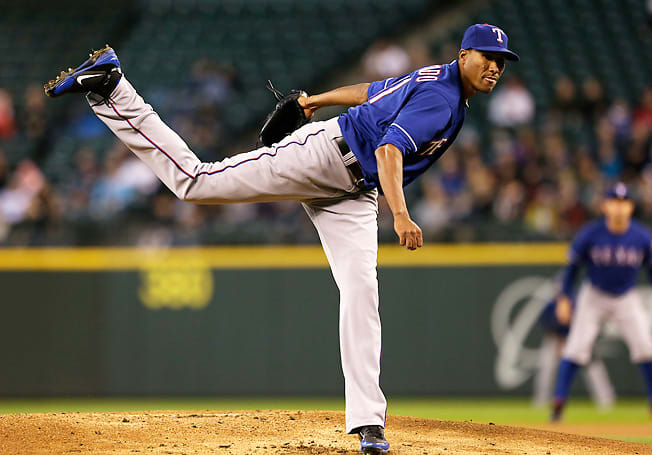 Even with the surplus of starting pitching the Rangers enjoyed in 2012, it always seemed odd that they moved Alexi Ogando to the bullpen after he enjoyed a great year as a starter in 2011. He was an effective reliever last season, posting a 3.27 ERA, 1.00 WHIP and 66 strikeouts in 66 innings, though his FIP as a starter in 2011 was slightly better than his FIP a year ago (3.65 versus 3.73). Still, I don't think it's controversial to say a team is better off getting 170 innings out of one of its best pitchers as opposed to just 70, so it came as little surprise when the Rangers moved Ogando back to the rotation this year. They're already realizing the wisdom of that decision.
WEEK 3 PREP: Weekly Planner | Waiver Wire | Pitching Report | Injury ReportWeekend Primer | Stat Focus | Prospect Watch | Roundtable| Trade Tips
Through three starts this year, Ogando is 2-0 with a 1.08 ERA, 1.85 FIP, 1.02 WHIP and 17 strikeouts in 16.2 innings. While it would be nice to see him working deeper into games -- his longest outing this season was just 6.1 innings, and the team has not allowed him to break the 100-pitch mark -- he also has not allowed more than six baserunners in any of his three starts, and hasn't really been in serious trouble at any point. This is just his fourth year in the majors, so it might surprise you to learn that Ogando will turn 30 in early October. Despite his somewhat advanced age, though, make no mistake that his first three starts of the year signify a breakout campaign.
First, let me issue the required disclaimer that any 2013 stats referenced within are based on a very small sample. But that doesn't mean they aren't encouraging. Like any pitcher, Ogando's average velocity was higher as a reliever. Given that a reliever works in short bursts and doesn't have to worry about pitching six or seven innings at a time, he can let it fly with a bit more freedom. Even with the increased workload, Ogando's average fastball is clocking in at 93.1 mph, according to Fangraphs. He appears to have made one major change to his repertoire, throwing a much larger percentage of changeups than he has previously in his career. That is already paying dividends, as Fangraphs currently assigns a pitch value of 0.5 to Ogando's changeup, which puts it in the top 30 in the majors. It could also help to explain the spike in his ground-ball rate, which is way up to 53.3 percent, well above last year's 37.5 percent and 2011's 36.4 percent.
Finally, numbers that speak to Ogando's stuff also suggest that he has staying power this year. He's getting batters to swing at 30.4 percent of pitches out of the strike zone and has a current swinging-strike rate of 9.6 percent. Both of those numbers are better than league average and point to the fact that Ogando is confounding hitters this season. Given 30 starts, Ogando can win 15-17 games with a mid-3.00s ERA and 170 strikeouts.
Starting pitcher barometer
Who's up?
? Shelby Miller, Cardinals: I talked about Miller in this week's Waiver Wire column, so I don't want to merely repeat myself here. If you'd like a fleshed-out explanation for why I like Miller, check out yesterday's file. Suffice it to say, he looks well positioned to realize his potential this season.
? Clay Buchholz, Red Sox: Buchholz has been dominant in three starts this year, winning them all while posting a 0.41 ERA, 0.95 WHIP and 23 strikeouts in 22 innings. We speculated before the season that the return of manager John Farrell, who was the Red Sox pitching coach from 2007-10, could be a boon to both Buchholz and Jon Lester, as they enjoyed their best seasons under Farrell's tutelege. Buchholz looks like he's benefiting from the reunion. There are a few numbers to temper expectations, however. First, Buchholz is getting hitters to swing at just 26.3 percent of pitches outside the strike zone, and his swinging-strike rate sits at a league-average 8.5 percent. He also has issued 10 walks this season. Despite those red flags, bump him up your pitcher ranks for the time being.
? Anibal Sanchez, Tigers: We've long known Sanchez as a quietly effective pitcher, something along the lines of a No. 3 or 4 fantasy starter. The one year he pitched above that weight, back in 2011, he struck out 9.26 batters per nine innings across 196.1 innings for the entire season. In the early going in 2013, Sanchez is once again fanning batters at that rate, striking out 21 batters in 19 innings thus far. His average fastball velocity is 91.5, which is right in line with the previous three seasons, but he appears to be getting more mileage out of his slider. You can't really predict wins, but being on a team as good as Detroit can't hurt. If Sanchez can keep this up, he can be a top-20 starter this season.
? Jhoulys Chacin, Rockies: Chacin lost most of the 2012 season to injury, and the 14 starts he did make were not exactly impressive. He had a 4.43 ERA and 5.15 FIP, and fell well down draft boards for 2013. While he still isn't striking anyone out, he has been quite effective, posting a 1.96 ERA and 0.98 WHIP in 18.1 innings. After struggling last year, he has gotten back to his extreme ground-ball ways, inducing 50 percent ground balls on balls in play thus far this season. His fantasy value is limited by his low strikeout totals, but he can be a solid fantasy contributor, especially if you can afford to pick your spots with him.
Who's down?
? CC Sabathia, Yankees: You aren't going to go out trying to sell Sabathia at a discount, nor should you. However, you should take note that his average fastball velocity has plummeted all the way to 89.8 this season. Before this year, the lowest average fastball velocity of his career was 92.3, a number he unsurprisingly posted last season. Sabathia turns 33 in July, and it appears his workhorse mentality may finally be catching up with him. Again, he's still an extremely valuable pitcher, but this is a fact of which you should be aware.
? Mat Latos, Reds: Like Sabathia, Latos is dealing with velocity issues this year. His average fastball is sitting at 91 mph, easily the lowest of his career. His previous career low was 92.6. Additionally, his ground-ball rate is way down to 34.5 percent. Decreased velocity, fewer ground balls and more line drives is no way to construct a successful season. Keep a close eye on him against the Marlins his next time out.
What a relief
? Jason Motte's injury threw the Cardinals' bullpen into flux right before the start of the season, and St. Louis has yet to get a hold on it. Nominal closer Mitchell Boggs has struggled, converting just 2-of-4 save opportunities and allowing eight earned runs on seven hits and six walks in 6.1 innings. Trevor Rosenthal figured to be the next in line, but he too has had a rough go of it this year, allowing four earned runs in eight innings. While Mike Matheny has stood by both Boggs and Rosenthal, Edward Mujica has been the most effective reliever for St. Louis, and is a worthy target for those of you speculating for saves. In five innings this year, Mujica has allowed one run while walking one and striking out five. We'll have to wait and see what Matheny does the next time a save opportunity is shaping up, but for now hold on to Boggs and Rosenthal and add Mujica.
? Joel Hanrahan has been roughed up this season, allowing six earned runs and three homers in just 4.2 innings. Now he's dealing with a hamstring issue, opening the door for Andrew Bailey to wrest the closer's job from him. Not only should Bailey, who blew a save Monday, be added immediately if he's available in your league, but so too should Koji Uehara. The 38-year-old Uehara has thrown 5.1 shutout innings this year, allowing just one hit and striking out five. Even if Bailey manages to earn the closer's chair, Uehara is lurking and has value for leagues that use holds.
? With Kyuji Fujikawa hitting the DL, owners looking for cheap saves will want to take a look at the Cubs' James Russell. He has allowed just one hit in four shutout innings this year, striking out five and walking none. He has undoubtedly been the Cubs' best reliever this year, and is the favorite to close in Fujikawa's stead. The rookie from Japan will likely return to the closer's role when he comes back from the DL, but Russell can provide a nice return for the next few weeks. Dale Sveum also left the door open to Carlos Marmol getting the job back, so he too could be worth an add, so long as you have an ample supply of Pepto Bismol.