Fantasy baseball Prospect Watch: Kevin Gausman on the rise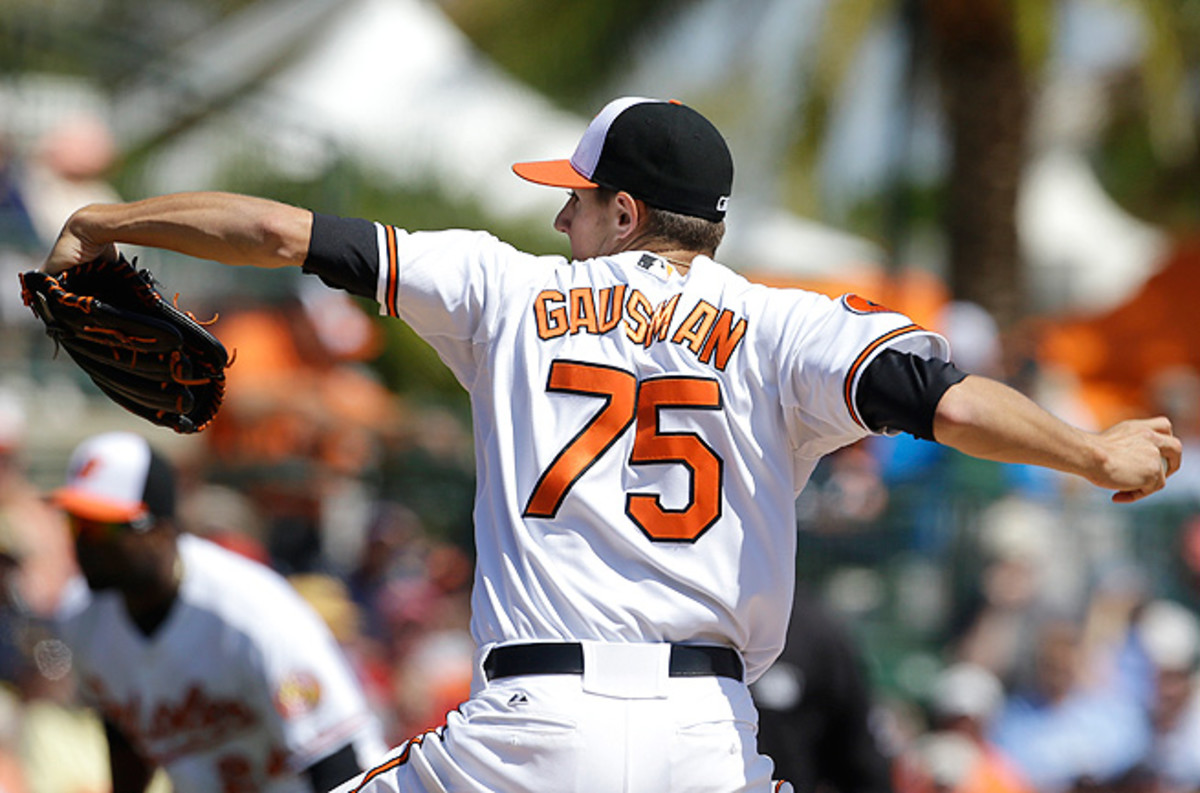 Kevin Gausman's ball control is off the charts. The Orioles' pitching prospect has walked just two batters in 50 2/3 innings going into his Friday Double-A start, and boasts a 32-1 strikeout-to-walk ratio in his six starts this season. The scouts' only criticism? Perhaps, he throws the ball over the plate too much.
It's rare to hear that about a pitching prospect who regularly hits the mid-90s.
Gausman pitched a total of 140 official innings between LSU and Class-A ball last year. He already has pitched 35 2/3 this season heading into his Friday night start in Double-A, but his incredible efficiency with his pitches should allow him to stretch out a bit longer than most pitching prospects in their first full season as a professional.
WEEK 6 PREP: Fantasy baseball Weekend Primer | Weekly Planner | Waiver Wire | Pitching Report | Injury Report | Weekly Roundtable | Stats Focus | Trade Tips | Prospect Watch
The prospect hype has yet to catch up to Gausman, but it's bound to soon. Owners should take a chance on him, especially if the Mets' Zack Wheeler, currently the most owned minor-league pitcher, is already gone.
Gausman has surrendered a pedestrian .264 batting average against with a 3.53 ERA and a 1-4 record, but he's really just warming his arm up for what is going to be a significant stretch in the Orioles rotation. Jason Hammel (5-1, 4.10), Wei-Yin Chen (2-3, 3.40) and Chris Tillman (3-1, 3.76) are the only certainties for Baltimore right now. Miguel Gonzalez (2-2, 4.58) just went on the DL with a thumb injury and lower-tier prospect Steve Johnson (1-1, 4.41) is expected to make a spot start Saturday before Gonzalez returns to the O's rotation May 19. Freddy Garcia (0-1, 4.26) is currently filling the No. 5 starter's spot after going 4-0 with a 2.67 ERA in his Triple-A tune-up.
Gonzalez and Garcia won't be standing in the elite prospect's way come mid-June, however. Owned in just 14 percent of CBSSports.com fantasy leagues, Gausman is vastly underrated, or maybe just overlooked. Fellow Baltimore uber-prospect Dylan Bundy (elbow, idle for at least the next six weeks) is owned in more than twice as many leagues. Bruce Rondon and Mike Fiers, spring busts, are owned in even more. This all needs to change soon.
Currently, the most owned minor-league pitchers are:
1. Zack Wheeler, New York Mets (42 percent) 2. Gerrit Cole, Pittsburgh Pirates (33) 3. Trevor Bauer, Cleveland Indians (31) 4. Dylan Bundy, Baltimore Orioles (30) 5. Tyler Skaggs, Arizona Diamondbacks (23) 6. Taijuan Walker, Seattle Mariners (17) 7. Danny Hultzen, Seattle Mariners (17) 8. Bruce Rondon, Detroit Tigers (16) 9. Mike Fiers, Milwaukee Brewers (16) 10. Chris Archer, Tampa Bay Rays (15) 11. Jameson Taillon, Pittsburgh Pirates (15)
Save for the resurgent Wheeler, Bundy or Cole, you shouldn't own any of these arms instead of Gausman in any fantasy leagues, keeper or otherwise. Stash Gausman now before it is too late.
Minor league stock watch
We already gave you a one-month season report on the biggest fantasy prospects last week. This list reflects the past week's performances and news only:
? Riser: OF Christian Yelich, Miami Marlins -- Prospect hounds were ticked that Yelich was passed over for Marcell Ozuna. The Marlins look like geniuses with Ozuna, and now Yelich is scorching. Yelich homered in three consecutive games, including a five-hit Tuesday night where he tripled twice and was just a double away from the cycle. He is hitting .462 in May and might be the second elite hitting prospect to be called up after the Rays' Wil Myers.
? Slider: OF Billy Hamilton, Cincinnati Reds -- The old "you can't steal first base" saying applies here. Hamilton is hitting just .198 with a .260 on-base percentage in Triple-A. He also didn't steal a base in the past week. He's looking less and less like a player who's going to impact fantasy this season.
? Riser: SPZack Wheeler, New York Mets -- He has allowed just one run and two walks in his past two starts, striking out 12. That poor April (4.80 ERA) is behind him and the New York media beast is going to be stalking his every move. There was speculation that the Atlanta-area prospect would come up for a mid-June doubleheader against the Braves, but his recent pitching exploits suggest he can arrive sooner than that, particularly given the flimsy Mets rotation behind Matt Harvey and Jonathan Niese.
? Slider SS Francisco Lindor, Cleveland Indians -- Asdrubal Cabrera isn't going anywhere anytime soon, but the 19-year-old Puerto Rican-born Lindor is creating a huge buzz with his .352 average through 32 games. He also has eight steals and nearly a 1-to-1 strikeout-to-walk ratio. Owned in 10 percent of leagues, he is merely a long-term keeper stash for now.
? Slider SS/2B Jemile Weeks, Oakland Athletics -- Remember this name? Weeks hit .317 in April, but he is just 8-for-41 (.195) in his past 10 games and hitting .161 thus far in May. There's no reason to own this marginalized 26-year-old former phenom.
Rehab special mentions
? Brandon Beachy, who had Tommy John surgery last June 21, is building up strength for a rehab assignment that might start as soon as next week. This is a significant development, because it would start a 30-day clock and make him a candidate to arrive in the Braves' rotation by mid-June. Beachy, 26, is a must-own in all leagues with DL spots. He'll be this year's Kris Medlen midseason breakthrough -- and we all remember how that turned out.
? If you miss out on Beachy, the D-Backs' Daniel Hudson shouldn't be far behind. Hudson had Tommy John surgery July 9, just two weeks after Beachy, putting him on track to start a rehab assignment in June. He might even progress to the majors before the All-Star break. At just 12 percent ownership, fantasy owners are really missing the boat -- he's every bit as worthy of being owned as Beachy.
? And, finally, right behind them should be shoulder surgery survivor Michael Pineda (38 percent owned). He should be owned in that many more leagues than Hudson, but Pineda's reports have him reaching the mid-90s again. He could return to the majors by midseason, as well.