Fantasy baseball Weekend Primer: Stream McAllister, McCarthy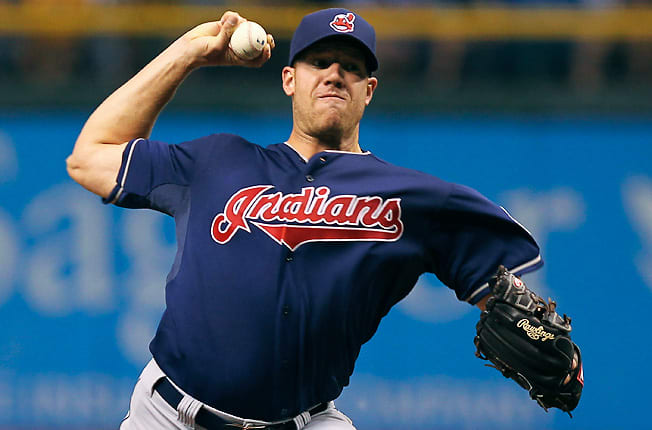 Notable nuggets on the upcoming weekend action that could swing your fantasy baseball matchup:
? Zach McAllister is becoming a fixture of the Weekend Primer. The Cleveland righty has gotten off to a great start, going 3-3 with a 2.68 ERA in seven games. He also keeps drawing great matchups over the weekend, and that's the case once again this week as he'll take the ball for the Indians Saturday against the Mariners. McAllister has been especially hot lately, allowing just four earned runs on 18 hits and five walks against 13 strikeouts across his last 20.2 innings. That stretch includes starts against the two highest-scoring teams in the majors, the Tigers and A's. Getting the Mariners, who rank 25th in runs scored, will be a welcome change. Feel free to add him as necessary.
WEEK 7 PREP: Fantasy baseball Weekend Primer | Weekly Planner | Waiver Wire | Pitching Report | Injury Report | Roundtable | Advanced Stats Focus | Trade Tips | Prospect Watch
? According to his surface stats, Brandon McCarthy has struggled in his first season with the Diamondbacks. He has yet to win a game and has a 5.63 ERA. However, he has a 3.75 FIP, .365 BABIP and 64.6 percent strand rate. And this weekend, he has a great shot to pick up his first win, given that he'll start against the lowly Marlins on Saturday. In case you need an update, the Marlins have scored 110 runs going into play Thursday, 24 fewer than the next-lowest total. They're last in the majors in batting average (.224), OBP (.287) and slugging (.322). McCarthy should be able to exploit them. No matter where you play, he's widely available. Make the move.
? Since allowing four runs in 4.2 innings against the Braves in his first start of the season, Scott Feldman has given up two or fewer runs in his six outings since. In his last four starts, he's 3-0 and has surrendered just five runs with 23 strikeouts in 28.2 innings. He gets the Mets at home on Saturday and is ready for your streaming needs.
Enjoy the games this weekend. We'll see you on Monday.