Fantasy baseball Weekly Planner: Miguel Cabrera is best in fantasy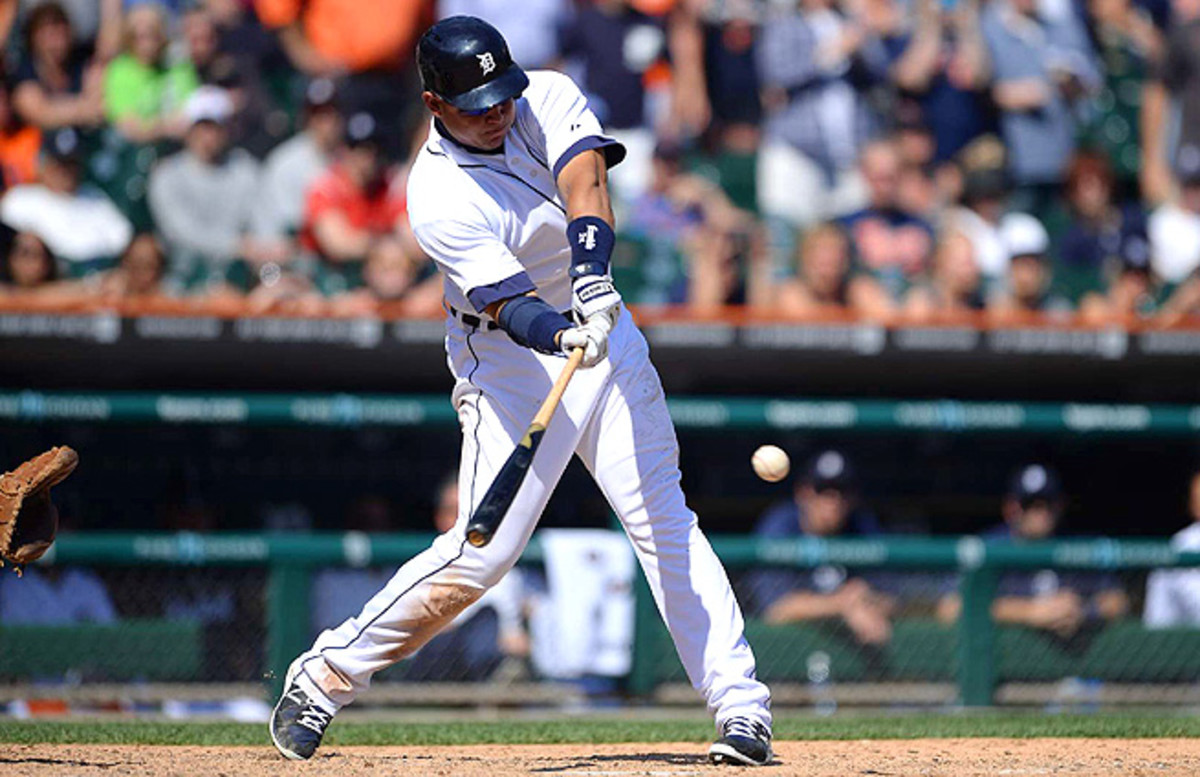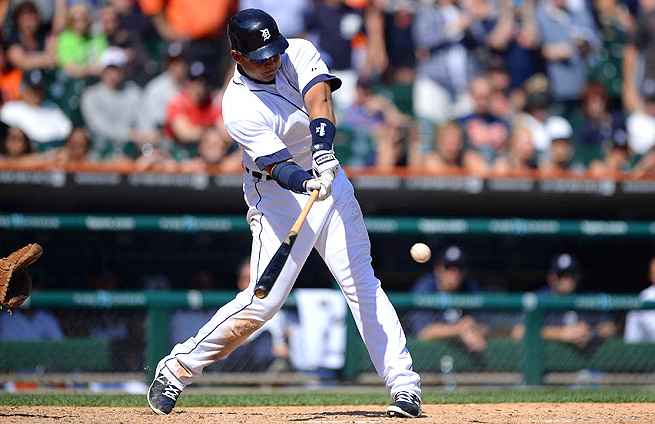 We have hit the quarter pole of the 162-game grind, so let's take a moment to re-evaluate what the first five picks of a fantasy draft would be in a standard league if you were to select them today. Sorry, Mike Trout, our preseason No. 1, you are taking a step back in our SI.com Weekly Planner mock draft.
WEEK 8 PREP: Fantasy baseball Weekend Spotlight | Weekly Planner | Waiver Wire | Pitching Report | Injury Report | Trade Tips | Roundtable | Advanced Stats Focus | Prospect Watch
1. 3B Miguel Cabrera, Detroit Tigers -- Who says you can't win Triple Crowns back-to-back? Miggy isn't there on the homers yet -- although he pounded out three more Sunday night -- but he took a .373 average into the game and leads the league in RBI. He's taking the torch from Albert Pujols and becoming the the greatest hitter of this generation.
2. OF Mike Trout, Los Angeles Angels of Anaheim -- Trout hasn't truly gotten hot yet, but he still is on pace for 30 homers, 100 RBI, 100 runs and 30 steals. He has had a much more robust May (.328-6-13-14-4), even with Pujols and Josh Hamilton struggling behind him in the lineup, so he still deserves one of the top two spots.
3. OF Ryan Braun, Milwaukee Brewers -- Most of his numbers are right around where you would expect them to be, save for the stolen bases. He has been caught stealing five times already this season and has been successful just twice -- he may no longer be a threat for 30 steals. That happens to players as they enter the waning months of their 20s.
4. 2B Robinson Cano, New York Yankees -- Despite all those big-ticket players crumbling around him, the best second baseman in baseball has managed to get off to a decent start. This bodes well for Cano's full-season numbers, but badly for the Yankees' bottom line -- Cano is a pending free agent this season, and the Yankees are going to have to dole out some serious bucks to keep him around. He's on pace for 46 homers and 119 RBI, and that could improve when Curtis Granderson gets going, and Mark Teixeira, Derek Jeter and Alex Rodriguez return to the lineup.
5. SS Troy Tulowitzki, Colorado Rockies -- There should be a significant amount of love for Jean Segura as the surprise new No. 1 shortstop, but Tulo has proven healthy (cross those fingers) and productive to date. We said this spring that a healthy Tulo would contribute like an early first-rounder, and he's currently on pace for the best season of his career.
Profar gets his chance, at least for now:
The minor's No. 1 prospect as rated by Baseball America, Jurickson Profar, was called up Sunday and is a must-add in most leagues, especially if you lost Ian Kinsler (ribs) to the DL.
The timing of the call-up is interesting because Profar was on a tear. He had hit in 19 of his past 21 games and was 3-for-4 with two homers Saturday night. The streak raised his Triple-A average to .278 after he hit just .231 in April. The 20-year-old speed-and-power threat is expected to replace Kinsler for the next couple of weeks, but anything can happen when a talent this intriguing gets the call. A hot streak could help him stick around. Add him in any format where you need a middle infielder.
Player of the week
2B Jason Kipnis, Cleveland Indians -- Owners often think that cutting or trading players slumping at the start of the season seems like a way to fix a broken fantasy team. But in reality, you often miss out on a player's best numbers. Take Kipnis for example: after a terrible April (.200, 1 homer, four RBI, six runs), Kipnis has ignited in May (.303-6-20-14) -- he's squarely back among the top five fantasy second basemen.
Player of the weak
SP Jaime Garcia, St. Louis Cardinals -- The Cardinals can sure grow pitchers -- just look at Shelby Miller and Lance Lynn -- but it doesn't look like they will be able to fix Garcia's shoulder now. He has dealt with shoulder woes for more than the past year , and he's back on the DL, perhaps for the season. Garcia's solid season imploded in his past two starts, and he says his shoulder pain this time is greater than before, which is a bad omen. A visit to Dr. James Andrews this week isn't likely to bring good news, so cut him in leagues without DL spots.
Rookie spotlight
SP Jake Odorizzi, Tampa Bay Rays -- He will start in place of David Price, who hit the DL with a triceps injury. Odorizzi was 4-0 with a 3.82 ERA and a sterling 1.097 WHIP through eight Triple-A starts, so he could impact mixed fantasy leagues. He will also be a two-start pitcher the following week, so you can consider him a nice stopgap if you've lost Price or Jaime Garcia (shoulder). We wouldn't even put it past the talented Odorizzi to relegate Roberto Hernandez (2-4, 5.24) to the bullpen once Price is ready to return.
Bargain bin
SP Mike Leake, Cincinnati Reds -- He holds his rotation spot upon Johnny Cueto's return from the DL, much to the dismay of Tony Cingrani owners. After a slow start, Leake has pitched much better of late, posting a 2.79 ERA in May. Owned in just 25 percent of CBSSports.com's leagues, Leake gets a start this week against the reeling Mets and then will be a two-start sleeper in the week to follow. Sign him up now for a little hot stretch here.
Roster trends
Most added:
1. 1B Mitch Moreland, Texas Rangers -- Moreland's had quite a start, especially for a player many thought would be unseated by Mike Olt this season. Instead, Moreland is on pace for 37 homers as a 27-year-old breakout. He has become a must-own in mixed leagues, finally.
2. 1B James Loney, Tampa Bay Rays -- His .359 average going into Sunday is inexplicable. Don't jump on him in mixed leagues, because you may catch him on his downswing now.
3. SP Francisco Liriano, Pittsburgh Pirates -- Get him now, because after his start against the Cubs this week, he will be a two-start pitcher the week following. He is capable of a career renaissance.
4. SP Jerome Williams, Los Angeles Angels of Anaheim -- After two quality starts, he's a two-start pitcher to use in any format versus Seattle and at Kansas City.
5. SP Ubaldo Jimenez, Cleveland Indians -- He's on a roll now, looking more like the pitcher he was years ago. Looks like his days as a viable mixed-league starter are back.
Most dropped:
1. SP Tony Cingrani, Cincinnati Reds -- Few will understand the decision to demote him instead of moving Mike Leake to the bullpen, but the contending Reds want to have a sixth starter in reserve. Cingrani proved he is too good to cut in leagues with reserves.
2. SP Carlos Villanueva, Chicago Cubs -- Matt Garza's return Tuesday sends Villanueva back to the bullpen where he belongs. He doesn't belong on fantasy rosters now either.
3. SP Justin Grimm, Texas Rangers -- Don't give up on him after a couple of bad starts. He is a solid rotation member of a contender and can help in mixed leagues going forward. Pick him back up.
4. SP Josh Beckett, Los Angeles Dodgers -- This is typical Beckett, needing a DL stint for a groin strain. The good news is he won't be messing up your roster until June at least.
5. RP Joel Hanrahan, Boston Red Sox -- Tommy John surgery ends his season, making it unlikely he will be counted on to close games at the start of 2014 either. You can cut him even in keeper formats.
Most viewed (Rotoworld):
1. OF Bryce Harper, Washington Nationals -- His bruises and soreness from that wall collision shouldn't be enough to force you to sit him this coming week.
2. SP Brandon Beachy, Atlanta Braves -- His 30-day rehab clock starts this week and he will be a must-start ace come mid-June. His availability is going to dry up quickly, so get him now.
3. OF Curtis Granderson, New York Yankees -- He was productive in his rehab stint, so you shouldn't worry too much about him needing to knock the rust off. Start him in all formats going forward.
4. SP Matt Garza, Chicago Cubs -- He conveniently comes off the DL as a two-start pitcher, albeit with two road starts. He is good enough to use in any leagues right away, though.
5. RP Andrew Bailey, Boston Red Sox -- He is coming off the DL on Monday and should resume closer duties right away for Boston and fantasy owners.
Most traded (CBSSports.com):
1. OF Josh Hamilton, Los Angeles Angels of Anaheim -- He hasn't fully hit his stride, but he hasn't been completely worthless of late. It will come. HOLD
2. SP David Price, Tampa Bay Rays -- The reports have him missing just a couple of weeks. It is a good time to take advantage of those who are frustrated with their ace. BUY
3. SP Matt Cain, San Francisco Giants -- After showing signs of looking like his 2012 self, he took a step back in his past start. This just might not be his year. SELL
4. OF Matt Kemp, Los Angeles Dodgers -- His slow start is surprising, especially because it is in no way related to health issues. BUY
5. OF B.J. Upton, Atlanta Braves -- I might be his only supporter left. He shouldn't be hard to acquire. BUY
Tout Wars moves
Yet another move for a catcher -- it's been an ongoing saga for this team. After trading for Wilson Ramos, who went to the DL with a hamstring strain, it is time to find another flavor of the week among the free-agent backstops. Francisco Cervelli (broken hand) is at least a month away still.
1. C Kurt Suzuki, Washington Nationals 2. C Jason Castro, Houston Astros 3. C Kelly Shoppach, Seattle Mariners 4. C Erik Kratz, Philadelphia Phillies