Fantasy baseball Pitching Report: Zimmermann dominating in D.C.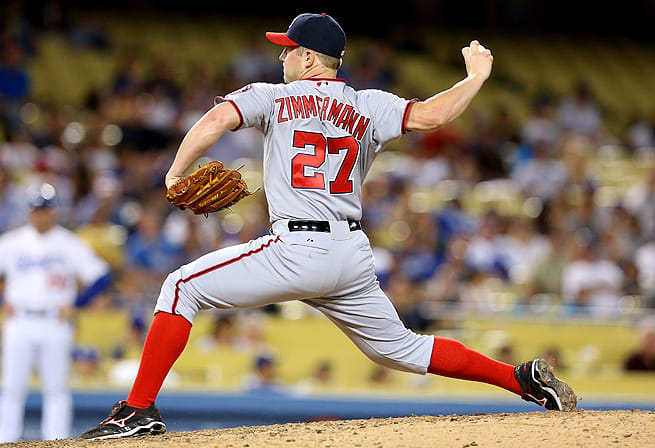 There are few teams in the majors on which Jordan Zimmermann would somehow get overlooked; however, that's exactly what's happening in Washington, where Stephen Strasburg and Gio Gonzalez hog the headlines. While Strasburg has thrown the ball very well this season and has looked like his dominant self in his last two turns, Zimmermann has been the best pitcher on the team through the first two months of the season.
WEEK 9 PREP: Fantasy baseball Weekend Primer | Weekly Planner | Waiver Wire | Pitching Report | Injury Report | Roundtable | Advanced Stats Focus | Trade Tips | Prospect Watch
In 10 starts, Zimmerman is 8-2 with a 1.71 ERA and 0.87 WHIP. It's hard for a pitcher with an ERA less than 2.00 to match that with his FIP, so Zimmermann's 2.79 FIP doesn't mean he's pitching worse than his ERA suggests. The reason his FIP is a full run higher than his ERA is likely because FIP puts a premium on strikeouts and Zimmermann's fanning a career low 5.62 batters per nine innings. So how is Zimmermann having the best year of his career even though his strikeouts are way down? Fewer walks and more ground balls have been the two keys.
Zimmermann's 51.1 percent ground-ball rate would easily be a career high if he's able to sustain it for the entire season. (In his two previous full seasons in the majors, his ground-ball rates were 39.4 percent and 43.4 percent.) In 2011, he walked 1.73 batters per nine innings, and last year, the rate jumped to 1.98 batters. This season, he's walking just 1.1 batters every nine innings, the third-best rate among starters, trailing only Bartolo Colon and Adam Wainwright. Hitters are also hitting more ground balls and walking less -- and striking out less, for that matter -- against Zimmerman this season, which make a great formula for pitching deeper into games. He's gone at least seven innings in eight of his 10 starts, including two complete games. In his first two seasons in the league combined, he pitched at least seven innings 14 times. He has been very efficient with his pitches simply by getting a ton of value out of his two best offerings: his fastball and slider.
The slider has always been an important pitch for Zimmermann. This year, it has been one of the best pitches in baseball, as batters are hitting just .173/.228/.250 against Zimmermann's slider, according to Fangraphs. The pitch has a 44.4 percent ground-ball rate and 14.2 percent swinging-strike rate. His fastball averages 93.6 MPH, and hitters have beaten it into the ground 53.5 percent of the time. Essentially, he's owning hitters with pinpoint command of two pitches. His ERA will likely climb a bit as the season goes on, but there's nothing fluky about what he has done this season. He can definitely finish the year as a top-10 fantasy pitcher.
Starting pitcher barometer
Who's up?
? Stephen Strasburg, Washington Nationals -- Last time we discussed Strasburg in this space, we pointed out that even though he had yet to have a truly Strasburg-ian run of starts, that he was pitching very well and it was just a matter of time. In his last three starts, he has allowed just three earned runs while striking out 20 batters in 23 innings. His ERA for the season is down to 2.49 and his WHIP is at a cool 1.06. If an opportunity existed to buy him low after his seemingly slow start, it no doubt has passed.
? Francisco Liriano, Pittsburgh Pirates -- Liriano is another guy we've talked about here recently, but now that he has made three strong starts, he warrants another mention and a bump up the rest-of-season rankings. He has thrown 18 innings in his three starts combined, allowing just two earned runs and striking out 23 batters against six walks. In his last time out against the Cubs, he tossed seven shutout innings, surrendering two hits and striking out nine. It's not a surprise that he has taken to the National League so well. What is a bit of a surprise, even in this small sample, is that he's been able to cut back on his walks to so significant a degree. He should be universally owned.
? Homer Bailey, Cincinnati Reds -- Bailey hit a tiny rough patch in back-to-back starts against the Cardinals and Braves, two of the best teams in the league. However, after those two combined to tag him for eight runs in 10.1 innings, he has turned in three dominant outings against the Marlins, Phillies and Cubs. In those three starts, he has given up four runs and struck out 21 batters in 22 innings. He makes a good target in trade talks since he can make a major impact for a team that needs help in the rotation, but isn't a guy whose current owner would refuse to part with him.
Who's down?
? CC Sabathia, New York Yankees -- The Rays rocked Sabathia his last time out, getting to him for seven runs on seven hits in seven innings. In his last three starts, Sabathia has surrendered 12 earned runs on an astounding 28 hits across 19.2 innings. At this point, his decreased velocity isn't just a symptom of starting the season slowly. The high-80s are his new normal. Despite his recent struggles, Sabathia could still fetch you a nice return. He has plenty of value on the market, but he's no longer a fantasy ace.
? Jeremy Guthrie, Kansas City Royals -- The honeymoon had to come to an end eventually, and it appears that eventuality has manifested itself in Guthrie's last three outings. In that stretch, he's 0-3 and has been rocked around for 17 earned runs on 24 hits in 19.1 innings. He has just four strikeouts against seven walks after fanning more than two batters for every walk in his first seven starts of the year. This is closer to the Guthrie we've seen in years past, so owners should reassess what they expect from him for the rest of the season.
What a relief
? Chris Perez struggled for his second straight appearance Sunday before leaving the game after a visit from the trainer. The Indians placed him on the DL with shoulder soreness Monday, so he'll be out for at least the next two weeks. They weren't ever in a position to set up their bullpen for a save opportunity in a loss to the Reds Monday, so we're still guessing at who might fill the closer's chair with Perez out. The bet here is that Joe Smith wins out over Vinnie Pestano. The latter has a better track record over the last few seasons, but Smith has been much better this year, posting a 1.06 ERA, 2.77 FIP and 18 strikeouts in 17 innings. If you're in the saves market, Smith makes a strong addition right now
? Joel Peralta remains available in a majority of leagues, while Fernando Rodney continues to struggle. Joe Maddon hasn't shown any hints that would suggest he's ready to make a change, but he might have his hand forced before long. Rodney has been scored on in four of his last five appearances, three of which ended in blown saves. In two of those games, he entered the game with a lead of more than one run. Meanwhile, Peralta has been one of the most effective relievers in the majors this year, compiling a 1.93 ERA, 2.46 FIP and 0.99 WHIP in 23.1 innings, while striking out nearly 10.5 batters per nine innings. Go ahead and get Peralta. He'll be the closer in due time.
? Finally, Marlins manager Mike Redmond has seen enough of Steve Cishek in the ninth. Well, more accurately, he's seen enough of only Cishek in the ninth. He'll still get chances, but we've got a full-fledged closer committee in Miami, with Chad Qualls and Mike Dunn joining Cishek in the conversation. This is a nightmare for owners speculating for saves. First of all, the Marlins aren't going to get a ton of save opportunities, so when they do, any of the three are liable to get the call. If you're absolutely desperate for saves, I can see going after Qualls or Dunn. Qualls is a nose ahead of Dunn in my book, simply because Dunn will need to remain available to face lefties in any late-game situations. Add them if you dare -- or if you absolutely must.