Fantasy baseball Stat Focus: Masterson's pitch value explains success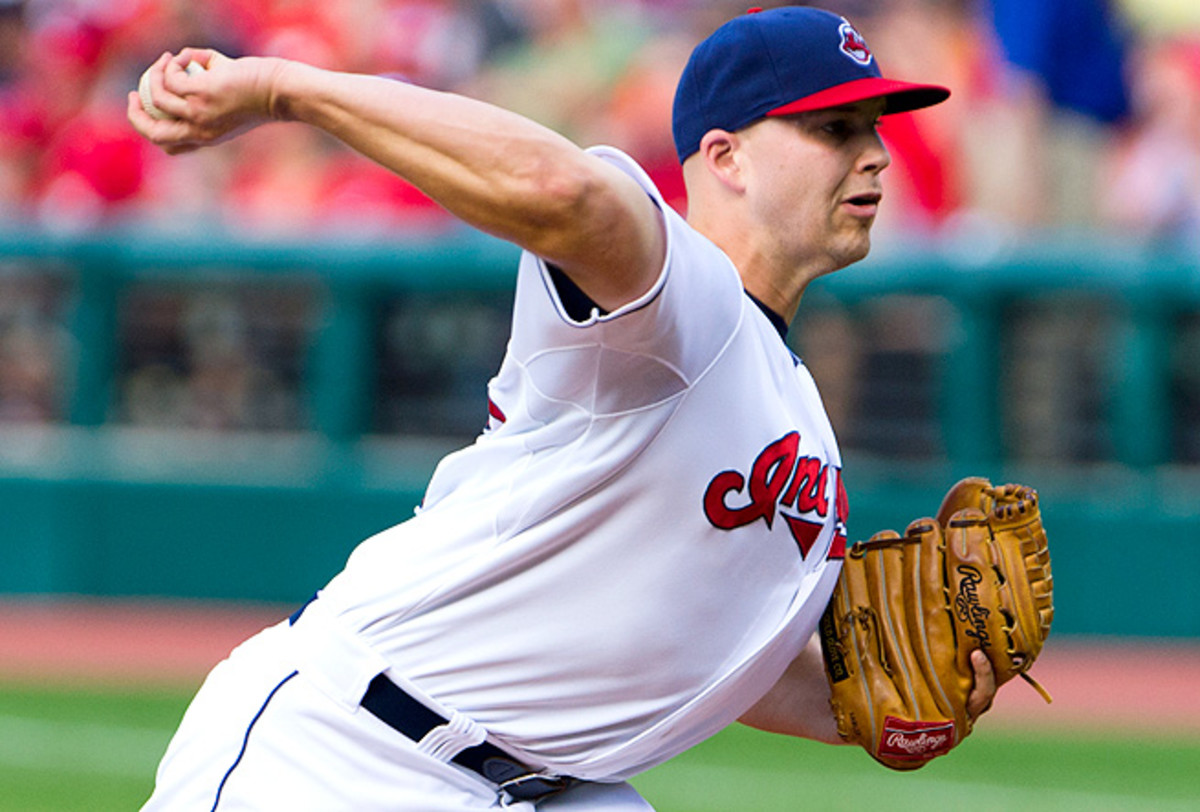 If you've read the weekly pitching report consistently this year, you know I focus a lot on pitchers' repertoires. You also know that I'm a big fan of pitch values calculated by the good folks at Fangraphs, as well as Pitch F/X data supplied by major league parks. The data shows us how effective every offering from every pitcher in the majors has been, both in absolute value and in comparison to each other. Looking at those values and how a pitcher's repertoire has changed over time, we can explain how and why a certain pitcher is having the best year of his career. More importantly, it can show us why that success is sustainable. With that, let's talk about Justin Masterson.
WEEK 9 PREP: Fantasy baseball Weekend Primer | Weekly Planner | Waiver Wire | Pitching Report | Injury Report | Roundtable | Advanced Stats Focus | Trade Tips | Prospect Watch
In 2009, Masterson made 26 appearances, including 14 starts. He struck out 8.28 batters per nine innings, the best rate of his career thus far. When he transitioned to the rotation full time in 2010, his strikeout numbers predictably dipped. He never posted huge strikeout numbers in the minors, and while his fastball has always sat respectably in the 92-93 MPH range, it wasn't enough to make him a big strikeout guy. His K/9 fell to an even seven in 2010 and 6.58 in 2011 before creeping up to 6.94 last season.
This season, Masterson has certainly jumped a level: in 12 starts (82 innings), he's gone 8-3 with a 3.07 ERA, 3.26 FIP and 1.146 WHIP while fanning 83 batters and walking 31. He's striking out a batter per inning, and it's not like he has gotten by with a few big strikeout games. He has whiffed at least seven batters in six of his 11 starts, and has had at least five strikeouts each time out. So what explains this sudden uptick in strikeouts? Quite often, when a pitcher starts performing at a higher level, it's a result of adding a new pitch to his repertoire or more prominently featuring one he already threw.
Masterson has essentially always been a two-pitch guy; every year of his career he has thrown either a fastball or changeup at least 95 percent of the time. Before this year, the only time his changeup percentage was more than 20 percent was 2009, the first year he got serious burn in a major league rotation. However, when he became a full-time starter in 2010, that percentage dropped to 18.5 percent. This is despite the fact that his slider has always been his best pitch, garnering a positive value every year of his career.
Fangraphs values every pitch a pitcher throws by taking the result and comparing it against the run expectancy for that situation. When looking at a pitcher's entire season or multiple years of his career, it does a great job of zeroing in on a pitcher's best pitch. For each 100 pitches thrown, Masterson saved 0.99 runs with his slider in 2009, 0.83 in 2010, 1.27 in 2011 and 0.12 last year. Still, despite getting negative value from his fastball, he threw the slider less than one-fifth of the time.
All that has changed in 2013. Masterson is throwing his slider a career high 26.6 percent of the time. He has a swinging-strike rate of 15.1 percent and a ground-ball rate of 60.6 percent on the slider. As such, he's saving 3.1 runs per 100 pitches with the offering, making his slider the sixth-best one in the majors thus far this year.
We should always try to figure out why a pitcher with at least a few seasons under his belt can suddenly strike out far more batters than he has in the past. This way, we can determine whether or not it's something he can maintain, or if it's just a hot streak that is bound to normalize eventually. In Masterson's case, with his newfound focus on his slider, I'm willing to bet he can keep this up all season long. I totally understand testing the trade waters, but don't do so assuming he'll regress to his career numbers. Masterson is a different pitcher than he has been the first five years of his career.