Fantasy football 2014 draft prep: Tight end position primer
In 2003, there were two players that scored more than 100 fantasy points from the tight ends position: Shannon Sharpe and the recently retired Tony Gonzalez. By comparison, 10 tight ends scored 100 fantasy points in 2013. Eleven tight ends did it in 2011, and again in 2012 (not the same tight ends).
FANTASY FOOTBALL POSITION RANKINGS AND PROJECTIONS:
Obviously, the explosion of the passing game is the reason for this, as quarterbacks are throwing more and tight ends are one of the beneficiaries. But innovation has also furthered the fantasy futures at the position, as there are more two-TE sets in passing games. Finally, tight ends have evolved into these big, fast, physical freaks that are dexterous enough to move all around, including lining up as a wide receiver – like Jimmy Graham did two-thirds of the time last season.
Graham recently lost an opportunity to be paid like one, as he fought the Saints' franchise tag as a tight end, which meant he'd get paid the average of the top five tight ends in the league, rather than the better paid top-five wide receivers.
POSITION PRIMERS:
QB | RB | WR | TE | K | DST
In fantasy football, the position is no longer a matter of five great ones and then a mess of useless ones. Sure, Graham has separated himself from the pack, finding himself in the first round of most drafts. But there are about 10 excellent options at the position now and about 10 promising players behind them.
The lesson here: Either draft a stud early, pick an average fantasy tight end with a middle pick or roll the dice on one or two from the promising group. At some point, I believe, if tight ends continue to be as involved in NFL offenses, we'll start seeing two-TE leagues popping up. There are 20 serviceable tight ends, much like the catcher position in fantasy baseball, and two starting tight ends would give us more chances to strategize.
2014 Fantasy Football Sleepers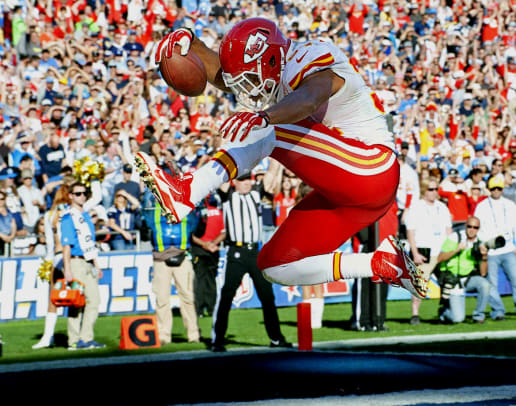 Elite
Jimmy Graham, New Orleans Saints -- The fantasy football world has never seen a tight end dominate the position like Graham has in recent seasons. Shannon Sharpe, Tony Gonzalez, Antonio Gates -- none of them have produced like Graham. He has two seasons (out of four) with over 1,200 yards receiving (Gonzalez did it twice in 12 years. Graham led the league with 16 touchdown catches in 2013 (the other three never caught more than 13 touchdowns in any one season). Graham is a worthy first-rounder in many formats, as he dominates his position unlike any other player.
Reach
Jordan Cameron, Cleveland Browns -- Cameron was expected to have a breakout season in 2013 – and he didn't disappoint, catching 80 passes for 917 yards and seven touchdowns. Unfortunately, he also had Josh Gordon taking away a lot of attention – which is something he's not expected to have this season. With one quarterback returning from a knee injury battling a rookie quarterback that might be more style than substance, Cameron looks like a reach at the position in the fifth round.
Steal
Greg Olsen, Carolina Panthers -- Rather than taking someone like Cameron too high in Round 5, Olsen makes for a great pick in the seventh or eighth round. Only three tight ends have eclipsed the 800-yards receiving mark: Jason Witten, Jimmy Graham – and Greg Olsen. The Panthers will once again key on him in 2014, as they work in rookie WR Kelvin Benjamin. Newton should target Olsen frequently near the goal line, too. Olsen hasn't missed a game over the past two seasons either. He's one of the reasons (along with Dennis Pitta and Jordan Reed) why waiting on taking some of the top guys might be a good idea.
Injury-risk
Rob Gronkowski, New England Patriots -- Gronkowski is the only player that could even dream about overtaking Graham in the top spot of the tight ends position. Both entered the NFL in the same season (2010), but Gronkowski just hasn't been able to stay healthy. Even so, the Patriots tight end has averaged 13.80 fantasy points in every game he has played over the past three seasons, and Graham checks in at 12.06 per game. Gronk tore his ACL in 2013, but he's looking good in camp and will pay big dividends for his fantasy owner. Unfortunately, he's a huge risk/reward-type player.
Rookie
Eric Ebron, Detroit Lions -- Everyone knows at this point that it's quite rare for a tight end to become fantasy worthy in his first season out of college. Tampa Bay's Tim Wright was the best rookie tight end in fantasy last season, yet he didn't even crack the top 12 tight ends in most formats. Wright was the best rookie since Gronk entered the league in 2010, so if you think Ebron has that potential, then you should jump on him late. With Matthew Stafford as his quarterback, Ebron has plenty of promise, but he'll serve -- at best -- as the team's third or fourth option in the passing game, after Megatron, Reggie Bush and Golden Tate.
Tier explanations
First tier -- When a player owns a tier all to himself, you know he's pretty good. Graham is first-round worthy, despite playing at a position that has plenty of depth in 2014.
| | | | | |
| --- | --- | --- | --- | --- |
| REC | REC YDS | REC TDS | BYE | VALUE |
| 85 | 1,200 | 16 | 6 | $37 |
Second tier -- Gronkowski and Thomas aren't too far behind in the ADP, and if you roll the dice on Gronkowski, you can always pick up a good tight end off of waivers when he does get hurt. While you'll do great in fantasy points per game at the position, you'll unfortunately miss out on a stud player at another position.
| | | | | |
| --- | --- | --- | --- | --- |
| REC | REC YDS | REC TDS | BYE | VALUE |
| 58 | 840 | 10 | 10 | $22 |
| | | | | |
| --- | --- | --- | --- | --- |
| REC | REC YDS | REC TDS | BYE | VALUE |
| 60 | 750 | 10 | 4 | $18 |
Third tier -- You'll have to burn a pick somewhere between the top 50 and 100 players to get a player from this tier.
Fourth tier -- Your last chance at getting a tight end that is expected to produce fantasy starter stats.
Fifth tier -- These are mostly guys coming off of subpar seasons, whether due to injury or a new offense.
Sixth tier -- At this point, you're drafting a fantasy backup, and these players have all either seen some success in the past (Lewis and Allen), or they are promising young players (Eifert, Amaro, Fleener and ASF).
Seventh tier Don't touch these guys unless you are in a very deep league or you like having tight ends that are not heavily featured in their NFL team's passing games.
| | | | | | | | | |
| --- | --- | --- | --- | --- | --- | --- | --- | --- |
|   | PLAYER | TEAM | BYE | VALUE | REC | REC YDS | REC TDS | TIER |
| 1 | Jimmy Graham | NO | 6 | $37 | 85 | 1200 | 15 | 1 |
| 2 | Rob Gronkowski | NE | 10 | $22 | 58 | 840 | 10 | 2 |
| 3 | Julius Thomas | DEN | 4 | $18 | 60 | 750 | 10 | 2 |
| 4 | Vernon Davis | SF | 8 | $11 | 55 | 750 | 8 | 3 |
| 5 | Jason Witten | DAL | 11 | $10 | 67 | 805 | 7 | 3 |
| 6 | Greg Olsen | CAR | 12 | $8 | 70 | 790 | 7 | 3 |
| 7 | Jordan Cameron | CLE | 4 | $5 | 68 | 775 | 6 | 3 |
| 8 | Jordan Reed | WAS | 10 | $2 | 65 | 705 | 7 | 3 |
| 9 | Dennis Pitta | BAL | 11 | $1 | 60 | 645 | 6 | 4 |
| 10 | Kyle Rudolph | MIN | 11 | $1 | 52 | 545 | 7 | 4 |
| 11 | Martellus Bennett | CHI | 9 | $1 | 55 | 640 | 5 | 4 |
| 12 | Charles Clay | MIA | 5 | $1 | 58 | 690 | 4 | 4 |
| 13 | Zach Ertz | PHI | 7 | $0 | 55 | 670 | 4 | 4 |
| 14 | Ladarius Green | SD | 10 | $0 | 45 | 580 | 5 | 5 |
| 15 | Heath Miller | PIT | 12 | $0 | 60 | 630 | 4 | 5 |
| 16 | Jared Cook | STL | 4 | $0 | 60 | 610 | 4 | 5 |
| 17 | Antonio Gates | SD | 10 | $0 | 50 | 580 | 4 | 5 |
| 18 | Eric Ebron | DET | 9 | $0 | 40 | 550 | 5 | 5 |
| 19 | Delanie Walker | TEN | 9 | $0 | 50 | 505 | 5 | 5 |
| 20 | Tyler Eifert | CIN | 4 | $0 | 52 | 550 | 4 | 6 |
| 21 | Dwayne Allen | IND | 10 | $0 | 40 | 465 | 4 | 6 |
| 22 | Garrett Graham | HOU | 10 | $0 | 38 | 405 | 4 | 6 |
| 23 | Jace Amaro | NYJ | 11 | $0 | 37 | 395 | 3 | 6 |
| 24 | Coby Fleener | IND | 10 | $0 | 34 | 380 | 3 | 6 |
| 25 | Austin Sefarian-Jenkins | TB | 7 | $0 | 33 | 360 | 3 | 6 |
| 26 | Marcedes Lewis | JAC | 11 | $0 | 30 | 290 | 2 | 6 |
| 27 | Scott Chandler | BUF | 9 | $0 | 44 | 425 | 1 | 6 |
| 28 | Levine Toilolo | ATL | 9 | $0 | 35 | 350 | 2 | 7 |
| 29 | Travis Kelce | KC | 6 | $0 | 25 | 315 | 2 | 7 |
| 30 | Andrew Quarless | GB | 9 | $0 | 31 | 305 | 2 | 7 |
| 31 | Tim Wright | TB | 7 | $0 | 32 | 360 | 1 | 7 |
| 32 | Owen Daniels | BAL | 11 | $0 | 30 | 350 | 1 | 7 |
| 33 | Jermaine Gresham | CIN | 4 | $0 | 30 | 285 | 2 | 7 |
| 34 | Mychal Riveral | OAK | 5 | $0 | 32 | 340 | 1 | 7 |
| 35 | Brandon Pettigrew | DET | 9 | $0 | 26 | 280 | 2 | 7 |