Top 10 spring training storylines for a season of parity and change
Parity, the return of Alex Rodriguez, and change across the board mark the top 10 storylines to watch for in spring training.
When major league camps open this week, Derek Jeter won't be there, Bud Selig is no longer commissioner and the Yankees and Red Sox no longer are default favorites. Neither team won 85 games last year — the first time that happened in a full season since 1992 — and neither team had a player mentioned even once on MVP ballots for the first time ever.
With Rob Manfred replacing Selig and all six West Coast teams looking like contenders with some of the game's biggest stars, baseball has turned a corner. The exciting part is that we can't be sure where it's going. Suddenly the sport — even how it's played, never mind who will be playing in October — is imbued with uncertainty, in the best sense of the word.
The World Series last year was waged between teams that only the previous season ranked 12th and 18th in the majors in wins, Kansas City and San Francisco. If you apply the same upgrade formula to this season, we'll be watching Cleveland and San Diego in the 2015 World Series.
Why not? Uncertainty reigns. The offseason was a blur of signings and trades, a veritable Moroccan bazaar of dealing. Fans of the Athletics, Padres and White Sox, for instance, won't recognize their teams. It's an exciting time. Change is in the air. To help you sort through the possibilities, here are the 10 most important stories to watch in spring training:
1. Hope and Faith
Oddsmakers at the Atlantis Casino in Reno, Nev., recently set their over/under numbers for the 2015 season. Only two teams were tabbed at 90 wins or greater: the Nationals and Dodgers. In the 17 years with 30 teams, we have never have seen a season with fewer than six teams win 90 games. (Don't worry; I get it. This was about the house making money, not making predictions.) What stood out to me is that the casino placed 21 of the 30 teams inside a tiny window of 10 wins — between 77.5 and 87.5 victories. That's a grouping of 70 percent of the teams, which speaks to the gift Selig left us: a game in which almost everybody has a shot at reaching the playoffs.
Here's the way I would divide baseball heading into spring training:
Postseason locks: Nationals, Dodgers.
No postseason shot:Phillies, Twins, Rockies, Diamondbacks.
Chance to win 88 games: The other 24 teams.
MLB Winter Report Cards: Grading the offseasons of all 30 teams
You have to look at baseball in this age of parity — two wild cards and the first ever full-season World Series without a 90-win team — the same way general managers do: If you can build a team capable of winning 83 games — which means you are in the wild card hunt, and with luck and midseason acquisitions you could get to 88 — you have a team that can win the World Series. That means even Houston — yes, the Astros! — is selling the present, not just the future. I don't consider the Astros a playoff team, but I understand how Houston believes it's possible to win 83 games.
Understand this: Spring training opens this week with more teams having a realistic chance of making the playoffs than ever before in the history of baseball. Yes, expansion and the additional wild card spots take some of the impact out of that statement. But stick with the premise here: Real hope is almost everywhere. It's the reason why we saw one of the greatest trade markets in memory this winter, and little of it driven by economics.
Here's another way to look at the optimism in 2015. It's the list of the 10 worst teams in baseball over the past four years:
| | |
| --- | --- |
| Team | Winning Percentage |
| Astros | .358 |
| Twins | .409 |
| | .418 |
| Rockies | .427 |
| | .432 |
| | .463 |
| White Sox | .463 |
| Padres | .463 |
| | .469 |
| | .480 |
Now think about the teams that "won" the winter. Your short list should include the Cubs, Mariners, Marlins, Padres and White Sox. Baseball has moved past the I-95 corridor of power (Boston-New York-Philadelphia). Keep that list of the 10 worst teams from the past four years in mind this season. At the end of 2015, I would expect two of those teams to be in the playoffs. Which ones? Hey, that's how the casinos make their money.
2. The End of Alex Rodriguez (continued)
When the Yankees arrived in Detroit for Game 3 of the 2012 ALCS, among their baggage was a slumping Alex Rodriguez. Mired in a 3-for-23 postseason slump that included 12 strikeouts and no extra-base hits, Rodriguez knew only one way out: more drugs. He told his Miami drug supplier, Anthony Bosch, to fly to Detroit with another round of PEDs. Bosch did as instructed and gave Rodriguez HGH and peptides among his goodies.
That year alone, Rodriguez spoke with Bosch on the phone 53 times and exchanged 553 texts. Bosch typically supplied Rodriguez with drugs twice a month. The details of the relationship were included in the report issued by arbitrator Fredric Horowitz in explaining why Rodriguez received the longest PED-suspension in baseball history: 162 games. "The most egregious violations of the JDA reported to date," Horowitz wrote.
What will Rodriguez do now when he can't hit? It's possible he will turn to PEDs again, just as he did after SI reported in 2009 that he had failed a steroids test. If not, can he hit at all without the drugs that have propped up most of his career?
Power Rankings: Nationals take top spot ahead of spring training
Rodriguez has been linked to banned drugs either through his own admission, drug tests, therapeutic use exemptions or his relationships with Anthony Galea and Bosch in 2001, '02, '03, '06, '07, '08, '09, '10, '11 and '12. And if you believe he was clean in any other year in the major leagues, you have uncommon faith in the man who ranks with Jose Canseco among the worst recidivist PED users in the history of baseball.
In 2012, playing on a steady diet of Bosch's drugs and turning 37, Rodriguez hit .272/.353/.430 in 122 games. Does anybody believe Rodriguez, under stricter testing protocols and turning 40, can approach those numbers? The last time he played, in 2013 after a second hip surgery, Rodriguez hit worse the more he played. After very brief success, he hit .208/.317/.396 over his final 31 games. He hasn't seen a competitive pitch in 17 months.
Spring training will be predictable. The Yankees, who want no part of him, will subtly make his life uncomfortable, though manager Joe Girardi, who promises a "go slow" approach with him, will play the role of facilitator. Rodriguez will continue to be delusional, professing that his teammates love him, the fans treat him great, he's in great shape, he's renewed mentally and physically by "a year off," he intends to be the everyday third baseman and that he's "on a mission."
He will show moments of skill — even the guys who get sent down or released will do that in spring training games — but the more he plays, the more he will end up in the trainer's room. As cuts are made and pitchers ramp up toward Opening Day, the more difficulty he will have catching up to major league pitching. The Yankees will have to carry him into the regular season, a below-average defender who will turn 40, whose slugging percentage has declined for six straight years and whose drug supplier was put out of business.
3. Mound Comebacks
For Matt Harvey of the Mets, Masahiro Tanaka and CC Sabathia of the Yankees, Matt Cain of the Giants and Michael Wacha of the Cardinals, every bullpen session, not just every start, will be watched closely — none more than Harvey, who replaces Jeter as the most sensational player in New York.
Among other pitchers who need to re-establish health are Jose Fernandez of the Marlins, Patrick Corbin of the Diamondbacks and Matt Moore of the Rays (all out until mid-season) and Yu Darvish of the Rangers and Garrett Richards of the Angels, both of whom should be ready at or very soon after the start of the season.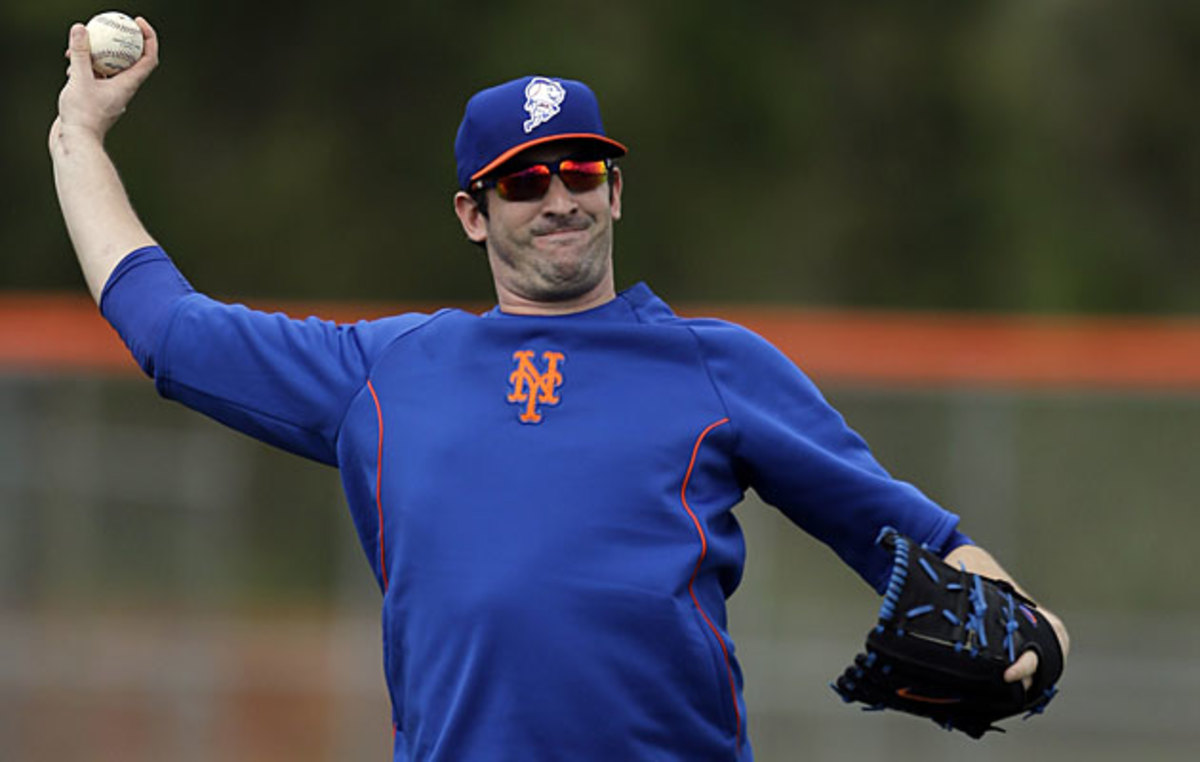 4. Position Switches
With all the fuss about the turnover of the Padres, much of what they did hinges on the question of whether Wil Myers is an everyday centerfielder. The catcher-turned-rightfielder has 109 games of pro experience in center, but not as an everyday player and not in spacious Petco Park, and not when his hitting has declined (.340 batting average in his first 42 games and .231 in 133 games since).
Former shortstop Hanley Ramirez also bears watching as he tries to show the Red Sox that he can play leftfield — which is much easier than people think. Actually, the Ramirez situation means nothing until April, when the games count and when a slow starter (.244 batting average in April since 2010) who always has played in warm weather will be under the gun to produce immediately in Boston.
Also, keep an eye on Nationals second baseman Yunel Escobar. The overrated infielder (he's 32, playing for his fourth team, has posted a below-average career OPS+ of 98 and never has made an All-Star team) will convert from shortstop to second, where he has only 53 games of experience — none since 2007.
5. International Men of Mystery
How do 40 home runs in Korea translate to the majors? We have no idea, because no position player ever jumped from the Korean Baseball Organization to the majors. But now Jung-Ho Kang, who hit 40 dingers for the Nexen Heroes, will give us an idea. The Pirates signed the shortstop through the international posting process.
Yoan Moncada cleared to sign: Where will Cuba's next top prospect go?
Cuban hitters present less of a mystery, given the success of Alexei Ramirez, Yasiel Puig, Yoenis Cespedes and Jose Abreu — all of them All-Stars last year. Will Rusney Castillo (who had a 10-game cameo with Boston last year after signing for $72.5 million) and Yasmany Tomas ($68.5 million from Arizona) continue the boom, or is one due to bust? And 19-year-old Yoan Moncada might very well be the best and most expensive of all the Cuban hitters. He is expected to sign in the coming weeks at a cost to the winning club of $80 million or more, including a 100 percent tax on his contract.
6. Pitchmen
This is not a good time for any hitter, but it's especially true if you are in the National League. Of the 10 free agent starting pitchers who signed for $10 million or more, eight of them signed with NL teams. Five left the AL for the NL: Max Scherzer went from the Tigers to the Nationals, Jon Lester and Jason Hammel both went from the A's to the Cubs, James Shields left the Royals for the Padres and Brandon McCarthy went from the Yankees to the Dodgers. And two re-signed with their NL teams: Francisco Liriano with the Pirates and Jake Peavy with the Giants.
The AL added Ervin Santana (Twins from Braves) and Edinson Volquez (Royals from Pirates). Ho-hum.
7. Cage Work
Give the Pirates credit: They recognized what strikeouts and defensive shifts are doing to offense (i.e., killing it) and took measures last spring training to emphasize making contact and using the whole field, especially with runners on base. Look at the improvement of their offense using this approach in 2014:
| | | |
| --- | --- | --- |
| Category | 2013 | 2014 |
| Batting average | .245 | .259 |
| Strikeouts | 1,330 | 1,244 |
| Opposite field hits | 177 | 203 |
| BA with RISP | .230 | .249 |
| Runs per game | 3.91 | 4.21 |
I expect more teams to emphasize making contact and using the whole field, as well as some slow, lefthanded pull hitters to work on push bunts to beat the shift. Hits are harder to come by than in any year since 1972. And while strikeouts keep going up to a record level every year, walks have dropped to their second-lowest rate in the past 92 years. Hitters will try to adjust — and you'll see some efforts in spring training — but the Age of Pitching will continue for years until baseball changes some rules.
8. The Rookies
It's rare to see top prospects make their debut on Opening Day because of service time issues; wait a couple of weeks and a team gains a full extra year of control. The Astros smartly did this with George Springer last year, trading two weeks in April with a non-contender for the entire 2020 season of the slugging outfielder. Two heralded rookies who did make Opening Day rosters already were locked into long-term deals: Abreu and Tanaka.
Cubs manager Joe Maddon speaks out on debate about pace of play
The service clock is one reason you probably won't see Kris Bryant make the Cubs' roster — the official reason is he needs to polish his defense — but that doesn't mean the power-hitting third baseman won't be one of the most interesting players in spring training. Also, keep an eye on White Sox lefthander Carlos Rodon, who figures to make an impact in the Chicago rotation, but also may "need" two weeks of Triple A seasoning.
Top rookies with a better chance of making an Opening Day roster (because their service clock already has started) include Tomas, Castillo, Dodgers centerfielder Joc Pederson, Cubs rightfielder Jorge Soler, Blue Jays centerfielder Dalton Pompey and Angels pitcher Andrew Heaney.
9. The Aging of the Phillies and Yankees
The window closed on the Phillies when Ryan Howard blew out his Achilles on the last out of the 2011 NLDS. They haven't fielded a winning team since but still haven't fully come to grips with the end of the era. Jimmy Rollins is gone, but Howard, Cole Hamels, Cliff Lee, Jonathan Papelbon and Chase Utley are still in Philadelphia. At 31 and coming off a season in which he made 30 starts and posted a 2.46 ERA, Hamels is the most likely one who could bring back the kind of value that would turn around the franchise. However, general manager Ruben Amaro, having whiffed on big deals in the past, can't move until he gets a deal clearly in his favor. We just went through an entire winter of Hamels rumors and we'll go through spring training with even more of them. Don't expect him to be traded until July.
At New York's camp, too much focus will be on whether Rodriguez (39), Sabathia (33), Carlos Beltran (37) and Mark Teixeira (34) can "return to form." Forget it. All are in their decline phase, never to return to their prime level. The Yankees' spring will be more about what they might get from young players, among them pitcher Luis Severino (who turns 21 on Friday), pitcher Jacob Lindgren (21), pitcher Bryan Mitchell (23), second baseman Rob Refsnyder (23), shortstop Didi Gregorius (who turns 25 on Wednesday), pitcher Nathan Eovaldi (25), pitcher Michael Pineda (26), potential closer Dellin Betances (26), and Tanaka (26).
10. The New Commissioner
How the game is played and how it looks and sounds on your television (or any screen, for that matter) will be different five years from now. I'm not talking crazy different — pitchers aren't going to start throwing off flat ground 62 feet from the — but the sport will be noticeably faster and more innovative.
Commissioner Rob Manfred and his cabinet will modernize the game with technology and rule changes. You won't see those changes quickly — look how long it took for baseball to come around to implementing instant reply — but you will continue to hear more dialogue and consideration generated by Manfred, who already has made clear that his two foremost initiatives are youth participation and pace of action.