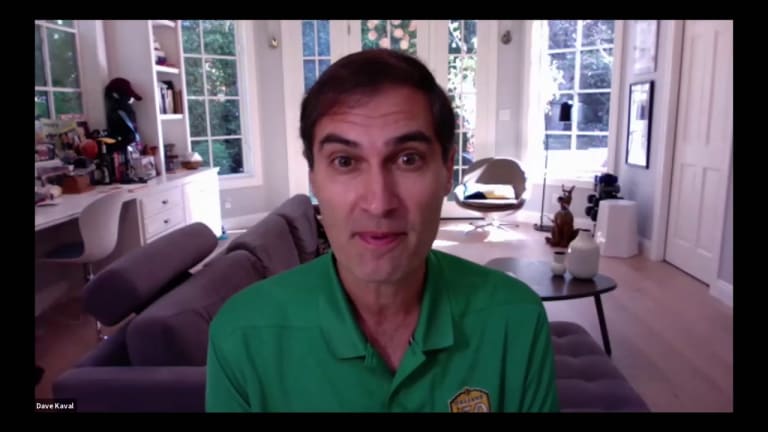 Athletics Underwrite Use of Coliseum Arena for Election Beginning Saturday
The Oakland Coliseum Arena will be the largest single voting location in Alameda County Saturday through Tuesday with the Oakland Athletics underwriting the cost of preparing for socially distanced general election voting.
The Oakland Coliseum Arena will be open for Election Day voting for four days starting Saturday and running through Tuesdays Nov. 3.
The Oakland A's are providing the funding, approximately $30,000, to get the site up and running. The Arena will be the single biggest of the 100 voting sites in Alameda County and is open to voters from across the county and not just Oakland.
"We feel very strong that we have a responsibility as a business that's been here for over 50 years to help provide a location to safely vote during a pandemic," A's president Dave Kaval said in a video conference call.
The Arena site will be open 9 a.m.-5 p.m. Saturday, Sunday and Monday and from 7 a.m.-8 p.m. on Saturday. The Coliseum and Arena has acres of free parking in the D Lot off the 66th Ave. entrance, is BART accessible, is immediately adjacent to I-880 and will serve as a full-service, socially distanced site.
The location will follow all CDC and public health guidelines regarding social distancing and mask wearing. Voters will have to follow physical distancing protocols and must wear a face covering within 25 feet of a voting location. Masks will be available to voters needing one.
Voters will be able to do in-person voting, curbside voting from their car and 30 secure ballot drop boxes for those who just want to drop the ballots off safely. And voters who have not yet registered will be able to do so over the course of the four days.
"We are prepared to handle any kind of crown that may show up at the site," Alameda County Registrar of Voters Tim Dupuis said. "It's a large site. We will offer a queuing system where people can wait in their cars if needed, and we'll send them a text message when it's time to come into the facility if they choose to come into the facility."
There are just shy of 1 million registered voters in the county, and as of Friday, about 400,000 had already voted by mail or in person.
"I think (the Coliseum Arena) is a natural fit," Oakland Mayor Libby Schaaf said. "Communities see sports arenas as great places for people to feel comfortable, to feel safe. What other place has the expertise of moving massive numbers of cars and people safely, in and out.
While Kaval said that his hope would be that the site could be used for elections every two years, it's clear that the large volume of ballots expected to be cast combined with the COVID-19 pandemic to make the Arena site necessary this time around.
"It's both the fact that we have COVID and we want to ensure people's ability to cast a vote in a safe manner," Alameda County Supervisor Nate Miley said. And having the site of the Coliseum allows that. COVID definitely played a big role in this.
"Because of the overwhelming number of people who are going to be casting their ballots in this election, a site like this would probably have been necessary, irrespective of COVID."
Follow Athletics insider John Hickey on Twitter: @JHickey3
Click the "follow" button in the top right corner to join the conversation on Inside the Athletics on SI. Access and comment on featured stories and start your own conversations and post external links on our community page.