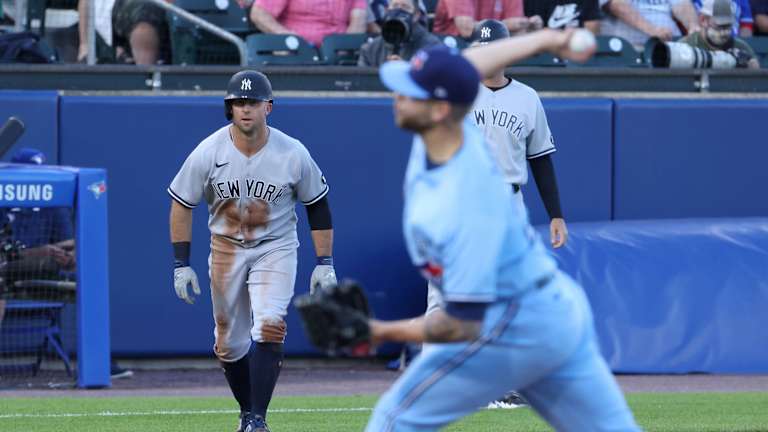 Aaron Judge's Catch Sets up Latest Blue Jays Bullpen Implosion
Judge stole a home run from Cavan Biggio before the Blue Jays bullpen crumbled once again in the 8-4 loss.
Judge stole a home run from Cavan Biggio before the Blue Jays bullpen crumbled once again in the 8-4 loss.
They say baseball is a game of inches and Thursday night showed exactly why that's the case.
After a Randal Grichuk single gave Toronto a one-run lead in the sixth inning, the red-hot Cavan Biggio strode into the box.
New York Yankees reliever Chad Green dealt and Biggio whacked a deep fly ball that looked destined for home run territory in right field. But Aaron Judge, all 6-foot-7 of him, leapt up and effortlessly snatched the ball to rob Biggio of a two-run homer. 
"I hit it down the right field line, so I knew I had a chance," Biggio said. 
"I saw [Judge] slowly timing it up, he makes an unbelievable play and you've got to tip your cap to that. Definitely a game changing play," Biggio said.
Inches away from a three-run lead, Judge's catch prevented some valuable insurance runs for Toronto. This was all extra pertinent because, well, it gave the Blue Jays bullpen a slimmer margin of error during a stretch of games where it needs all the run support it can get. 
Waves of "Let's go Yankees" chants echoed through Sahlen Field as the faux-home team lit up Anthony Castro for four straight hits. A Giancarlo Stanton two-run bomb helped New York complete the sweep, and the Blue Jays lost the game 8-4.
The bullpen picked up its 17th loss of the season, but Toronto didn't do itself any favors on the bases. The Jays got two men on to start the first inning before Vladimir Guerrero Jr. tapped a ball back to the mound and the foolishness began.
Marcus Semien retreated to third as Yankees starter Michael King got the out at first, but Bo Bichette -- running hard from second -- didn't get the memo. Semien knew he was toast and paused halfway, waving at Bichette to advance to third. Bichette hesitated, Gio Urshela tagged Semien, then flipped to third to get Bichette and complete the triple play. 
The play was reviewed, upheld and scored a 1-3-6-2-5-6. That circus-like display represented the 10th triple-play in franchise history that the Blue Jays have hit into.
Blue Jays manager Charlie Montoyo said "everything" went wrong on the triple-play.
"I'm not going to sugar-coat it, we didn't go a good job on that. That's going to happen and young kids are going to make mistakes and that was one of those," Montoyo said.
Blue Jays starter T.J. Zeuch -- filling in for the COVID-positive Steven Matz -- wasn't great in his first game back from Triple-A. The 6-foot-7 right-hander needed 65 pitches to get through three innings, surrendering three runs on five hits, walking two, and striking out two.
A Yankee run scored when Zeuch threw a ball into center field trying to turn a double play -- one of two Blue Jays errors on the night and fifth in the club's last three games.
That's four straight losses for the Blue Jays, who dip below .500 and further out of wild-card striking distance. Upcoming series against Baltimore and Miami might ease some pain, but the Blue Jays are in the midst of another ugly losing streak.
Further reading:
8 ways to fix the Blue Jays bullpen
Ross Stripling apologizes for showing up teammate Joe Panik